I was thinking back to what life was like before we started getting serious about our debt… there has been a definite mindset change with spending as you'll know, but also our view on budgeting has changed too.
When our debt was at its worst, I didn't pay much attention to budgets. I just thought managing budgets was something which had to be done at work and I definitely wasn't a 'numbers' kind of person.
When I got promoted to a managerial position at my last corporate job, part of my new role meant being responsible for an £800K events budget. I worked in the public sector and budgets were always heavily scrutinized so I was held accountable to my budget. As was my Director and the CEO of the organisation.
If the end of year budgets were over (or under), there were some serious questions raised about where the money was going – quite rightly so – and it would have reflected negatively in my performance review.
Luckily for me (and for many other co-workers), we were given some support from our Finance team. Every month, my budget support 'friend' from Finance came to help me balance the budget and predict what was going to happen in the following quarter. I should have paid a lot more attention to that whole process, because basically this is what I do at home now! Except for on a much smaller scale of course…
Budgeting lessons
One of the best lessons I've learned about budgeting during our debt payoff process is finding ways to make our money last until payday. Before, if I knew I was going to run out of fuel to get to work, I'd have just taken it from my overdraft and prayed I'd be able to manage with less the following month. I didn't worry about not having as much in my bank as I needed after payday. Or overdraft charges for that matter. Fuel was a necessary cost for me, so of course that's the only thing I could have done. Right?
Actually, there were other ways I could have dealt with not having enough petrol in my car to last me until payday. By monitoring my income and expenses, I could have predicted this problem earlier in the month and cut back on spending elsewhere. I could have even dipped into my emergency fund, if I had one!
Instead, I fell into the overdraft trap – I relied on borrowing from my overdraft more and more each month until eventually, when I got paid, I was in the red with a negative bank balance. That overdraft in some ways was more soul destroying than having seemingly endless credit card debt. I worked really hard at a job I didn't like all that much and as a reward for letting my finances get out of control, I didn't even see my wages on payday.
That's one of the reasons my overdraft was the very first debt to be eliminated when this journey began. Even though by then I was working a different job and being paid much less, I just had to know that when I got paid, my income would leave me with a credit balance.
Budget Spreadsheet Heaven
Since starting this blog, I've been dazzled by the many excellent budget spreadsheets that the personal finance community are working with. Most of them really put my little budget spreadsheet to shame with their colour coded categories and easy to read layouts. Alas – we each work in different ways and I've managed to get my budget spreadsheet working the way I'd like now so I thought I'd share a screenshot of it with you. Don't laugh… there's no colour coding or nice categories to look at! And it's very simple, done in Excel.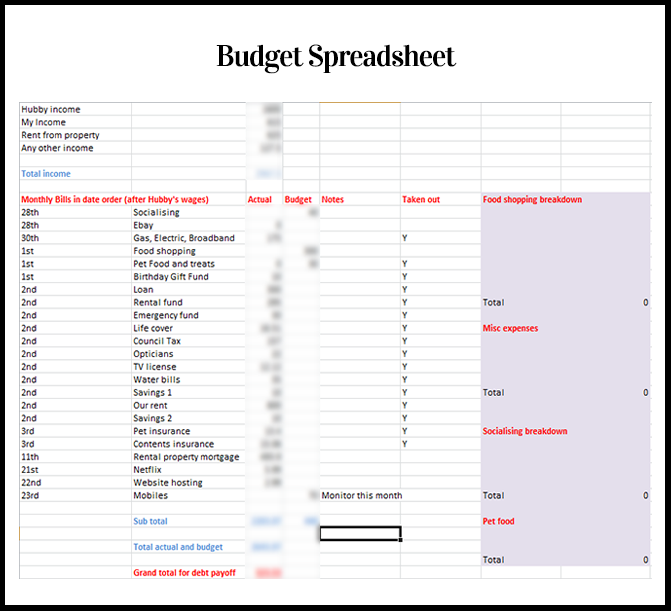 I also use a budgeting app which brings my bank accounts together in one place, but for tracking expenses, I always come back to my favourite budget spreadsheet! As you can see, it's not very exciting… but it really helps me to manage our finances. Sorry the numbers are blurred… maybe when I get a bit braver, I'll share those too.
I like to know and double check the exact date that our bills are taken from our bank account, so that's why I list the dates over there on the left hand side. I have a column for 'actual' costs and 'budget' costs for those variable costs that I need to pay for like food shopping, pet food and socialising. I keep track of those variable costs by logging my receipt details on the right! Then at the end of the month, I alter my budget and actual figures once I know how much has been spent.
See the cells in red about debt payoff? That's my favourite part of this budget spreadsheet. 🙂
Over to you…
How do you manage your budget? Do you use a budget spreadsheet like me or an app? Do you even budget at all?
This brings me nicely onto a brilliant giveaway that one of my fellow bloggers, Brent from Vosa, is hosting at the moment. Brent is giving away 10 free copies of 'YNAB' (You Need A Budget) software to 10 lucky winners. All you need to do is enter the Vosa Giveaway before September 15th for a chance to win a copy.
Lastly, a quick shout out to Airline Miles Experts and Debt Discipline for mentioning Disease Called Debt in their recent posts, I really appreciate it! If anyone else has mentioned me, please let me know as I don't always receive notifications. Have a great Monday!
*Main image courtesy of Flickr