a href="http://diseasecalleddebt.com/wp-content/uploads/2016/04/How-to-start-a-money-making-blog-blog.jpg" rel="attachment wp-att-6866″>
Starting the Disease Called Debt blog has helped me take control of my finances in more ways than one. I first created this site as a way to help me on my journey to debt freedom and it sure did deliver on that. I felt like I had to keep myself accountable for the sake of my readers, if not for myself!
But as well as providing me with much needed motivation to succeed in my mission to become debt free, this blog has also paved the way for lots of money making opportunities. My whole freelancing career boils down to the work I've done on this very blog!
In addition, this blog continues to provide me with a good source of income EVERY. SINGLE. MONTH.
If you're looking to pay off debt or improve your finances in some way, blogging can be an amazing source of income and best of all, it's totally flexible – something you can work on from home in your spare time.
Lately, I've been getting a few emails asking for more information on blogging. How do you start a blog? And how do bloggers make money?
I've put this guide together on how to start a money making blog in answer to those questions. You don't need to be a techie to start a blog I promise, and you won't need to spend much money either!
You just need to follow these 7 steps below in order and you'll be blogging (and making money) before you know it. I hope you take the plunge and start your own blog, because you really won't regret it!
1. Decide what you want to blog about
This first step is crucial to the success of your blog. Writing regular content for a blog takes time and effort. If you're blogging about something that you think will make money but you're not all that interested in the subject matter, your blog will be doomed to fail eventually, because you'll probably get bored and give up!
So, step number 1 – make make a list of 10 topics that you feel really passionate about. Then narrow that list down to 3 topics. Ask your friends and family what they think about those topics. Which one of those do you think you'd feel happy writing about week after week? Which of those topics do you think might return the most profit? E.g. can you find products relating to that niche?
Once you've decided on a topic, then you'll need to decide on your blog name and domain. It can be tricky coming up with the perfect name but it's fun too! Your blog name should sum up what your blog is about, be nice and punchy and not too long. Your domain name doesn't necessarily have to match your blog name, although you might find it easier if it does.
You might find it helpful to brainstorm your blog name and search for available domain names at the same time. You can purchase your domain name through your hosting provider which I'll come onto next.
2. Set up a blogging platform and host provider
When you start a blog, there a few choices of blogging platforms that you can use. I'm not going to beat around the bush here – in my opinion WordPress is the best one! You can create really great websites and blogs with WordPress and there are tons of themes (customisable designs) out there to make your site unique. More on themes later!
When it comes to WordPress, there are two routes you can go down. One option is to set up a free WordPress site at WordPress.com, where your website files will be hosted (in the cloud somewhere) by WordPress and you'll get a generic domain name – something like mysite.wordpress.com.
Or you can set up what I like to call a "proper" blog via WordPress.org and get your own website hosting provider and your own specific domain name. This second option is what's known as a self-hosted WordPress website.
I'd suggest going with a self-hosted website straightaway for a few reasons. Firstly, you'll have full control of your website and it won't be taken down by WordPress if you decide not to do anything with it for a while (that has been known to happen).
Secondly, having your own domain name will instantly make you look more like a blogger who's in it for the long haul and that will be attractive to blog visitors. Thirdly, the cost of setting up a self-hosted website is so cheap, it'd be plain daft not too!
If you're worried that the whole self-hosting thing sounds complicated – fear not! It's super easy! The first thing you'll need to do is choose a hosting provider (a company that will host your website files on the internet) and then you can download WordPress onto your computer from your host provider's website when you sign up.


Why you should choose Bluehost for your WordPress blog
Bluehost is one of the best website hosting providers out there and the customer service is second to none. These are US based but they operate globally around the world, so don't worry if you live in the UK like me. Their helpline is operational 24/7 so there will always be someone there to answer your query if you need them.
I personally have had a great experience in using them myself. What's more, Bluehost are one of the lowest cost hosting providers around right now. Their hosting packages usually start at just $3.95 per month (currently discounted from $7.99 per month) and they offer a 30 day money-back guarantee in the unlikely event that you want to cancel.
The first thing you need to do is sign up for a Bluehost account here though my discounted referral link. To actally sign up, Bluehost make it really easy for you prompting you to pick a domain name (you can search for a URL that you like) and a hosting package that suits your needs.
I've put together some screenshots for how you can sign up to Bluehost as your hosting provider and then access WordPress from their dashboard.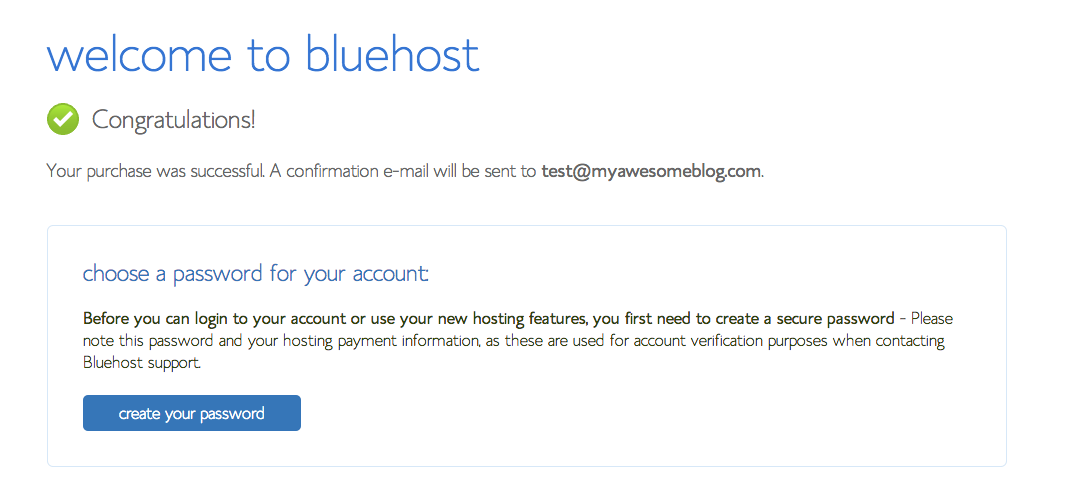 Once you've signed up, you can then log into your Bluehost dashboard, where you can opt to choose the automated route for easy set up!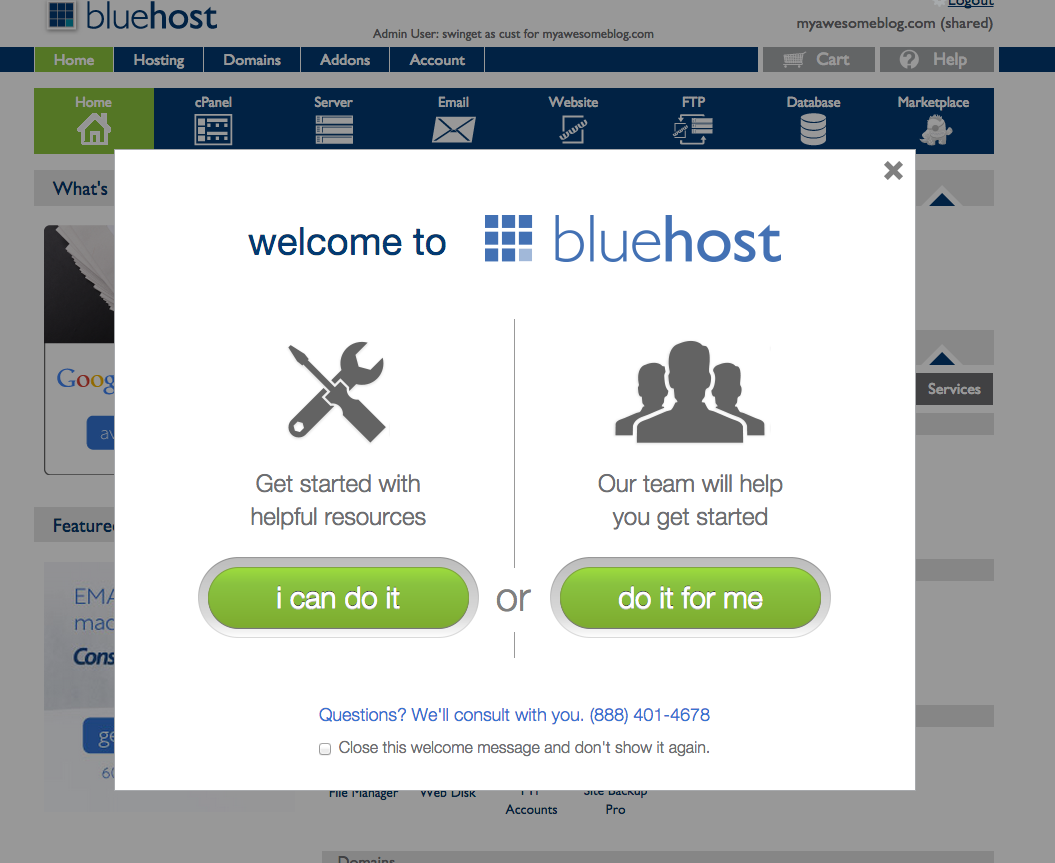 Once you're inside your Bluehost dashboard, you'll just log into cPanel and then you can download the latest WordPress installation (see below). It's a matter of a few clicks, that's all!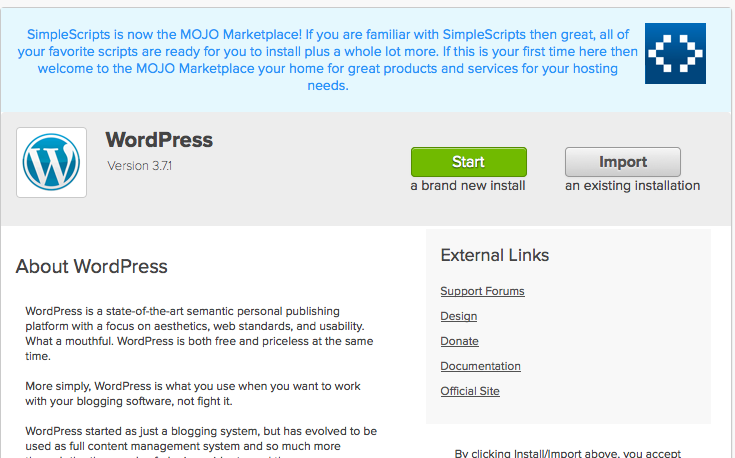 Once you've downloaded WordPress, you'll be prompted to choose a username and password which you'll then use to log into your blog for when you're ready to work on the design and to write/publish posts.
You can at this point access your website from the cPanel section within Bluehost, or once your domain is live, you can log into your blog by typing in your URL/wp-admin in your browser's search bar.
This is what the inside of a WordPress website looks like below…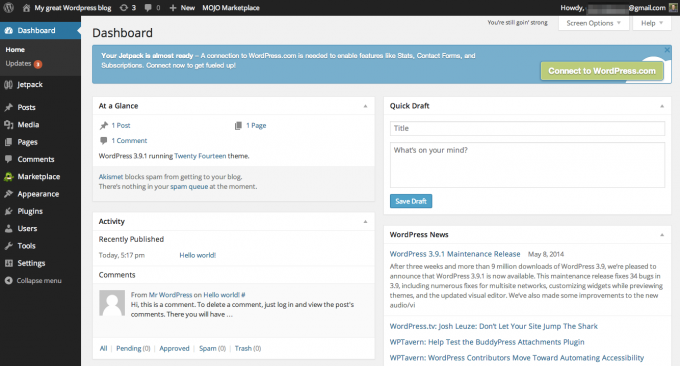 Within the WordPress dashboard, there will be options to add/change your theme (your site design) and for creating new posts and pages as well as other nifty features which you'll get the hang of as you go. You might want to check out WPbeginner.com for more information on how each feature works in detail.
3. Choosing a WordPress theme
Your blog design is important to get right from the start if you can. There are plenty of free themes out there to use, I used Twenty Twelve on this blog for a while which featured a nice minimalist design. To choose a free theme, you can go to "Appearance" then "Themes" in your WordPress dashboard. From there you can choose from a huge selection of themes.
Sometimes, free themes can be a bit limiting – they may not have all the functions that you'll want for your blog in the long term. If you want to be a pro blogger, then it's best to download a premium theme and to do this, you'll need to download an additional framework for WordPress. This will cost a little money, but if you're serious about giving blogging a go, it's well worth the investment.
Two popular frameworks are Genesis and Thesis. I use Genesis myself which you can get from StudioPress.com and it's awesome.
My blog theme is a premium theme from Pretty Darn Cute Design and that too is brilliant. It has lots of cool features! Check out StudioPress and Pretty Darn Cute for yourself using my referral links above and below.
I actually use Pretty Darn Cute themes for my other two blogs that I own as well. Pretty Darn Cute is great for feminine themes that are functional and responsive. (Basically, each and every theme of theirs looks great!)
For what it's worth, I noticed my traffic increasing as soon as I got myself a nice looking blog design. So if you want to get a good site up and running quickly, bite the bullet and do this now!
To make things easy, you can download Genesis and a theme from Pretty Darn Cute together by purchasing both from the Pretty Darn Cute website. Or you can download the Genesis Framework on its own over at StudioPress.
Make sure you have a theme in mind first and then check what framework you need for it, just in case you need Thesis and not Genesis. Once you have your chosen theme installed on your blog, the fun begins! You can play around with colours, fonts, layouts, widgets and more!
4. Your first few blog posts and pages
When you're happy with your blog layout and design, you can begin creating posts and pages. It's a good idea to create a few pages to start with – an About page and a Contact page for sure. Then you can start creating your first few blog posts.
To give you an idea of how to start, your first post could be something around your vision for the site. A "Hello and Welcome" type post so to speak. You might want to brainstorm some blog post ideas based on your chosen topic for after that. List posts or "How To" posts work well.
So that you know how many words to aim for, many blog posts are between 500 and 1500 words each. If you have a lot to say about a particular topic, then feel free to write more! Once you've started writing blog posts, aim for one a week to begin with and then increase to two or more times per week if you have time.
There's no right or wrong amount of times you should be posting. But Google will like to see that your website is being updated, so make sure to post regularly! As you grow your readership, you may want to stick to posting on certain days, so that your readers know when to expect more posts from you.
5. Getting images for cheap or free
If you want to make money from your blog, it's really important to get some great images to accompany your blog posts. I started off using free images from a website called Free Digital Photos, but since then, I've found many more that are even better. Take a look at these websites for great free images:
Flickr (search under creative commons license)
Google images (search labelled for reuse)
A quick note on image copyrights – you can get into a whole heap of trouble if you use someone's image without getting their permission first. Contrary to popular belief, you can't just pick an image from Pinterest or Google, post it on your blog and expect good things to happen!
It's not worth the hassle, so if you intend to use an image from another blog or website, always ask permission first.
With Pixabay and Unsplash, you can use images from those sites without accreditation. In relation to Google images and Flickr, always double check the license that accompanies the image you're wanting to use. You'll likely need to credit the source in your blog post or wherever you use the image.
I personally use all of the places above to find images and I also use a site called Fotolia (referral link) where I pay for my images. You can get images for as little as 10p each over at this site and I highly recommend them as they are great quality and it saves me a lot of time when it comes to searching for the perfect image!

6. Work on getting traffic
For your blog to make money, you'll need to get visitors aka traffic to your blog. Wondering how to get your blog noticed? There are plenty of ways that you can do this although it won't happen overnight. I've listed a few steps below on how you can start attracting visitors to your blog.
Let Google know about your blog
The first thing you should do when you have a few blog posts published on your site is to submit your blog's URL to Google so that it can be indexed. That means Google will be alerted about your site and will hopefully start sending some search traffic your way. Do the same with other major search engines like Yahoo and Bing.
Comment on other blogs
In the early days of a blog, networking with other bloggers is crucial. You can find heaps of support by doing this. Blog commenting is a good way to network with other blogs in your niche and many bloggers will return the favour and comment on your blog too.
Blog comments are important because they are a measure of how your visitors are interacting with you via your blog. You'll start getting referral traffic this way.
Guest post on other blogs
This means contacting well-known bloggers and offering to write a post for them for free – I know, sounds like hard work, right? However, guest posting could help you no end, because in return you'll want to include your blog URL within your guest post – this means a juicy backlink for you from a reputable website.
Links that point to your blog from another site are known as backlinks and they are super important when it comes to search engines sending more traffic to your website.
Write really great blog posts
There is a saying in the blogosphere that "Content is King" and it certainly is true. If you write an outstanding blog post that's really useful, then your readers will share it. Other bloggers may come across it and mention you on their own blogs (more backlinks!) and you'll get your post shared on social media.
By putting really great content into your blog that has some kind of takeaway or benefit, your writing itself will help you to get more visitors to your website. There are certain things you can do when writing a blog post to help people to find your content when they search for similar topics in Google and other search engines.
Familarise yourself with the basics of Search Engine Optimisation (SEO) here.
Sign up to Google Analytics to measure your blog traffic
This is a free web analytics platform which you can sign up to once you've started working on your blog. You can find out how much traffic is coming to your blog each day, week, month and year.
This platform will also tell you where the traffic is coming from e.g. whether it's through search engines, other blogs or direct to your blog.
7. Start earning money through your blog
Now for the best part – the bit where you find out how you can earn some money from your blog! Once you have some regular traffic coming to your blog, you can begin to monetise it. Bloggers tend to earn money through the following ways:
Ad networks
This is the easiest way to make money from your blog, because once you've set up some display banner adverts, you can sit back and let those ads earn money while you go about your life doing other things!
An example of an ad network is Google Adsense. You can sign up to an Adsense account for free and then place some generated code into your blog via a widget. Banner advertising will then display on your blog, wherever you've inserted the ad widget.
Google Adsense ads are targeted to each individual who is browsing your site. Google remembers what each person has been searching for recently on the internet and then displays adverts which are relevant to their last searches.
Other ad networks work in much the same way. This means that people visiting your blog will see adverts that are relevant to them. Clever, huh? If and when a person clicks an ad from an your blog, you'll get paid! The amount is different every time, but it can soon add up!
Direct advertising
This is where you can sell advertising direct to companies who offer a product or service that will be interesting and relevant to your readers. Direct advertising can come in the form of content – a post for your blog – or through a banner advert.
You can set your own rates for advertising and once you start getting some traffic, you'll probably get approached by advertisers. You can also pitch to companies yourself too!
Affiliate promotion
Many companies and suppliers offer affiliate programs where you can promote them on your blog and in return, you'll earn a commission when someone clicks your link to those companies and signs up or buys something.
One of the biggest affiliate programs is the Amazon Affiliates program. By including your affiliate link whenever you mention something great that you've seen on Amazon, you could earn a commission. If someone were to get through to the Amazon site and buy something using your link, that's how you'll earn.
The commission structure is brilliant on Amazon, because it works across all products. For example, if you've promoted a book on your blog and someone clicks through to Amazon and ends up buying a brand new TV, you'll earn a commission on the price of the TV (not the book – unless they buy both)!
There are affiliate marketing networks you can join too like shareasale.com (referral link). Networks like shareasale have access to a number of affiliate programs from different companies – a one-stop shop if you like.
Product sales
One of the best ways to earn money through your blog is to create your own digital products. This isn't as hard as it sounds! For example, I've written 3 eBooks for my blog and they all make money every month – passively nowadays!
I've written a whole series on how to make money writing and publishing your own eBooks which has been shared thousands of times now on social media. Here's each post below:
Offer your services
Once you set up a WordPress blog, you'll soon become an expert in all sorts of things, even if you don't believe that right now. You'll become an expert at freelance writing, social media management, blog management and administration and more.
You can sell your newfound skills to other bloggers and companies who want an online presence. This is exactly what I've done!
Finally…
Once you have your blog up and running, you might want to learn more about making money from a blog. I took a blogging course with the Elite Blog Academy (referral link) last summer that has tripled my blog traffic and helped me to make a lot of money.
It's not free but well worth the investment. The Elite Blog Academy has closed its doors for this year, but you can sign up now to get on the waiting list and grab a free eBook on boosting your blog income in the meantime. Simply click the image below to sign up!
I know there's a lot of information to take in from this page on
how to start a blog
, but if you work through the steps I've outlined above, you can be well on your way to becoming a professional money-making blogger in no time!
If you'd like to receive information now and then on what's been working for me in terms of blogging strategies and tips, subscribe using the box at the bottom of this page. If there's anything you'd like to see me write about in relation to blogging, feel free to email me and let me know!
*Affiliate links to companies / services I highly recommend have been included on this page.