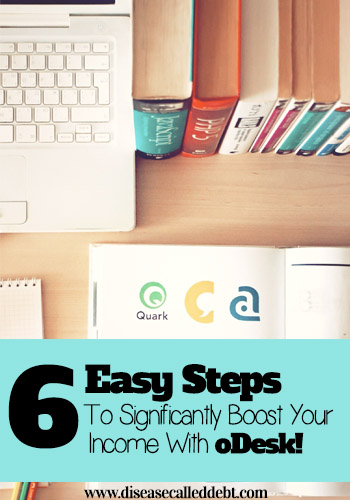 If you have a computer, internet access along with some skills and knowledge, you can make money easily on oDesk.
What's more, you can do so from the comfort of your home and by working hours to suit you! oDesk is a global online work platform where you can pitch for all sorts of freelancing jobs such as freelance writing, blogging, audio typing, graphic design, social media marketing, product reviews and virtual office work.
In this post, I'll explain how you can start earning money with oDesk and how to annihilate your competition so that you can pitch for and land the very best jobs that match your skills and expertise.
You may know that I recently switched to freelancing full time and so I use oDesk a lot. At the moment, I'm earning in excess of £500 per month with oDesk (around $800) for working 4-6 hours per week and I can totally vouch for the credibility of this platform.
At first though, I was unsure as to whether I'd be able to make ANY money on oDesk. The reason being is that there are a lot of freelancers on oDesk from across the globe who are able to charge the lowest of low prices. Like $3 per hour. Seeing those freelancers on there charging such low fees almost put me off even filling out my oDesk profile – I wondered whether I would be wasting my time.
Then, back when I was working on my eBooks, I used oDesk to outsource some jobs that I needed doing and I was able to see a lot of applications from a client's perspective. I found that plenty of applications from freelancers are done shoddily and therefore I learned what it takes to make an application stand out.
So I decided to invest some time into building up a freelancing profile and some work experience on oDesk and I'm now in a position to get taken seriously for highly paid jobs. Even better, I often get asked to interview for such jobs without me having to find them myself!
There were just 6 easy steps that I took to start generating a decent income with oDesk – and you can too! Here they are below:
1. Complete your oDesk profile fully
Plenty of freelancers don't bother filling in their profiles properly which means that if you do, you'll automatically be more likely to get hired instead of them. It really is that simple!
Your profile is your place to "sell, sell, sell" yourself! To complete your profile, you'll need to add a professional looking photo (i.e. not a booze-inflicted selfie) and write a detailed description about who you are, what your skill set is and what you can offer your future clients.
A good photo is really important on oDesk. Without one, you'll struggle to get any jobs at all. Clients like to see who they're working with, this is so important when work is being done virtually. Another absolute must when it comes to your profile is to take some time to proofread it to ensure there are no spelling and grammatical errors!
Linking to some of your best work can really make your profile stand out from others. You can even add in testimonials from people who you've worked with outside of oDesk. If you have a blog, link to it in your profile as this is one of the best ways of showcasing what you can do.
If you don't have a portfolio to speak of yet, don't worry. You can easily notch up some small one off jobs on oDesk to start with and then you can use those as examples of your work.
2. Take some tests
Clients use certain criteria to help them decide whether they want to hire you for the job. A decent profile is one factor and another is whether you're capable of passing some of the tests. You can take all sorts of tests on oDesk based on the skills that you have. So if you're great at WordPress or if content writing is your thing, there are tests for those.
The tests take around 40 minutes and although they might seem like a lot of hassle, they are well worth doing. The test results show up in your profile, with your score and clients do look at these when deciding who they want to hire.
oDesk Tip!
Only take tests that you're comfortable with and that match your skill set to ensure you'll get good test results. Just in case you end up with a below average result, you can always hide that particular test from your profile and take another test instead!
3. Set your rates low to begin with
Rates matter. Not just for you but for the client too. If you think about it from a client's perspective, what kind of work would you expect from someone who charges between $30 to $50 per hour? Probably top notch quality, right?
The opposite may be assumed for a freelancer who charges $3 per hour. The chances are that if you hire someone with very low rates, you might get your job done by someone who is either an entry level freelancer or who doesn't use English as their native language.
As well as there being different levels of freelancers on oDesk, there are also different types of clients. There are clients on there who expect a LOT of work for very little pay and they will jump at the chance to hire a freelancer who can read, write or speak well in English. These are the sharks of oDesk so to speak. Don't fall into that trap where you set your rates too low and end up getting manipulated by clients like these. Trust me, it's not worth it!
The fact is that it would be difficult to get a highly paid job without any prior oDesk experience, so you will need to set your rates low to get some initial work. Try setting your fee at $8 to $10 per hour to start. This is low enough so that you'll get a break but high enough to get noticed by respectable clients.
Only take on small jobs that won't take you long to do whilst your rates are low. Writing an easy product review or short letter are good examples of jobs that won't take up too much of your time. You could offer a fixed price instead of an hourly fee if you prefer.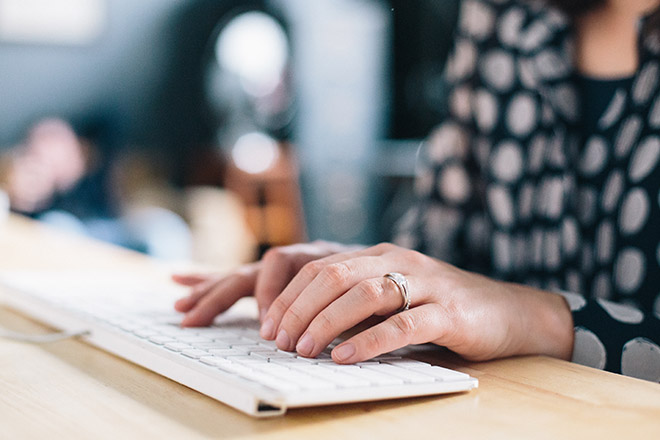 4. Apply for plenty of jobs – and make your application letter rock!
On oDesk, you'll use virtual tokens called "connects" to apply for jobs. Most job applications cost 2 connects. There are different levels of membership on oDesk – the free package will allow you 60 connects per month which is ample to start out with. If you end up being very active on oDesk you can upgrade to a paid membership that allows you more connects each month.
Apply for as many jobs as you can when you're first starting out. When you apply for a job, you can see how many other applicants have applied and sometimes there are tons, all for the same job. Don't let this put you off, because many of these applications will be poorly written, half-hearted pitches. Just make yours great and you'll have a good chance of being considered.
Make your oDesk application stand out from the crowd!
You can create a standard cover letter in oDesk for every application to save you time, but my advice is don't use it. This just shows to the client that you can't really be bothered to apply for the job! Take 5 minutes to read the job description properly and write an individual letter for each client.
Address the client by their name, not "Sir" or "Madam". In my experience, this is a little too formal for oDesk. Also, sometimes it's tricky to know whether the client is a male or female just by their name and you really don't want to get "Sir" or "Madam" mixed up! If the client has their profile under a company name, a simple "Good Morning" or "Hello" works fine.
Be polite and friendly. Watch the tone of your application so that it comes across as respectable but not too formal. Keep the tone real and don't try to be something that you're not!
Go through the job description and make a note of how you can deliver on each point, by matching up your skills to the client's requirements.
There may be 1 or 2 specific interview questions – always read them and answer them in your application.
Finish your application on a positive note. Thank the client for the opportunity and say how much you'd like to work with them.
5. Do a great job and get some 5* feedback
When you land your first job and all the ones afterwards, make sure you do it well! This is really important because the client may decide to hire you again in the future, plus you really need some 5* feedback for your profile. Accept the client's contract quickly and find out the deadlines you'll be working to. Never, ever miss a deadline as you'll risk getting bad feedback when the job comes to a close. You could even submit work a day or two early for extra brownie points!
Communicate with your client regularly and keep them updated. Always, always, always check your work before submitting it. If the client requires changes, do them quickly and without fuss. Be sure to ask your client for feedback when the job is completed and make sure you leave them feedback too.
6. Increase your fee – don't be afraid to charge your worth
When you have a few jobs under your belt and some 5* feedback, add more content to your portfolio from the work you've done already and then increase your hourly rate. Here's the part where you make money!
Always charge your worth. If you feel you should be earning $30 plus per hour for the work that you do, set your rates accordingly. Work even harder on your applications and you'll find clients will still want to hire you. Often, charging a higher fee means the chance to work with fantastic clients who are looking for long term freelancers for interesting and challenging jobs.
Making money with oDesk
With the availability of online jobs on sites like oDesk, it really is getting easier to earn extra income from home. If you build up a great profile, take some tests and set your fees low to start with, you can begin pitching for and landing online jobs on oDesk before you know it!
Once you have some oDesk experience notched up, you can raise your fee and start earning some good money to supplement your income or even become a full-time oDesk freelancer.
Have you tried oDesk yet? What's your experience of it if so? If you liked this post, please take just a moment to pin, tweet or post about it!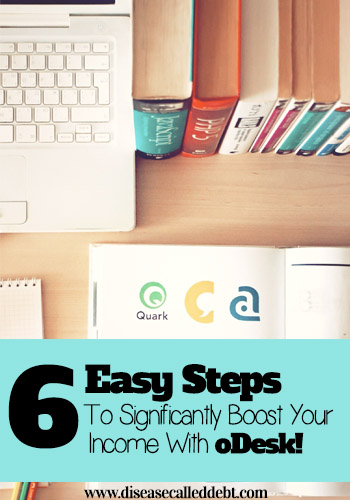 *Update: Since writing this article, oDesk have changed their name to Upwork!