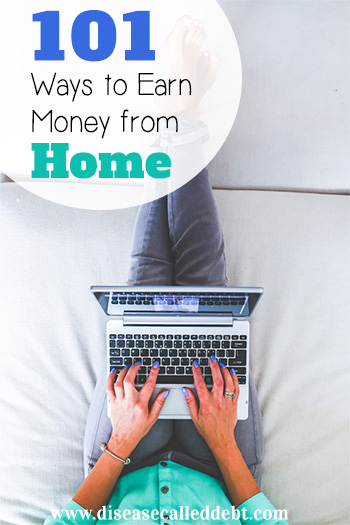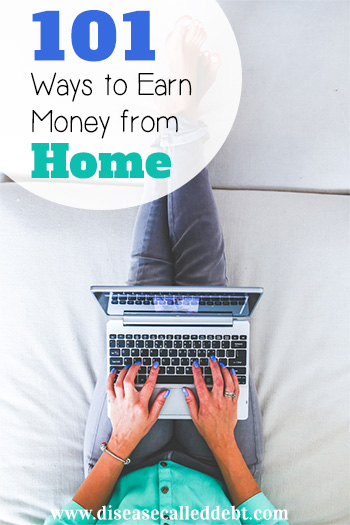 Working from home is the ideal scenario for many people these days.
Especially working parents who are juggling family and work priorities, those looking for some much needed work life balance away from the stress of the 9-5 and anyone needing to make some spare cash!
My latest eBook "101 Ways to Earn Money From Home" contains real ideas for making money from home or online.
This eBook was featured as a top 10 bestseller in the Amazon personal finance category shortly after it launched!
No – this is NOT a get rich quick book! As sadly, we all know there isn't really a way to get rich quickly. 
This book is for you if you're trying to increase your income by making extra money on the side or if you're planning to make some lifestyle changes and create your own way of working from home.
The ideas in this book are REAL and based on my own personal experiences and research that I've undertaken. The reason I decided to write a book on this subject is because being able to make money from home has played a huge part in the success we've had in repaying our debt. By the way, you can read my full eBook launch post here.
In "101 W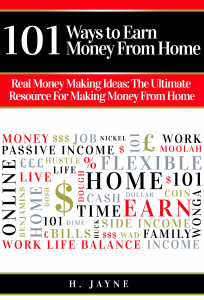 ays to Earn Money From Home", you'll learn how to make a little money quickly on the side in addition to your day job, along with various ways to become self employed and start up a business from home. You'll learn how to earn money in your lunch break, whilst the kids are in bed or even whilst you sleep by creating passive income streams.
The great thing about making your own money is that you set the terms. You set your hours and you set your fees. You can pay yourself a bonus by working harder and harder. Whether you want to pay off debt, save up to meet your financial goals or just escape the rat race for good – this book will inspire you to begin making money from home today.
In a nutshell, here's what you can expect to learn from 101 Ways to Earn Money From Home:
Different ways of making money online
Passive income money making ideas
Types of businesses that you can set up from home
How to make money quickly
Tons of resources for further reading
More about me and how I make money working from home
Here's what others have said about this book!
This book was launched in September 2014 and has got tons of great reviews already, here are just a few below (check out even more reviews on Amazon):
"With a 101 ways you are pretty much guaranteed to make at least a small extra income by reading this book. A very useful book for everyone, whatever age or where ever you live in the world. I have never found a resource like this before that teaches you so many different ways to make money from home. I am working on ways to make a passive income rather than looking for a "get rich quick" option (which actually doesn't exist anyway) so that I can have the free time to enjoy life with my family and at the same time have an income. Any method of making substantial money is going to take some time and effort. If you know of 101 ways to make money from home then you don't need this book, for the rest of us read this book and learn a lot of new things." – T. Robinson
"If you really need to examine new opportunities due to a change in your life this IS the Go To Book!….it is SO full of resources that the author must have really spent additional time making sure all areas were covered. Clearly and concisely written, it really gives so many varied ideas that can appeal to everyone looking for an at home job…I especially love the internet marketing advice….the Author has provided so very many interesting and useful links for every possible work at home subject imaginable. I am personally going to use several of these ideas which are exciting and motivating and I suggest you do too…being at home is going to be so much fun and bring a quality of life you will be delighted with!" – Beran Parry
"Amazingly I have already tried many of the ways mentioned in this amazingly practical book. Finally, someone who knows what works in the real world. Because I had already done most of the things, I had to be patient, and it paid off. I found two very good ways to make money, two ways I did not know existed. And since this book almost immediately started helping me make money, I give it 5 stars. FYI, I was an IT Professional and left my job after trying my hand at a lot of different things on the internet. All of which worked. My advice to anyone would be to focus on one important source of income, for example for me its publishing and writing books. And having other sources of income as well, such as by blogging or internet marketing, etc. Most businesses mentioned here don't require anything more than a sharp mind. So establish multiple sources of income and get out of the rat race." – Deejay
"Very helpful, and had a lot of great ideas to try at home. It had something for everyone and many out of the box ideas." – Christy
"What a great book to read. I have recently gotten into the whole "make money at home" scheme. However I was a bit stuck at what to do. And then I picked this book up, and wow, lets just say that there are plenty of ideas to pick from. I am a firm believer of passive income and the advantage it can bring to people. Which is why I'm going to start a numerous of passive income streams. The one that looks the most interesting is affiliate marketing. Highly recommend this book!" – Brian Leow
"Quick, concise, and clear. Lots of resources and leads. Easy to read and to the point, no ruffles, no fluff!" – Gabriella
How to get a copy of my eBook
101 Ways to Earn Money From Home is available NOW on Amazon globally for just $2.99 / £1.90. The price of a coffee!
Whatever your reason for wanting to earn more money, this book will give you 101 ideas and access to resources for getting started. This is a guide packed so full of information about earning from home that you'll be able to refer back to it again and again. Get this eBook delivered to you within minutes – download now!