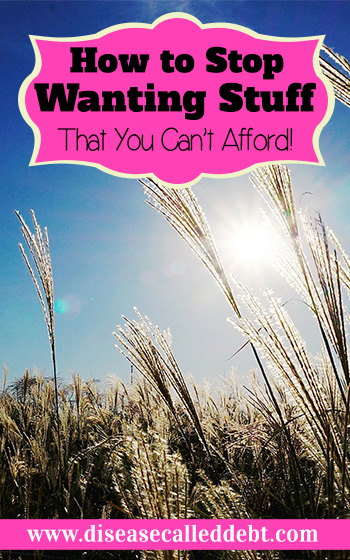 Have you ever wanted stuff that you can't afford?
We have. Ever since the hubby and I first got into debt, it's been a case (subconciously I think) of keeping up with the Joneses.
We plodded through life early on in our relationship buying this and that in order to fit in with the lifestyle that we wanted and which our friends had too. To put it mildly, we've spent a lot of money over the years on materials things that we really didn't have the means to buy.
We never meant to get into debt and some of our debt couldn't be helped because of the hubby's business, but the other debt – the evil debt – as I like to call it, was largely due to our wanting more than we could afford.
Why do we seem to want what we can't have?
I'm not speaking for everybody here but haven't most of us wanted something that we can't have? I'm not just thinking about money and gadgets, we sometimes feel this way about jobs, careers and matters of the heart too. So for those of us in evil debt, what are the reasons that make us want more than we can afford instead of being grateful for the good things we've already got?
1. We jump on the bandwagon
Even from school age, we observe our friends around us and can't help but notice what they've got or are doing. In my school, the kids with the best brand of trainers were more popular than the kids with plimsolls (me). Shallow but true in my case. Often instilled in us from a young age is the belief that getting nice clothes and accessories to wear would make us happier, more confident and more liked much helped by the fact that it's kind of true!
2. We deserve nice stuff, don't we?
Some of us didn't have much by way of possessions throughout our childhood and we make up for it when we start earning money ourselves. I'm a classic example here as my parents were very sensible with what little money they had but I remember wishing that I could wear nice clothes like my friends. When I started work, I did buy a lot of stuff (most of which I couldn't afford) and it did make me happier. For a while at least!
Others think they deserve something nice because they work so damn hard. Only sometimes we can't always afford such nice things, yet we're still working so hard and we just need cheering up.
3. We need the latest gadgets for our current lifestyle to continue
Just the other day, I read someone's cry for help on a money saving forum about the fact that they were in debt and they knew they needed to stop buying things but they couldn't help thinking about all the luxury gadgets and toys they want to buy! Is it madness that someone should think like this even when being in debt? Yes! Is it reality? For a person in evil debt, yes!
In our earlier years of being in evil debt (when we were still accumulating debt of that kind), the hubby and I were utterly convinced that we had to have a MAC desktop as we needed a fast machine with a lot of memory. Nothing else would do. We didn't put all of the cost on our credit card, but unfortunately we did use it for some of the cost. The only good thing I have to say about this decision now is that we loved it and we've still got it even though it's really outdated and the latest web browsers won't work on it.
4. We can always pay it off later
Spreading the cost is one thing but in some cases the art of 'paying it off later' never seems to work out. It can just add up and in the end, we might find that we're still paying off that holiday which we took 5 years ago along with a whole load of other stuff that we can't remember buying!
Side note: If there is one piece of advice that someone in debt could take from my blog, it's this: don't get into the whole 'pay it off later' thing. It's way too risky and you could end up regretting it for such a long time. Like 15 years.
So how to stop wanting stuff that you can't afford?
Once you have that lightbulb moment and realise that you hate debt and need to start paying it back like a bat out of hell, one way to make sure you succeed is to put a stop to wanting material things that you can't afford. It's hard but changing your mindset about needing 'stuff' can be done!
1. Make a list of your material stuff
Think back as far as you can remember and write everything down that you paid for on credit cards or loans and the price of it all. Do you still have any of this stuff? What condition is it in? Did you use it a lot? Was it worth the price you paid for it and what's the value of it now? Most importantly, are you happy now that you bought it?
2. Figure out what makes you happy now
Factor in your family and friends, your job, your hobbies. If you had one day left tomorrow, would you spend time with someone doing something you love or would you hit the shops not caring how much money you spent? Once you know what makes you happy, start doing more of those things instead of spending money.
3. Replace 'expensive stuff' with 'quality time'
Leading on from the last point, plan cheap day trips out or free nights in with family or friends; build up some memories of special people and times that really matter to you. You can add value to your life and really enjoy your life without actually spending much money at all. After a while, the 'wanting' of material things will ease and you will appreciate the real things in life.
4. Rein in your green eyed monster
When your friends are talking about their latest holiday that they've just booked or all the new stuff they're buying for their house, you may notice that your green eyed monster is chomping at the bit. This is the hardest part of not wanting stuff – for me at least. But, you have to ask yourself – would you really want all that stuff that your friends have just bought, or this hard emotionally because you really want to be in a better financial place so that you can have choices?
5. Plan your debt free future
There are some things that it's not sensible to do when paying off debt that you might really want to do. Things that need paying for, like buying a house or traveling for example. I miss traveling so much! But you can plan your future around being debt free. Yes, it's a waiting game. But by having a vision for how you want to live your life when you are debt free, it can really motivate you and keep you focused.
So think long term, what do you really want when you're debt free? Whether you want to buy material things or a chance to see some of world, the whole point of being debt free and financially secure is that you can make decisions freely based on what you can afford.
How do you stop yourself wanting what you can't afford? If you enjoyed this post, please take a moment to share it with your followers!