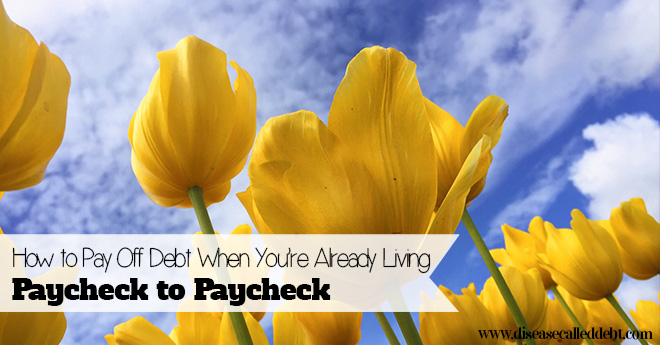 If you're currently living paycheck to paycheck, you'll know how frustrating and worrying it can be when you run out of money before payday. Especially if that means you can't afford basic necessities like food or you're struggling to find enough money to pay your household bills.
Add debt to the equation and this situation becomes even more stressful. When you don't have enough money to live on, the temptation to resort to buying things on credit becomes stronger and in the case of financial emergencies, using credit may be the only way to get though them.
This is where you can end up in a vicious cycle of not being able to afford general living costs, adding to your debt load and then eventually, not being able to manage that debt.
When you're in this situation, it's really hard to even begin paying off debt. After all, when you don't have enough money to last until the end of the month, how on earth are you supposed to find extra money for debt repayment?
Whilst it might seem impossible, the reality is that if you're in debt and living paycheck to paycheck, you have to find a way to get rid of that debt, because life will become a lot easier for you if do. And where there's a will, there's always a way!
Take a look at the following steps you can take to move away from paycheck to paycheck living – and ultimately, towards debt freedom.
1. Believe that your situation can change
Half the battle is in believing in yourself that you can do what's needed to get yourself out of this situation. Don't just accept that your life will always be like this – working all week long and still only barely being able to survive – because it doesn't have to be. There are numerous ways that you can begin to improve your finances and it all starts with a few baby steps.
If you want things to change, you have to do what it takes to make that change happen. This isn't easy of course, but having a positive outlook will really help. From experience, I can tell you that as soon as you start to see progress, you will feel happier and more confident that things will get better.
2. Cut back on as many costs as possible
You might have already been through your expenditure with a fine tooth comb and eliminated the non-essentials that you don't need to paying out for. But have you been through all of your fixed costs too? By this, I mean checking whether you can get a cheaper rate on your mortgage or rent, switching utility providers if you find you can save money, cutting back your mobile phone package to the cheapest one possible – or even doing away with a mobile altogether.
Instead of shopping at just one supermarket, do a price comparison at different stores and plan your shopping around the ones that offer the cheapest deals. In the UK, you can do this easily with sites like My Supermarket.
If you're a two car family, can you cut back to one car or even none? If you're about to toss this idea out of window because of commuting costs and the time factor involved in getting to work without a car, I'd encourage you to seriously think about whether you could do this and work out the costs properly. Some employers offer a cycle to work scheme where they fund the cost of a bicycle, plus it's a great way to get fit with spending money on a gym membership!
3. Earn more money
Making extra money is the key to breaking the cycle of paycheck to paycheck living and begin paying off your debt. In fact, if you've already cut as many costs as possible, it's THE most important thing you need to be doing to free yourself from struggling to make ends meet every day.
You might think it's hard to make extra money in addition to working your day job, looking after the kids, doing the chores and other commitments you have outside of work. But it really isn't impossible. It will be hard finding time of course, but this is something that you need to accept that you must do if you want things to change.
Thanks to the internet, there are so many ways to make money these days, all from the comfort of your own home and using a mixture of skills. Take a look at some of the posts I've written about different ways to make money below, as one of these might just jump out at you as something that you could do.
10 ways to earn money in your lunch break
How to make money writing and publishing eBooks (5 part series)
10 quick gigs you can do on Fiverr (for non-techies)
Significantly boost your income freelancing with Upwork (formerly oDesk) in 6 easy steps
How to make money as a childminder
101 ways to earn money from home – my eBook which is packed full of ideas
By generating extra income in addition to your regular income, this will help alleviate the struggles you may be going through each month, so that you can survive until the next payday.
4. Use any money you can to pay off your debt
If you make extra money, you should put that towards your debt repayment, as long as you can have enough money to buy food and pay your household bills. It is tempting to use extra money to do all the things you've been struggling to do due to lack of funds, but if you want to escape the trap of living paycheck to paycheck, you have to use that money wisely!
You might think earning £20 here or £10 there won't make much difference to your situation, so what's the point? Well, the point is that even little amounts add up! If you can make £30 selling your old clothes on eBay and use that money to pay off your debt, that's £30 less debt to worry about plus whatever you pay for your minimum payment amount.
5. Build a small emergency fund
One reason why things are so hard when you live paycheck to paycheck is because when a financial emergency arises, like a car repair or huge electric bill, you won't be able to cope because you simply won't have enough cash to deal with it. The only option is to default on bills like this or to get through the situation with your credit cards or worse, a payday loan.
If you can build a small emergency fund using some of the extra money you can make, when this does happen, you'll be prepared and you won't need to resort to credit, which would of course only make things worse in the longrun.
When my husband and I were in this situation, we managed to build up an emergency fund of £500 ($770) by siphoning away some of the extra money we were making. It was enough to cover us for those unexpected expenses and we began to top up the emergency fund by £30 ($46) per month so that when we had to use the fund, we always had money in there.
The general rule of thumb when it comes to emergency funds is to have at least three months' wages saved in the case of a financial emergency, like the loss of your job. My thoughts on that – yes, sounds wonderful to be so prepared. But when you're living paycheck to paycheck and in debt, this amount just isn't possible. A small emergency fund is better than nothing!
6. Evaluate your progress and keep going
Keep chipping away at your debt by earning money when you can and putting it towards your debt. To keep you motivated, keep a log of how much debt you're paying off so you can see those numbers reducing.
If you can do this – keep plugging away at earning cash here and there and then paying off your debt with the money you earn – it won't be long before your minimum payments start to reduce. This means that during those months when you can't find any extra money, the struggle to make it to payday again will be easier because you won't be servicing as much debt as before.
There will be bumps in the road, but if you keep going, you will make it out of the cycle of living paycheck to paycheck and out of debt so you can enjoy a more comfortable future. One where you don't need to stress so much about lack of funds!
Do you struggle to make it to payday?
Infographic supplied by Have I Got PPI UK who provide free PPI checks to clients.