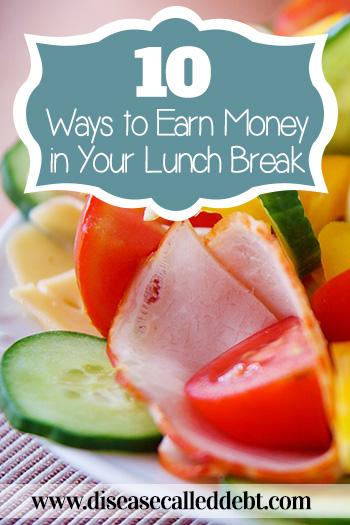 When I worked in the corporate world, I desperately needed to earn extra money in addition to my regular wage just to get through the month until payday.
I remember spending many of my days wishing I could earn extra money whilst I was actually at work!
Instead, I waited until I got home before getting on with selling my old things on eBay and working on my bridal makeup business.
All too often I was really tired and the last thing I wanted to do was do even more work, especially as my job involved working long hours.
Wouldn't it be good if you could actually earn extra money even though you're at work (earning money)? Now I know this isn't allowed at some workplaces and yes, you are there to do a job.
But providing your employer doesn't mind, it might be possible for you to earn some cash whilst you're taking your lunch break. So what can you do to earn money in a very limited amount of time? Here are a few ideas…
10 ways to earn money in your lunch break
1. Make lunch for your colleagues
If you think that people won't pay for this, think again. Someone at the hubby's workplace pays another colleague to bring in a "superior" sandwich every day. It's a win win! If you're already making lunch for yourself, why not ask your colleagues if they'd be willing to pay you to make theirs too? Most people prefer fresh lunches rather than buying something prepacked from the supermarket and not everyone has the time to bring a  homemade lunch to work. So create some tasty lunches that won't cost you a lot to make and offer them to your colleagues in return for payment.
2. Provide pampering treatments
I know not all guys would be willing to do this, but if you can paint nails or offer hand massages to your colleagues, I'm sure you'd have at least one customer who is desperate to escape the daily grind for 15 minutes whilst you rake in a little cash. If you get an hour's lunch break, you can potentially fit in 3 pamper treatments plus 15 minutes to inhale your lunch.
3. Wash cars
Take a change of clothes for this one. If you have access to water supply, car shampoo
and a sponge, you can do this and your colleagues will thank you for it. Once you get going you could fit a few cars in per lunch break, giving you a little time to make sure you look fit for work again and eat your lunch in between.
4. Become a personal fitness coach
If you're fit and healthy and have some knowledge of what it takes to teach others how to get into shape, you can help your colleagues by running one to one or group training sessions during your lunch hour. Your colleagues won't have to pay through the nose for a gym membership and you can reap the financial rewards.
5. Teach
Are you good at speaking another language? Tai Chi? Making jewellery? Bee-keeping? Most people are an expert at something they're passionate about even if they don't realise it yet. And others really want to know how to learn something new. So if you have a passion that other people would love to learn about, offer it as a mini teaching course in half hour sessions.
6. Become an amateur driving instructor
Driving lessons are SO expensive these days, they can cost between £20-£30 per hour in the UK. If you can drive and you know someone who wants to learn, why not offer them basic driving lessons during lunch? Just be clear with them that you're not qualified but you can teach them some basic skills and they'll need at least a few expert lessons before taking their driving test. Also check with your insurance provider that you'll be covered if they have an accident whilst driving your car. You can charge half the price of  a regular lesson, the learner will be over the moon at saving some money and this could be a nice earner for you.
7. Run errands
Lunch breaks are precious. You can bet your bottom dollar that some of your colleagues will be stressing out over how they'll manage to pick up their dry cleaning, post a letter or pop to the shops. You can take the stress out of that for them by offering to do odd jobs like this during your lunch hour in return for a little payment.
8. Start a blog
If you have access to the internet, you can dedicate your lunch break to starting a blog. Once you know what to blog about, you can start making money through advertising. The great thing about blogging is that it costs next to nothing to start one up. You can use WordPress as your blogging platform which is really easy to use and it has many good free theme designs for those starting out.
9. Sell a gig on Fiverr
If you're good at graphic design, writing, proofreading, spreadsheets, video editing and much more, you can market yourself on Fiverr and sell your services for $5 each time. The trick to making money on Fiverr is to only sell services that you can do quickly in less than an hour. For example, proofreading a short article or altering a photo in Photoshop is something you can do quickly for someone during your lunch hour! You might even be able to stack up some 15 minute jobs and get through a few whilst tucking into your sandwiches.
10. Do surveys and competitions
You won't earn a fortune but you might just be able to make some regular money by doing lots of surveys. Here are 20 good survey sites that you can use for starters. With competitions, well… there's no guarantee that you'll win anything, but statistically entering magazine competitions by post will bring you more success than online competitions as less people enter competitions by post these days. You could be earning money like a professional comper before you know it!
Things to remember!
Firstly, if you think you'd like to try earning money on your lunch break, remember to take some time to actually eat your lunch. That really is important! If you start feeling like you're burning out, make sure you're getting some rest at least. Secondly, if you're worried about what your colleagues might think of you offering to make their lunch or wash their cars, DON'T! Think about yourself, what you need to do and nothing else really matters. Your colleagues will probably wish they'd thought of it first!
For lots more ways to make money (not necessarily during your lunch break), check out my eBook, 101 Ways to Earn Money From Home.
Have you thought about making money during your lunch break before? Please share your experience in the comments below!
*Affiliate links are contained in this post. Disease Called Debt is a participant in the Amazon Services LLC Associates Program, an affiliate advertising program designed to provide a means for sites to earn advertising fees by advertising and linking to amazon.com.