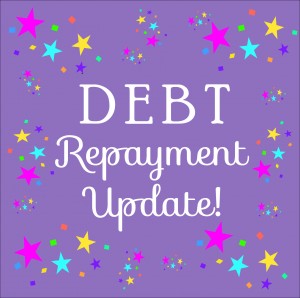 When making extra debt repayments, I usually try to pay off as and when we find any spare cash, however this month I've waited until today to make an overpayment. This is because I wanted to make sure every bill has been accounted for this month before paying extra on the debts – last month we ended up in our overdraft and I didn't want a repeat performance of that!
So I've been glued to my budget and expenses spreadsheet every day and the result is that we've not gone into our overdraft at all! I feel totally in control for once! The only downside is that I've been getting impatient waiting until the end of the month to make our extra debt repayment! Oh what an amazing feeling it is paying off debts online and knowing that another chunk of it has gone for good. 🙂
In terms of extra cash we've put towards the debts this month, overall it's a good figure! We managed to pay off £905 including our minimum payments and taking into account interest charged on my credit card. This takes our total debt figure from £36,177.12 down to £35,272.09!
We are so close to being under the £35K debt bracket! Next month we will be definitely be hitting below the £35K mark at last, so that will definitely be time for a celebration of sorts!
This year since January, we've paid off £6217, which is around 14% of our total debt. It's a great feeling to see these figures coming down and makes me more confident that our current path is the right one with regard to debt repayment!
Extra payments this month were made from squeezing the budget even tighter, giving up alcohol and making a little extra money. Yes I actually made some extra money!! Are you ready for this….? I made 20 whole earth pounds (£20). Not from the blog I might add but from some freelance writing. I admit it's not a lot, but it's a start!
In relation to my credit card, the one that I've been striving to pay off for the last year, the balance on this is now down to £1299 from almost £6K in January. As you may know my goal is to pay this off by Christmas but I have to say that this is looking rather unlikely because the hubby and I have decided to take a long holiday over December to spend time with our relatives! We haven't had a break of sorts all year (except for going camping one weekend) so staying with family for a while will be really relaxing and much needed!
The only slight issue here is because I'm self employed, if I don't work I don't get paid. So during December, I need to work hard on saving up enough to cover some of our bills for the month ahead before we both take some leave from work.
With this in mind, the chances of paying my credit card off this side of Christmas are slim. Not impossible, but slim! It might well be January before I can make that final payment, however, I'm going to try really hard to make more money than expected in order to make an extra payment in December.
Either way, I'm pleased with the progress that we're making and with every debt repayment, the hubby and I feel the burden of this debt lifting ever so slightly!
How was October financially for you? Are you pleased with how it went?
_____________________________________________________________________
Editor's note: Please check back tomorrow for a special guest post from Lyle at The Joy of Simple. Lyle has this amazing ability to inspire others with his writing so I'm sure you will enjoy his post!
If you'd like to be kept updated with future posts from A Disease Called Debt, please consider subscribing by email or RSS to make sure you don't miss them!
_____________________________________________________________________
Related posts:
Image © A Disease Called Debt