Are you in debt and living paycheck to paycheck? Would you love to be rid of your debt somehow so you can stop worrying about money so much?
Does it feels like even though you have the best intentions with your debt repayment, you seem to take one step forward and then end up taking two steps back?
If this is you, you're not alone. Paying off debt is extremely challenging. It's difficult to find extra money to pay off your debt so that you can finally be free of it, especially when you need to pay for day-to-day living too.
Plus, paying off debt can feel like you're making a huge sacrifice. If you have to find money to pay your debts off faster, something's got to give, right?
Maybe you've already cut back but you're not seeing real progress. Or perhaps you're not ready to make even more sacrifices just yet – maybe after your summer hols or once you've got Christmas out of the way?
If you're nodding your head in agreement to that last sentence, I have to ask you this. "Do you want to get out of debt? I mean really, really?"
Look, I'm not judging because for many years I was stuck in debt myself and couldn't seem to get my finances into shape, even though I kept on trying.
But just think about this. Could the reason that you're still stuck in debt be because you don't have that underlying desire to get out of debt for good?
Here's a case in point – my friend and her debt
One of my good friends is heavily in debt right now. She's made a few mistakes recently through some badly placed investments and to cut a long story short, this has ultimately added several thousands to her debt load.
She had some great intentions of making some money with her investments to pay off her debts quickly. But then, disaster struck and her investments crashed, leaving her finances in even more of a mess than before.
I've been speaking to my friend about starting to pay off her debt the other way – through extra effort and hard work. She agrees with me that this is what she needs to do. Yet, there's something stopping her from getting on with it.
She doesn't know exactly how much money goes in and out of her bank account every month and even through we've talked about budgeting and tracking her expenses, I don't think she's really looked at this properly yet.
At the same time, my friend wants to be rid of her debt so much. She just wishes that she'd have some good luck for once in her life! I've been telling her that the world isn't against her and I've encouraged her in numerous ways as to how to get started, but I kind of feel like I'm talking to a brick wall.
She tells me that when hen she gets back from her summer holiday this year, that's when she's going to really go for it. She's going to budget, save, earn more money and pay off her debt, for good.
And you know what? I don't know whether she will ever be free from debt. I just don't think she has that underlying desire to become debt free. Because the decisions she's making every day are leading her down another path.
Debt will stick around as long as you let it
If you want to become debt free, you have to do what it takes to become debt free, it's as simple as that. With that said, I know everyone's debt situation is different and there are certain cases where getting into debt happens because of reasons beyond control.
However, many cases of consumer debt are caused by a desire to have "things" right now, this minute, when you can't afford them through your wages alone.
I also know that it's really tough to pay off debt when you don't have much money to start with. I really do understand that, because I've been there myself.
But here's the thing. I've said this before many times on the blog, but it's so important that I think it needs to be said again.
If you want really your finances to change for the better, you'll have to change the way you think and behave around money altogether.
When you're in a mess with debt, in order to make progress, you'll have to make some hard sacrifices on an ongoing basis. That means actually forgoing the summer holiday rather than saying you'll tackle the debt when you get back.
It means not delaying an overpayment of your debt until after your friend's birthday celebrations. It means trying to find a source of extra income that you can do right now, not next month when you've got less going on.
It means sitting down to work out your budget properly and then going over your expenses with a fine tooth comb, even when you can't be bothered to do it.
It means not wasting time hoping to win the lottery or thinking that you might be able to bag yourself a bonus at work at some point.
And it definitely means not thinking of yourself as someone who just has "bad luck".
Basically, it takes a lot of effort to get yourself out of debt – effort that only you can make. And until you're ready to make that effort and start thinking positively about your situation, the chances are that you'll be stuck in debt for the foreseeable future.
That last sentence might sound a bit harsh, but I don't want to sugarcoat this – some people will stay in debt because they just don't want debt freedom badly enough.
If this post resonates with you, please take action! Don't let debt be a part of your life any longer than you can help it. Life will be so much better without debt! 🙂
Are you ready to tackle your debt? Get in touch with me if you want someone to motivate you!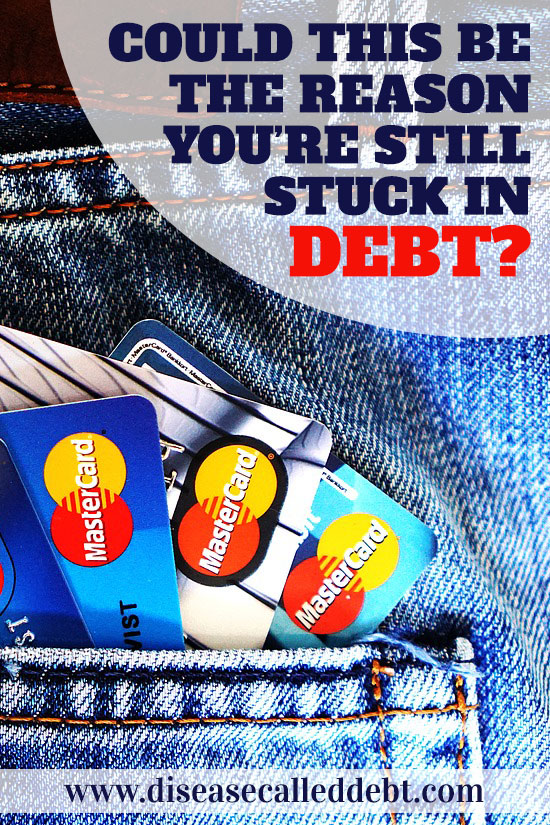 *Image courtesy of Pixabay with text overlay added.