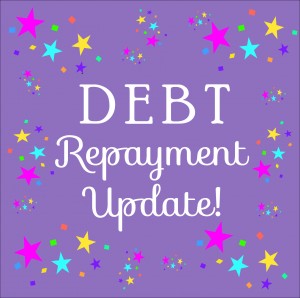 As the title of this post suggests, we have been busy making progress on getting out of debt in March! Remember last month when I explained that the hubby and I were due a PPI refund because we were mis-sold PPI?
Well, it actually happened; the PPI refund came through. I can honestly say that our bank account has never looked so good as when the cheque cleared!
As I've mentioned before, the hubby and I intend to use the full refund to go towards our debts.  In order to make the most of the money we've received, we wanted to make full and final settlement offers to some of our creditors. This meant that we were planning to ask for a reduced settlement figure in order to clear some of the balances.
Full and final settlements may be possible because we have had no choice but to enter into a debt management plan and most of our debts have been bought by debt collection agencies. The debt management plan in is my hubby's name so his credit rating has been impacted significantly in the process. Getting out of debt as quickly as possible is a priority for us not only so we can be free from this heavy burden but also so that we can begin to repair the damage that has been done to his credit rating.
Over the last month, we have been writing to our creditors to that effect and so far, this has been a long drawn out strategy with only one negotiation reached for just one creditor. That being said, what this actually means is that one debt balance has been completely cleared!
So without further ado, I can confirm that in March, we managed to clear one of our debts which stood at £5247!! Our creditor accepted the amount of £2747 as full and final settlement of the debt and we do have some money remaining which we're hoping to use in the future to settle other debts. With our minimum payments included, our debt total has been reduced to £27,287.95 from £32,995.39 last month! Considering where we started in January 2013 with owing just over £41K, this is an incredible relief for us to be able see our debts at under £30K!
We tried to be as fair as possible in the way that we approached offering full and final settlements from our creditors. We used a formula to work out a fair offer to each creditor based on the amount of money that we received and the amount of existing debt that we had with each one. You can view the formula we used over at National Debtline. We were also careful to keep all communication in writing and make it clear that any negotiation reached is on the understanding that the debt is fully satisfied and we will not be chased for payments at a later date.
The other creditors that we contacted were not able to accept the offers that we made but have made counter offers which unfortunately, we can't afford at this time. In a few months though, who knows? Those offers might not be on the table though by that time, but we'll just have to wait and see. We know that we won't be able to clear all of our debts by any means with this refund that we've received but we are still hoping to make some really good progress by using the remainder of it wisely.
The PPI refund that we received has been an absolute breakthrough in this debt repayment journey. It came at just the right time because a few years ago, I imagine we'd have just spent it on something unnecessary like a really nice holiday or upgrading our car. Thankfully, our mindset has now changed and this money is definitely going to the right place.
If you live in the UK and think that you might be owed a PPI refund, my posts on What is mis-sold PPI and are you eligible to make a PPI claim? and How you can claim back mis-sold PPI yourself might be of help to you.
How did your finances do in March?