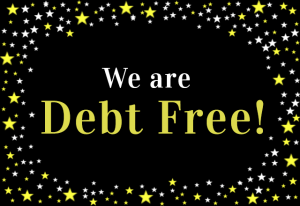 That's right, we've managed to completely clear our debt! We started out with just over £41,000 of credit card and loan debt ($65,000) and it's now been eliminated.
I can barely contain my happiness as I write this post, because for such a long time, I thought we would always have to live under the heavy burden of debt.
We've experienced rock bottom twice at the hands of debt. Over the years, we've been sad, angry, hopeless, depressed and even ashamed at times about our level of debt. There didn't seem to be a way out for many years even though we tried so often to pay off debt here and there. We considered bankruptcy before entering into a debt management plan because our debts were totally out of control. Things were incredibly stressful back then.
Then luckily in January 2013, something changed in us, this blog was born and we were able knuckle down and undertake the necessary steps to get ourselves out of debt for good! It's been a tough journey, emotionally and financially. We've had bad months and good months. But there you have it – after 15 years of being in debt, we are finally debt free!
So how did we go from £13,073.74 in August to debt free now?
In August's debt repayment update, I explained how our last debt was a front loaded loan, where all the interest was added on at the start. The figure of £13,073.74 was the amount with interest included across the full term of the loan. To settle early, we were told that we'd be given an interest rebate which would bring the amount to pay down to £11,305.51.
Since April, when we had a breakthrough with the other debts that we had, we've been saving every penny and taking on extra work to bring in more money including doing new side hustles like eBook launches and making Tour de France memorabilia. We've even been scraping around for loose change behind the sofa and in the car. Basically we've been doing everything we could to raise enough money to clear our last remaining debt.
There came a point a couple of weeks ago, where we realised that if we also included the money we had saved in our emergency fund, we'd have enough money to clear our debts. We decided to go ahead with this decision to empty the emergency fund (actually it's not quite empty, there's still £200 left in there) and so we used it to be rid of our debts for good.
We called our creditor, got the final settlement in writing and have been waiting on tenterhooks to get the letter through the post. One thing I've learned about dealing with creditors is to get everything in writing, even if it means waiting impatiently for two weeks. Finally, it came through, we phoned the creditor again with joy in our hearts to make this final wretched payment and… guess what happened…?
The payment declined! After an initial panic, we found out that our bank was being cautious and they'd stopped the payment in case it was being fraudulently taken, with it being such a lot of money. So instead, we made the payment online and watched the money disappear from our account. After a phone call again to check it had been received, we could finally allow ourselves to rest in the knowledge that our debts were gone. Have we celebrated? Strangely, no… not yet!
However, words can't describe the relief that we're feeling, to know that we've dealt with our debts. Our relationship and marriage is stronger than ever, we're better educated about money and we're looking forward to a bright future, free from debt! (Note – we do have a mortgage on a rental property, but I'll write more about our plans on that another day).
What now for Disease Called Debt?
This blog was created out of despair and frustration, at a time when I personally felt alone and swamped by the pressure of what was happening to us. This blog was my outlet for venting my thoughts. I didn't expect to find a supportive community of like minded people who have inspired me and in turn have helped me to inspire others. I didn't know that I would learn about budgeting, emergency funds, frugal living and tons of ways to make extra money. I definitely didn't expect anything positive to come from being in debt.
So although this blog has served its purpose – to allow me to document our journey to debt freedom – Disease Called Debt will still go on. I will still write about debt because I want to help others who are facing the same problems as we did. In the coming weeks, I'll be writing our own debt success story and also about the new goals we'll be setting for ourselves in order to start building wealth for the first time.
Thank you
Thank you to all of you for reading this blog and for motivating me to keep on writing. Without you reading this, I genuinely don't know if we'd be debt free right now. I don't know whether the hubby and I would have been able to stay the course without having you, through this blog, keeping us accountable.
Please keep on reading this blog – it really does mean the world to me.