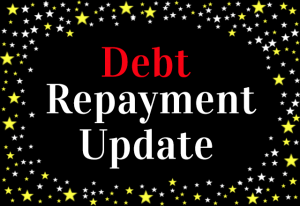 Well, on the face of things, our debt repayment news isn't much to shout about for the month of August.
You probably know that we are down to just one creditor in our debt management plan and this one has been a bit of a stickler. Our original debt amount to this creditor was for an unsecured loan we took out in 2008 for £15K.
We made the mistake of getting a front loaded loan which basically meant that all the interest was added on at the start. The idea was that we would benefit from a lower rate of interest across the term of the loan – the way the interest works is by paying more interest at the start with it gradually reducing over time as the loan goes on.
Here's how the front loaded loan well and truly backfired on us
When this loan was taken out, things were ok financially. Well they weren't brilliant by any means since we had a shed load of debt of course, but we were managing financially. The low rate of interest was very appealing and helpful. Then, we ran into serious debt problems and our circumstances meant that we had no choice but to enter into a debt management plan with all of our creditors.
When a person goes down the debt management plan route, more often than not, creditors will freeze their interest rates at 0% to give them a chance to repay the debt. This is crucial for someone living on the breadline, trying to keep their heads above water and battling with debt repayments at the same time.
But when a front loaded loan comes into the equation, this doesn't happen. Our creditor refused to freeze or lower the interest, because it had all been added on at the start of the loan (perfectly legal by the way). This in effect turned our £15K loan into a £21K loan and this is what we've been paying off ever since.
However, we are entitled to settle the loan early if we can manage to find the cash. And if it's the last thing we do, we will save up and make money to get this loan paid off sooner than expected. If we carried on paying the loan until it's supposed to complete, we will have to pay back £13,073.74 which is what our debt progress bar stands us at across on the right hand side of this page.
However if we settled today (wishful thinking), we would need to pay back £11,305.51, this takes into account the interest rebate the creditor will need to account for. So that's the amount of money that we need to raise to clear this last remaining debt to our creditor.
Using our emergency fund to pay off debt
We agreed a few months ago with our creditor to increase our payments to £300 per month (an increase from the original loan repayment of £192 per month) to try to get ourselves out of arrears and back on track. We couldn't commit to any more because my self-employed income fluctuates all the time.
However, we've been saving money wherever we can in a bid to raise the funds. We're not there yet but when we get to a certain level, we are intending to empty our emergency fund and our rental emergency fund to raise the cash we need. I know not everyone will agree with this because it's a risk to empty out an emergency fund.
Up until last year, we didn't have any kind of financial buffer whatsoever. Emergency funds were a new concept to us. Being able to put money away into an emergency fund has saved our bacon many times over the last year, so it's a big decision for us to think about using the money for debts – especially when we have a rental property to manage which is currently very challenging.
However!! We have been in debt for 15 years. It's not only been a financial battle, it's been a really tough emotional journey too. In our favour, once the debts are gone, we'll instantly have £300 per month to use for emergencies if we have to, plus the money we currently try to save will be available to us as well. So with any luck our emergency fund will be at a basic level again within a few months.
To us, getting rid of our debts is worth taking a risk by using our emergency fund. Although Dave Ramsey will probably beg to differ, I think Graham from Moneystepper will agree with me on this because he's written a series of posts about emergency fund management for people in debt with either a good or bad credit score. As he states, "DEBT IS THE EMERGENCY!"
How was August for you?
P.S. Huge thanks to Kalen at Money Mini Blog and Richard from Frugality Magazine for mentioning my recent posts, really appreciate it!
*Image copyright: Disease Called Debt