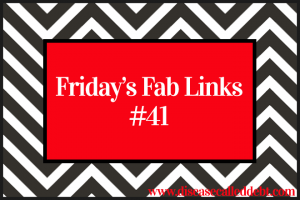 I know, I know. It's been ages since I posted a Friday's Fab Links feature and so this one is well overdue.
I will try to post more of these in future, I promise! Even though I don't comment on as many personal finance blogs as I used to (just because of time!), I still read lots of them every week.
These are the  blog reads that stood out for me recently, they are mostly personal finance related but the first of them is about blogging – and it's one of the best blogging posts I've read in a long time.
1. Jon Morrow over at Boost Blog Traffic wrote How to Be Smart in a World of Dumb Bloggers. Jon holds nothing back and tells us why many bloggers are failing and how you can learn to be a smarter blogger altogether.
2. Sam from Frugaling wrote a great post called Ownership Isn't Real, We Rent This Life. Sam delivered an inspiring perspective on life, by challenging us to think about our temporary existence here on Earth and how money and material things impact on that.
3. Trent from The Simple Dollar gave some great advice in his post Handling Unhappiness Without Breaking The Bank. It's no surpise that many people turn to retail therapy when they are not entirely happy with their lot in life. Trent touches on a few possible reasons for being unhappy and explains several tactics you can try to get your happiness levels back on an even keel.
4. Michelle from Making Sense of Cents wrote 4 Reasons to Make Extra Money. Michelle explains how generating side income has changed her life and how it can change yours too.
5. Continuing the making money theme, Heather from The Penny Hoarder wrote 29 Smart Ways to Make Money on the Side in 2015. You may have heard of a few of these ideas before but there are some gems in there, so it's well worth checking out!
Hope you enjoy the above reads! Have a great weekend everyone. 🙂