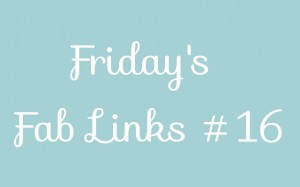 Hello! How's your week been? This week has been both good yet turbulent for me… It's been great as far as blogging goes especially during the early part of the week as I was involved in The Gift of Debt series. Thank you to the talented Taynia from The Fiscal Flamingo who is responsible for putting this great series together!
The Gift of Debt series consists of articles by 8 different bloggers including myself who have been able to find something positive out of being in debt. Yes really! Debt doesn't have to be all doom and gloom. It's worth checking the Fiscal Flamingo site daily for the next week or so to make sure you don't miss out on great posts from the other bloggers who are taking part in this series. I've enjoyed being part of this immensely!
The turbulent part of my week has been down to some family issues which have cropped up. Unfortunately these family matters also involve financial matters and these two things don't always go hand in hand! So for the latter part of the week, blogging has had to take a backseat. I haven't had chance to visit or comment on as many blogs as I'd like but I'm hoping to be back on form next week. I might elaborate on these turbulent issues in the future, but for now my head has been spinning with everything, so I'll just focus on the main feature of this post!
Here's my favourite fab links from this week:
Glen from Monster Piggy Bank wrote an excellent post as part of The Gift of Debt series explaining how compound interest can work both for you or against you and how he got smart with tackling his mortgage debt. You can read his post here: Debt, Compound Interest and Home Ownership.
Girl Meets Debt published the first post in her new feature – Debt Confessions: Eva's Story. I can really relate to this story by Eva from Girl Counting Pennies as I too have made questionable choices around finances in the past. I really admire how Eva is proactively tackling her debt and at the same time, not giving up on her dream of travelling!
Ash and Jay from Sterling Effort included A Disease Called Debt in their latest Top UK Personal Finance Blogs Update. I wanted to say a big thanks for that and also to let you know that this is a great site well worth visiting as it contains a wealth of information about money: making it, saving it and growing it!
Tonya from Budget & the Beach wrote a great post about We're Doing The Best We Can. Tonya explains how it's easy to look at someone else's life (especially those people we don't know so well) and judge how well they must be doing. However appearances can be deceiving!
Melanie from Dear Debt wrote an inspirational post called Practice that Attitude of Gratitude. Melanie writes about being grateful for the good things in our lives, showing appreciation and being kind to those people around us. It doesn't take much, but a little bit of gratitude goes a long way.
Have a great weekend everyone, I'll be back on Monday!
Posts I've written this week:
Related posts:
Image © A Disease Called Debt