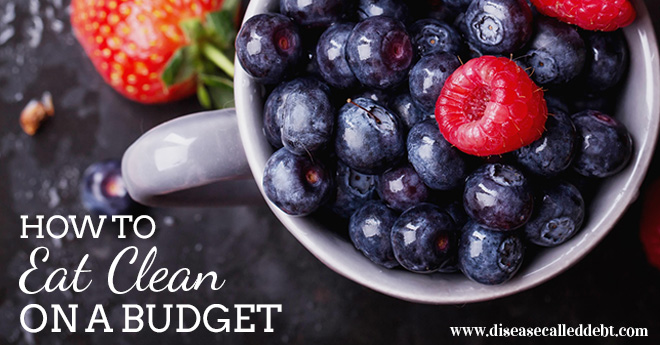 Many of us who are striving to climb out of debt or grow to financial independence save money wherever we can. In today's world of cheap processed foods it only makes sense for us to take advantage of the savings. But is that really the best choice?
Food is the information our bodies use to keep us healthy. This is one reason why more and more people are starting to eat clean.
What is "eating clean"?
Eating clean is eating good healthy food that is unprocessed or processed as little as possible. You eat things like whole grains, fruits, vegetables, organic or grass fed meats. You drink 2 liters of water a day, eat 5 to 6 times a day, and when you do eat – enjoy your food – don't rush.
The question arises, especially when we see the word "organic", is how can we eat clean, and stay in budget?
Ways to cut costs while eating clean
When you step into a health-food store the first thing you notice is the prices. For instance, my wife and I eat a lot of chicken. We typically go to Sam's Club and get a large package of boneless skinless breasts for $1.70 a pound.
How much does it cost at Whole Foods? $10.99 a pound. So instead of buying the boneless chicken we went for the whole chicken which is only $2.99 a pound (still a good price).
Two things stood out about this chicken. First, it was already seasoned for us and cooked easily by putting it in the oven. Second, the taste of the chicken was so much better – more like the food I ate when I lived near a farm and got my food from there.
Health-food stores, like regular grocery stores, have sales, and coupons so by taking advantage of this in the same way you can save additional money.
Shopping at a health-food store is not the only way to eat clean. Your regular grocery store has things available for a much cheaper price. Staying away from the processed food is as simple as staying to the outside edges of the store, where the produce and meat departments are.
Another great place to go to purchase clean foods is your local produce markets. They cost less, are locally grown, and usually taste much better.
Sometimes the best way to save money though is to just get what you have always got. Many foods are just fine. Just be mindful of the ingredients on the packaging (if you can't pronounce them don't buy it) as well as what is called the "dirty dozen".
Once you have bought your clean food you can stretch your money even further by making a large enough meal to freeze leftovers to eat on a later date.
Just in case you are concerned about being able to make every meal out of clean ingredients, I have found a few recipes for everyday life.
Breakfast:
Poached Eggs with Vegetable Hash
Sweet Potato Pancakes – Only two ingredients
Lunch/Dinner:
Chicken with Brussels Sprouts and Mustard Sauce
Peppercorn-Crusted Beef Tenderloin with Gremolata
Lemony Chicken Kebabs with Tomato-Parsley Salad
Dessert:
Grain-Free Pumpkin Chocolate Chip Cookies
I haven't had a chance to make all of these but they all sound amazing.
Eating clean on a budget
We all want to live a happy and healthy life. We sometimes focus on the financial side of that happiness but truth is if we don't take care of our health we will never be able to truly enjoy being debt free or reaching financial independence.
So take care of yourself, get your exercise and eat clean. While taking care of your health, take care of your wallet too by buying in bulk, when in season, and locally.
How does eating healthily affect your budget?
________________________________________________________
Author Bio: Tyler Philbrook runs the blog I Am The Future Me. He talks about his journey from $29,000 in debt to becoming financially independent by cutting costs, making more money, and making good financial decisions.
________________________________________________________
Editor's note – to kickstart your clean eating regime, check out these resources and tools!
Eating Clean: The 21-Day Plan to Detox, Fight Inflammation, and Reset Your Body

Clean Eating Cookbook & Diet: Over 100 Healthy Whole Food Recipes & Meal Plans

Magic Bullet NutriBullet: 12-Piece High-Speed Blender
*Affiliate links are contained in this post. Disease Called Debt is a participant in the Amazon Services LLC Associates Program, an affiliate advertising program designed to provide a means for sites to earn advertising fees by advertising and linking to amazon.com.