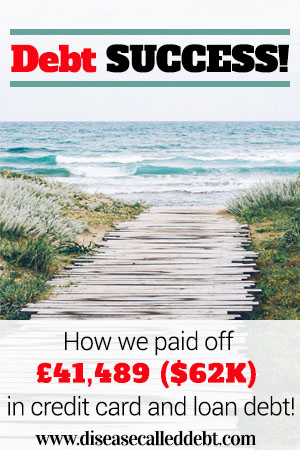 After battling with debt for 15 long years, this post explains how we managed to clear our massive debts in just 22 months after reaching rock bottom! This is our own debt success story…
If you've been reading this blog from the beginning, you may already know how we came to be debt free back in November 2014, but I thought it would be helpful to summarise what happened for new readers to the blog!
When you've read this post, you might want to check out the rest of the Debt Success Stories on this blog to find out how some amazing personal finance bloggers became debt free. I'm sure you'll find them as motivating and inspiring as I do.
The extent of our debt
My husband and I were plagued by debt for a very long time. Ever since we both reached the legal age to obtain credit, that's exactly what we did. You can read all about how we got into debt (twice) by checking out our Debt Story page, but in a nutshell, the debt was the result of many years of wanting what we couldn't afford and not thinking about the consequences.
Our debt turned sour a couple of times, eventually resulting in a debt management plan where we had to negotiate a lower monthly payment to our creditors. Our debt at its highest was a massive £41,489 (just over $62K) – and this didn't include mortgage debt, it was the very worst evil kind of debt built up from credit cards and loans.
What made us tackle our debt?
When we were in debt, it was like there was a black cloud hanging over us ALL of the time. The debts impacted just about every decision we made from what we could afford for our weekly food shop to having to say no to social engagements. Holidays and luxuries became totally out of our reach because when things got really bad and more credit was no longer an option, there was no way we could afford them.
The debt had a huge impact emotionally and my own confidence and self esteem was at an all time low. I worried non stop about everything and at one point I was diagnosed with depression which looking back stems from all the stress we were under from our debts.
We felt like we couldn't talk to anyone about what was going on because we were ashamed and embarrased about the situation we had created. That's why I started Disease Called Debt, as an anonymous blogger, so that I could vent my frustrations here about the struggles we were facing. When I started this blog, it was a turning point as we then realised we couldn't go on the way that we had done for so long.
The challenges of getting out of debt
Before the turning point, we knew we had to try to pay the debts off and we did try – several times, before finally making the changes that were needed to succeed. One of the biggest challenges we faced was continually failing and giving up on trying to get out of debt! We gave up several times because it was hard to scrape together even small amounts of money to put towards the debt. It just seemed too difficult especially when life was carrying on as normal around us.
The trick to overcoming that particular challenge was just to carry on making small steps even when they were so tiny they were hardly noticeable. Because eventually, those small steps made a tangible difference and we started to see results. Not being able to get any more credit definitely helped us as in the end there was no way for us to make things any worse.
Another challenge to us was making our debt a priority. This needed to be done in order to get the debt paid off but in reality, this meant having next to no social life, not buying new things and pretty much living a very basic lifestyle for the 22 months it took us to pay our debts off. (Side note – we didn't think it would only take 22 months, otherwise we would have done this much sooner!)
Lastly, the fact that we earned a low income as a family was a challenge as we had to find lots of creative ways to make money to put towards our debts.
How we stayed motivated to keep on paying off debt
I believe the reason why we failed so many times before was because we didn't have a good enough reason to want to succeed. We had to hit rock bottom to learn that we never wanted to go back there again. That in itself was pretty good motivation to keep going but mostly, this blog has provided the most unlikely source of motivation that we needed to become debt free.
When I started blogging, I found that we weren't alone in having tons of debt to pay off. There were plenty of other people in similar situations to us. We started getting involved in the wonderful personal finance community and found incredible support there from fellow bloggers who encouraged us to keep going even when we hit roadblocks along the way.
The lifestyle changes we made to get out of debt
I wrote a post a while back about the financial sacrifices we made to get out of debt which included all the cutbacks we made to speed up our debt repayment. In truth it was more than just cutbacks though. The changes we made impacted on how we spent our free time – we stopped watching TV and looked for ways to make extra money instead.
I used to just chill out on the sofa once my little girl was in bed, with a couple of glasses of wine to try to forget our debt problems. As our debt journey progressed, I instead used that time to sell things on eBay, work on the blog and start taking on freelance writing jobs.
How we actually paid off our massive debts
Through making extra money and saving every penny, we cleared our debts using the debt snowball method, by clearing the smallest debt first and then using the money that was freed up to pay off the next smallest debt. We started with our overdraft as that was the smallest debt and finished with the last creditor in our debt management plan to whom we owed the most. Clearing those debts one by one was another big motivator!
During this time, we managed to succesfully claim a large PPI refund and we used every penny that we received to pay off our debts. In addition, we negotiated a couple of full and final offers with some creditors to clear our debts for less than what was owed. The reason we did this was because we had been in our debt management plan for some time and those particular creditors were keen to settle the debts as much as we were.
What does debt freedom look like?
It's pretty great. Scratch that – it's fantastic. The best thing is not worrying so much – I still worry about how we're going to buy a home and save for retirement – but the constant dread of phone calls from creditors and worrying about whether we can afford to put food on the table has gone. We feel happier, more relaxed, less guilty for the mistakes we made before and we can sleep better at night.
Are you trying to pay off debt?
If you're trying to pay off debt but you feel like you're taking one step forward and two steps back, my advice to you is simply to keep going. Paying off debt is a little bit like trying to lose weight. You put an immense amount of effort in for a few weeks and then it becomes incredibly difficult and you find yourself wanting to go back to your old ways. Yet, long lasting weight loss is down to making real change in terms of diet, exercise and lifestyle.
It's the same with paying off debt. Every tiny bit of debt you pay off will help you in the long run as long as you don't reverse the progress you make by adding more debt and giving in to spending on credit.
Get started by just not using credit anymore and try to make overpayments frequently, even weekly – it doesn't matter how much in the beginning. The main goal is to change your habits.
I hope our debt success story has helped or inspired you in some way if you're trying to get out of debt. Getting out of debt isn't easy but it definitely is possible to do just that and start living the life that you want. Don't be afraid to ask for help if you need it! In the UK, debt charities such as Step Change and National Debtline can give you free and impartial debt advice.
Further motivational reading:
Like this post? I'd be really grateful if you would pin it on Pinterest and follow me!