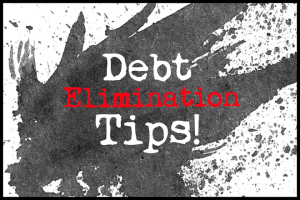 Welcome to a new regular series here on Disease Called Debt called Debt Elimination Tips!
Each week, I'll be sharing a quick and easy tip which you can use to get out of debt faster. Today's debt elimination tip is about making weekly overpayments towards your debts.
If you don't overpay what you owe on your debts, you could end up stuck in a minimum payment cycle, where all you can afford to pay is the minimum payment. That's not a great place to be in, as your finances will be stretched very tight and it's possible for your debts to become out of control very easily.
In addition, if you only make the minimum payment towards your debts, you could not only end up paying them for decades, but you'll pay an absolute fortune in interest over that time too.
Why make weekly overpayments towards your debts?
Without focusing too much on how MUCH you'll be overpaying, it's important to get into the habit of making overpayments. Just like bad habits, you can form good habits too which in time you'll do without thinking, as a matter of course. This is a great first step to take when trying to put in place some good habits surrounding your financial situation.
Why weekly and not monthly overpayments?
If you leave it until the end of the month to make an overpayment towards your debt, you'll be less tempted to do just that. Throughout the month, you may be tempted to spend elsewhere like going out for dinner or buying something new or just generally submitting to impulse purchases here and there.
There are two main benefits to overpaying your debt weekly. One is the sheer knowledge and satisfaction that you are proactively doing something about your debt. The second is that when you do spend money on something new that you regret later, you won't feel quite so bad because you'll have already made headway with your getting out of debt goals.
How much to overpay?
The short answer is as much as you can afford, if you really want to get out of debt as fast as possible. But the truth is that anything is better than just the minimum payment. The more you can overpay, the more you'll be paying off your debt and not just the interest. That means you'll be out of debt faster!
Beware of the false overpayment trap
Some lenders automatically reduce the direct debit amount for borrowers the month after receiving an overpayment. If you don't watch out for this, you could end up paying less the following month without noticing and therefore not seeing the benefit of your overpayments.
Keep an eye on your bank account statement to make sure you know how much is being taken by direct debit for your credit cards and loans. If your lender reduces the direct debit to compensate for overpayments, the best thing you can do is make sure you keep on overpaying enough throughout the course of the month to cover your direct debit plus your overpayment on top.
I hope you found this quick debt elimination tip useful. Don't forget to subscribe so that you don't miss out on any debt payoff tips in the future!
Image © Disease Called Debt