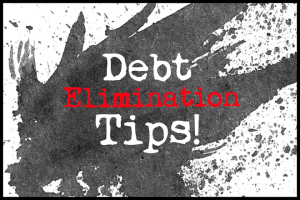 Welcome to Debt Elimination Tips – a regular series here on Disease Called Debt where I share my favourite debt busting tips with you to help you pay off your debt faster.
This week's tip is about how keeping your eyes on the prize will help you clear your debt faster than you'd think.
Let's not sugarcoat it – doing what it takes to pay off debt month after month is hard – and tedious. There will be challenges in the way of unforeseen expenditure like when your car breaks down or when you accidentally go over your calls allowance on your mobile phone bill.
You'll be asked to take part in social gatherings which you feel you can't turn down – and quite frankly you won't want to turn down. There may be major celebration events coming up like a wedding or special birthday do for someone special in your life.
It's easy to skip a month or two of extra debt repayments when these things happen. But the problem is that by doing that, you're only delaying the amount of time you're in debt for. If you're serious about paying off debt, you need to be making overpayments month after month – even weekly, despite the unforeseen expenditure and despite the nice things you want to do or social events you want to be a part of.
Keep Your Eyes on the Prize
Life is short and many people will use that as an excuse to put off repaying their debt. However, if you want to get out of debt, then actually doing that must become your main priority. The prize of becoming debt free will totally be worth every sacrifice you make now – and that includes saying no to your friends when they ask you go out to dinner and even turning down invitations to certain special events.
I know that it's not possible to decline every invitation and you'll probably go crazy if you were to do that anyway – but the bottom line is that whilst you're spending money on things other than your debt, you'll be keeping your prize of debt freedom at arm's length.
So, prioritising is a must when you're paying off debt. Attend the social gatherings that you really want to by all means, but make sure your debt is being dealt with first. Don't skip a month or two. Find a way to raise money to pay for whatever it is your spending your money on by earning extra income. Make your spending a conscious decision and compensate for it in advance.
As for unforeseen expenditure, there is a really easy way to avoid that getting in the way of your debt repayment. Getting an emergency fund set up to deal with the odd higher than expect bill or financial emergency is critical to the success of your debt repayment. Start by putting as much as you can afford into a separate bank account and then continue to top it up each month by setting up a direct debit.
Debt expert Dave Ramsey says to put away around £600 ($1000) for emergencies before starting to repay your debts. Personally, our emergency fund started at £500 and then we made monthly payments into it of just £30, allowing us to concentrate on repaying our debts whilst also being able to pay any unexpected bills.
In summary
Always keep your eyes on the prize – debt freedom – every month that you pay off your debt. Don't allow instant gratification or unforeseen expenditure to cloud your judgement over whether to skip a month or two of debt overpayments. Even if you overpay something, you'll be taking steps to cut down your debt faster. And if you do consciously decide to spend money on something that you want to buy or want to do, then you could compensate for your planned spending by raising some cash to pay for it.
I hope you enjoyed this week's debt elimination tip! Make sure you don't miss out on any more tips by subscribing below.