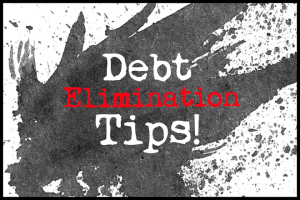 Welcome to Debt Elimination Tips – a new weekly series here on Disease Called Debt!
Each week, I'll be sharing a quick and easy tip which you can use to get out of debt faster. If you missed last week's tip about overpaying your debts weekly, check it out here!
Today's debt elimination tip is about deciding on and executing a debt reduction plan which will help you stick to your goal of getting out of debt.
Like any goal you're working towards in your life, a plan will help you to get there. It's exactly the same with getting out of debt. You might have the very best intentions and be working hard to pay more than the minimum payment on your debts, but without a plan, you'll probably fail or give up at some point.
I failed several times at getting out of debt. I really did try so hard for a number of years by cutting back on my costs and giving up my social life in fits and starts. But ultimately, I failed over and over again because I gave in or something came up which led me to brushing the debt back under the carpet, where it started to grow and multiply again.
Then I stumbled across a piece of information on the internet about using a debt ladder approach (I've since learned this is the same as the debt snowball approach) to paying off debt which was my first glimpse into getting a proper structure in place to help me get out of debt for good. It worked!
Different ways of paying off debt
Let's assume we have a number of debts which look like this:
Credit card debt – £10K @ 13% APR
Car finance debt – £4K @ 5% APR
Unsecured loan debt – £5K @ 4% APR
Overdraft – £1K @ 19% EAR
Pay the highest interest debt first
This method of debt reduction makes sound financial sense. By paying off the highest interest rate debt first, overall you'll be paying less money back to your creditors. In this case, you'd be paying off the above debts in the following order:
Overdraft – £1K @ 19% EAR
Credit card debt – £10K @ 13% APR
Car finance debt – £4K @ 5% APR
Unsecured loan debt – £5K @ 4% APR
The only problem with paying off the highest interest debt first is that if you have a lot of debt at a high interest rate, it can feel like it's taking forever to see any results for your hard work in trying to get it paid off. This isn't true for everyone of course, but there might be a chance that you'll give up before reaching your debt free goal.
The debt snowball approach
With the debt snowball approach to paying off debt, you'll be paying the smallest debt off first by throwing all the spare money you have at that one debt whilst paying the minimum payments on all the others. So for the example above, the order in which you'd be paying off your debt would look like this:
Overdraft – £1K @ 19% EAR
Car finance debt – £4K @ 5% APR
Unsecured loan debt – £5K @ 4% APR
Credit card debt – £10K @ 13% APR
Once the first debt has been paid off, you can use all your spare money plus whatever you were paying on the first debt to pay off the second debt in the list and so on until you have just one debt remaining which you'll be paying off as fast as you can. Whilst doing this method, all the time you'll be freeing up your money, leaving you with a better cashflow each month.
Dave Ramsey advocates and champions this method of paying off debt – he believes that psychologically, people are more inclined to succeed in paying off their debt if they can see results. By paying off the smallest debt first, you'll be building that much needed momentum in actually getting some of your debts paid off quickly. From my own experience, I can honestly say that this approach worked for me much better than trying to pay off the highest interest rate debt first.
In summary
When you're trying to pay off debt, the main goal is to do just that – pay off debt. The best way to pay off debt will depend on your ability and willpower to stick to the method you choose. Setting monthly goals once your debt payoff plan is underway will help to keep you motivated and stay the course in achieving your goal of debt freedom.
No matter which debt reduction method you choose though, try to make sure you're paying the lowest amount of interest possible to begin with. I did a couple of balance transfers to 0% interest for my credit cards before I started with my own debt reduction plan. Watch out for those pesky balance transfer fees though – make sure you'll be financially better off before going ahead with anything like this.
I hope you found this debt elimination tip useful! Make sure to subscribe to Disease Called Debt to make sure you don't miss out on next week's debt payoff tip!