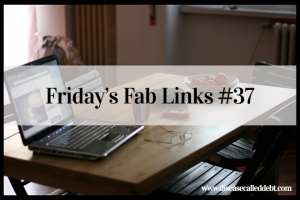 Welcome to this week's Personal Finance Blog Love edition – Friday's Fab Links! How has your week gone so far? This week, the hubby and I received news that our mortgage (on our rented property) is increasingly soon due to rising interest rates. The mortgage is going up by over £40 per month and quite frankly, this news is not all that appreciated!
We have made enquiries as to whether we can switch mortgages with our lender and it looks like we can but there are some hefty admin fees for arranging a better deal as well as tie in periods.
I wouldn't usually mind about a short tie in period since this rental property might serve as part of our retirement fund in the future but we have been having some major problems in renting the property and are actually considering selling the house. If we're tied in we won't be able to do that without paying a huge fee.
Some time ago I published a post about our Noisy Neighbour Nightmare, where we were concerned about the noisy neighbours who lived next door to our rental property. Well, to cut a long story short, we found some tenants (great) and the offending neighbours have been keeping the noise levels down most of the time (also great). But alas, some new neighbours have moved in on the other side and things are now not going so well.
According to my tenants, there have been several armed police outside on a few occasions because this new neighbour has been causing trouble whilst carrying a weapon. This person has also been physically abusing his partner in their house so that my tenants can hear what's going on. My tenants have called the police and spoken to next door's landlord (as have I on many previous occasions) and going from past experience, I'm not sure the appropriate action will be taken to deal with the problem.
And so my tenants are unhappy and have said that they may leave. If they leave, the hubby and I will have to consider selling the house because it's been nothing but a burden the last year or so with problem neighbours. The area just isn't what it used to be.
With this in mind, I think we're going to have to suck up the extra cost on the mortgage for now. I just don't think it would be wise to tie ourselves into anything.
Aside from that piece of news, the rest of the week has gone well. My daughter and I are surviving the first few days of the Summer holidays and I haven't quite ran out of things to do with her just yet!
Here are my recommended blog reads from this week:
Earlier this week, I wrote a post about what it's like living day to day in a Debt Management Plan (DMP)  which is based on our own experience of a DMP. So when Sara from Debt Camel recently published a post called Life in a DMP – what is it really like? it caught my attention. Sara has been able to publish the results of a survey undertaken by Payplan (one of the UK's leading Debt Management Companies) which aimed to consult with people in a DMP to see how their lives had changed and whether their perspective on money had altered. The findings are very interesting so if you're considering a DMP, you should definitely read this.
The Frugal Farmer hosted a great guest post from Brian at Luke1428 called A Singular Focus of Paying off Debt Leads to Peace. In his post, Brian describes the distractions many of us face when we really should be doing more to clear our debt as well as the emotional benefits that becoming debt free brings.
Cherie from The Queen of Free recently posted 7 Ways You Might Be Wasting Money. Cherie explains how overlooking the fine print on bills may lead to money being frittered away as well not paying enough attention to the consequences of home items like leaky faucets and toilets!
Michelle from The Shop My Closet Project wrote a post called Why $500-$1000 Should Be Your Individual Debt Repayment Minimum. Michelle writes about why attacking your debt with a high repayment leads to better motivation and results. She also has some tips for making extra money too.
Thank you to the following for mentioning Disease Called Debt in their recent posts!
In case you missed any posts on my site this week, here they are:
I hope you enjoy the above reads and if you haven't already, *shameless plug* please like my Facebook Page!
*Original image courtesy of Flickr and modified by Disease Called Debt