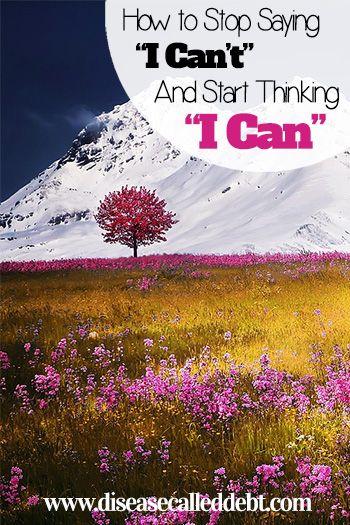 Have you ever found yourself trying to achieve something in your life and then giving up because you failed miserably?
Have you thought about what your life could be like if you didn't fail? Perhaps not, if you've been suffering from a case of the "I Can'ts" – aka self doubt.
For many years, I let self doubt get in the way of what I wanted to achieve in my life. I stayed in a job I detested because I didn't believe that I could escape and find a better route, a job that was more suited to my skills, that would make me happy in my working life. I tried to apply for other jobs and when I failed in getting them, I gave up and stuck with what I knew.
I've tried so many different side jobs or business ventures that have resulted in failure and I simply gave up on them because it seemed too hard to continue and I didn't believe I had the skills or knowledge to do my ideas justice. To name just a few, before I started this blog, I'd tried my hand at setting up an eBay shop, running a network marketing business and writing a fiction novel.
Even though I invested money and time into my network marketing business (which was based on selling utility services that I actually thought were good), I gave up when I had my first knockback, which to be fair was pretty humiliating at the time.
I'd made an appointment with a friend and her husband to present the services I was trying to get them to sign up for. I could tell that they'd only agreed for me to do this out of pity as they weren't at all interested in what I was selling. My friend's husband made it quite clear, by trashing everything that I said, that he was keen for me to wrap things up so they could enjoy their evening in peace.
After that episode, I was so mortified and convinced that what I was trying to sell was total rubbish so I gave up, despite knowing others that have made a great success of their own network marketing businesses. I closed my eBay shop after I started feeling fed up about the amount of competition I'd found and I gave up writing my fiction novel when I reached chapter 4. I lost sight of the vision I'd had for these ideas and so I let my self doubt get in the way.
Then there was our massive debt problem. For years, I thought that being in debt was just going to be a permanent part of our lives. I didn't think we'd ever get out of debt, it just seemed too difficult.
And because I'd convinced myself that I just couldn't do any of those things, those convictions became a reality. I'd stopped myself from trying because I'd failed before.
Luckily, my husband and I decided to try again to get out of debt and eventually, because we finally believed in ourselves and what we could achieve, we succeeded. It makes me wonder where I'd be now if I hadn't given up on all those other things I told myself I couldn't do.
How to believe in yourself
1. Find the ultimate reason that will make you want to succeed
In order to believe in yourself and your capabilities, you need to find your purpose – a reason that you'll be able to come back to that will remind you of how much you want to succeed. Maybe that reason is to get out of debt so you can be free from stress and worry. Or perhaps you're desperate to carve out a career that means you can work from home and be with your kids. Or maybe you want to change your life totally and travel around the world.
Whatever it is that drives you, write down your reason and keep it with you in your pocket every day. It has to be a good enough reason to convince you not to give up, so dig deep!
2. Learn to appreciate failure rather than hide from it
Mistakes are actually a good thing, because they can be learned from. It's ok to make mistakes and learn from them but it's not great to make mistakes and do nothing because of the way that they made you feel. In other words, suck it up and move forwards! Use your mistakes to ensure that you won't do it that way next time around.
3. Get rid of negative thoughts
Self doubt has a nasty habit of creeping into your mind and stamping out a flicker of hope just like pouring a bucket of water over a lit match. When you try something new for the first time, it's normal to wonder whether you're doing it the right way and whether you'll succeed.
Just don't let those thoughts turn into negative ones where you end up feeling like what you're doing isn't worth the effort. Taking a pessimistic view on what you're trying to do will only lead to you putting less effort in and eventually that will mean that you'll fail. Keep focused and hang onto that reason you found for wanting to achieve your goal.
Just like getting rid of negative thoughts, try to eliminate the negative people in your life. That may sound a bit harsh but often, people around you won't understand why you're spending time doing something that is yet to produce results.
They may try to impart their pessemistic views on you and even tell you you're wasting your time. Before you give up on your goal because someone else thinks you should, remember again that ultimate reason as to why you're trying to succeed and ask yourself what those naysayers around you are trying to achieve themselves. Usually, negative people waste too much time complaining about their own lives and their belief that the world is against them.
4. Don't surrender at the first hurdle
It's virtually impossible to achieve success the very first time, because even if you have the best plan in the world, there are certain outside factors that will only make themselves known once you put yourself out there. Even the greatest achievers have had to try time and time over in order to get the results that they needed. Take a look at the following examples.
Early on in his life, Thomas Edison was told by his teachers that he was "too stupid to learn anything" and due to lack of productivity, he was later fired from his first two jobs. He could have believed the opinion that his teachers and employers had of him and decided not to try (over 1000 times) to invent the light bulb. Thankfully, he continued in his quest until he finally achieved success.
JK Rowling at one time was penniless, divorced and trying to raise a child on her own. She wrote the first Harry Potter manuscript on an old manual typewriter and received 12 rejections from publishing houses before finally getting it accepted a year later. Within 5 years, JK Rowling went from living on state benefits to becoming a multi-millionnaire.
What if Thomas Edison and JK Rowling had just given up once they'd failed a few times? Fortunately, they both believed in their capabilities enough to keep them trying over and over again until they succeeded.
5. Force yourself to go outside of your comfort zone
Trying something new and taking a risk in terms of your time and effort (even money) is scary. However, until you push your own boundaries, you'll never know what you're capable of achieving. Fear makes us stop in our tracks and therefore often leads to failure because it becomes a stumbling block.
When we were trying to get out of debt, it was scary enough just to write down how much we owed in total. It actually took me several weeks to get all our paperwork together to add up all the debt and post the figures here on this blog. I felt sick to my stomach and afraid it would be worse than I thought – and it was! But once I'd done it, I could move forward and start to reduce those numbers. I'd dealt with the fear so I could move past it.
Overcoming fear itself will help you to make progress and as you begin to face the unknown and do things that you never thought you'd be able to do, your fear will gradually dissipate until you have nothing left to be afraid of.
Challenge yourself to do something new – that something you've been putting off and you've got a million excuses up your sleeve as to why you shouldn't do it. Just try it and see what happens!
Take a positive view
Believing in yourself comes down to taking a positive view on life and your capabilities. If you believe you won't succeed, your efforts will diminish until they no longer exist. At the same time, you're bound to fail in the beginning as you try something new because you'll be learning about what works and what doesn't.
Embrace your failures, push your boundaries and instead of telling yourself "I Can't", start thinking "I Can"!