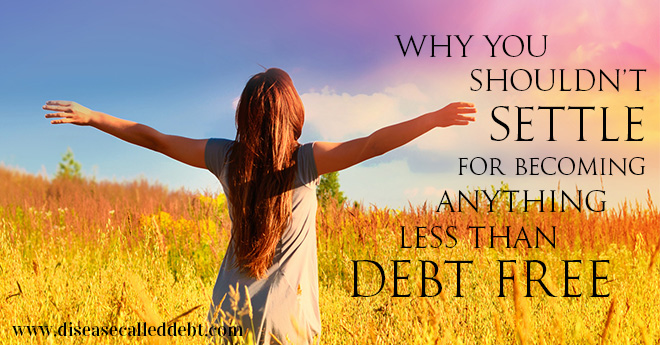 If you're a long time reader of this blog, you'll know that I tried and failed to clear my debts many times before finally succeeding.
I was sort of stuck in a cycle where I'd splurge on credit, then feel really guilty, then suffer the consequences of being broke and then attack my debt in a bid to pay some off when I found myself with a little money to spare again.
But, after a couple of months of making progress and starting to feel better about my finances, I'd go straight back to square one and give in to the temptation to use my credit cards for something materialistic and usually meaningless.
I was going through an emotional battle with myself where part of me wanted to get rid of the debt for good but the other part just wanted to get on with my life and enjoy myself.
The result of this inner turmoil was a compromise – I'd convince myself that "If I can just get my credit cards down to X amount, I'll be able to start enjoying life again," or "If I can just pay off SOME debt, that's better than none."
Of course, paying off some debt is definitely better than none, but it turns out I had a problem with this halfhearted mentality. In hindsight, I'd already failed before I'd begun.
The cycle of debt continued as long as I allowed myself to settle at the thought of just some of my debt getting paid off.
Why did I fail? I just couldn't keep up my motivation levels to get the debt down to where I wanted it to be.
After I'd paid off some debt, I felt better and then like a prisoner escaping jail for a day, I'd run wild with what little freedom I had (in my case, the little bit of credit I'd freed up on my cards). My credit card balance yo-yod up and down like this for several years.
Even if I had got my debt down to a manageable level, this approach wouldn't have done me any favours really. I needed my debt to be gone because it was an emotional burden as much as financial.
It was only when I really realised what it meant to me to get rid of my debt completely, that I was actually able to achieve debt freedom.
If you're in debt right now, I want to encourage you not to just settle for clearing some of your debt, so that you can have more breathing space (or room on your credit card for emergencies). I want you to aim high and commit to getting your debts paid off in full!
Your future self will thank you for it if you clear your debts completely. It will no doubt take a lot of effort, but the end result is so worth it. Here's why…
Being debt free allows you to follow your passion
This is my favourite reason for becoming debt free – it sounds corny but it's true! Not having any debt to contend with allows you to make better choices in your life and may even help you do more of what you love!
Whether you want to quit your job, go on the trip of a lifetime, volunteer in third world countries or live off the grid, being debt free will give you a much better chance of doing these things.
A few weeks ago, I wrote about the huge life-changing purchase that I'll never regret as long as I live – and I would never have felt comfortable doing this if I was still in debt, even by just a bit.
While ever you have debt, you'll always have those pesky creditors asking for their money every month and generally getting in the way of you doing things that mean a lot to you.
You can keep your hard-earned money for yourself
Every time you borrow money on credit, you're having to pay back more than what you borrowed in the first place thanks to the interest added on top by your bank or creditor. And all the while that thing you purchased on credit is becoming worn, old and out of fashion with every day that passes.
Have a think about some of the things you bought on credit a while ago. What condition are they in now? Are you still paying for them? Now for a very painful exercise – how much do you think those purchases have actually cost you when you add on the interest?
It certainly does sting more than a little when you really acknowledge how much money you're giving to creditors in the way of interest. Past purchases that you might regret funding through credit can be hard to forget when you're still paying them off years later…
Imagine a debt free life, where you can save for the things you need and want, buy them outright and enjoy them while they're shiny and new without having any guilty thoughts… 🙂
You don't know what's around the corner
I don't mean to take a "glass half empty" view, but let's face it, anything could happen in the future. You could lose your job, or get really sick so that you can't work, or have an accident that renders you incapacitated. Your house could burn down or you could even be a victim of a natural disaster!
How would any of these things affect you if you have debt? Even with the best insurance, would you be able to cope financially?
When taking on debt, we live for the present without really thinking too much about the future. But the thing is, if you don't take action and pay your debt off completely, it will rear its ugly head in the future giving you a wake up call (that'll probably come too late).
You can plan for a more secure financial future
When you have debt, other financial goals often get put on the back-burner. For example, I was in debt so heavily that I had no spare money to save for retirement or even for an emergency fund at one point.
It's only recently that I've started putting money aside for retirement (and I'm already 35 years old). Having lots of debt has delayed my plans for a secure financial future. All I can do now is try my best to make up for lost time.
Don't let this happen to you! Even if your debt is at a manageable level now, it's still money that you're having to pay out every month that could be better spent elsewhere. To give you a better future!
Finally…
These are just a few reasons why it's better to get rid of your debt once and for all. If you're trying to tackle your debt, don't stop working at it. Whether it takes you one, two or five years to clear your debt, don't allow yourself to settle for anything other than becoming debt free.
Have you had a yo-yo experience when paying off your debt?