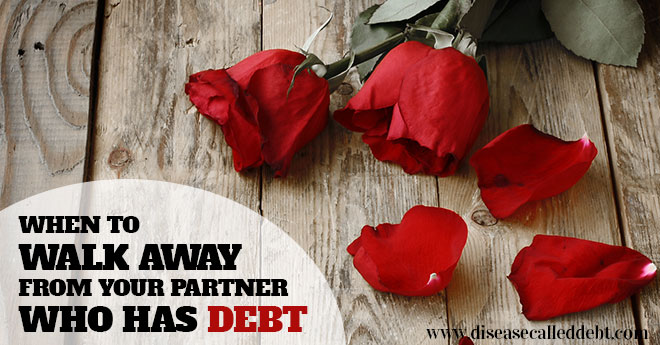 I'm a big believer in supporting your partner if they have debt and doing what you can to make a relationship work, but there is ultimately a point where debt becomes such a problem that it can and should end a relationship for the sake of both parties involved.
What point is that exactly? That's what I hope to define today in this post. I'm sharing my opinion here and I'd love to read your comments too because the topic of love and debt is a grey area for sure. This post is probably going to be a bit controversial, but I think this is a topic that needs some discussion.
My experience of love and debt
Debt was a big part of the relationship between me and my husband for 15 years. Debt tested our relationship in so many ways, from leaving us with very little income to enjoy ourselves to causing serious emotional stress as time went on.
We both had debt when we met and the extent of our debt got worse in the years following. Before we got married, we both had our own bank accounts and our individual debts were our own business.
Trying to retain our finances independently of each other, whilst living life together as a couple, led to all sorts of problems for us.
There came a point where my husband had accumulated more debt than he could cope with and couldn't find the words to tell me about it. In the end, everything came out into the open since the debts weren't getting paid.
Looking back, it was the turning point in our relationship where we decided to go "all in" and get serious about what we wanted from our life together as a couple. We had both made mistakes and there was a lot of anger, guilt and bitterness on both our parts as to how we'd ended up in such a poor financial situation.
We had to forgive each other for our financial mistakes and truly commit to one another financially by sharing everything about our earnings and outgoings so that we could move forwards. It wasn't easy, but gradually our relationship became even stronger than before and the hard times we experienced helped us to realise the importance of our relationship together.
Our relationship grew stronger because we both wanted to change and make things work. I think that's the key to getting through any relationship problems, not just financial ones.
For us, we won the battle with debt in every way. We took control of our finances again but also got past the hurdles in our relationship that debt had caused.
So, when does debt in a relationship become too big a problem to make the relationship work? When should either party walk away and start a new life alone? Of course every relationship is different and so in my mind, there are three main things to consider…
Are the debt problems getting worse?
Relationships are two sided, but sometimes (not always) debt problems can stem from just one party. There is the issue of trust and respect to consider. If the person in debt continues to get even deeper in debt, then the person without debt is going to end up feeling resentful and lose respect for their partner.
This in turn could lead to the breakdown of the relationship in the end. Once respect has gone, it's difficult to get that back.
Likewise, if both people have debt problems and one person is more serious about fixing financial problems then the other person, similar trust and respect issues are probably going to arise.
If both parties continue to get into debt, like me and my husband did, eventually there will be a rock bottom incident where they'll have to make some big changes to get their lives back on track again.
For some people, this is the time when the relationship turns toxic and one or both decide to go their separate ways and try to make a better go of things on their own. For others, it's the time to knuckle down, decide what they really want out of the relationship together and commit to making things work.
Is it the right thing to do to leave someone when debt problems have worsened? I guess there isn't a right or wrong answer here but that it depends on the emotional wellbeing of one or both people in the relationship.
Has the relationship turned toxic?
By toxic, I mean either when the relationship has broken down so much that there is constant fighting, arguing and distrust on either side, so that any love has most certainly been lost. If this is the case, then I think it's probably the right thing to do to end the relationship and start afresh for both parties.
The only exception to this, I would say, is if one person is having a mental breakdown or suicidal tendencies. The other person could say that effectively this isn't their problem after all the hurt and pain caused, but I believe that we all have a moral obligation to help someone if they have reached this point.
Depression is a serious illness that often goes undetected, but it can be treated once identified. It's a lot for the other person in the relationship to take on, to support someone like this whilst trying to get them professional help, but personally I think this must be done.
What will happen if the relationship ends?
One important consideration is to think about is what exactly will happen if the relationship ends. For example, if kids are involved, there could be damaging consequences to them as a result (or on the contrary, life could be made better for them if their parents were to split up).
Specifically though, I guess the consideration would be around what life could look life for both parties should they separate.
Would one person be better off financially whereas the other one would continue to struggle along or even end up worse off? Or would both parties end up struggling if they went their separate ways anyway?
Sometimes the grass does look greener on the other side and it's easy to think how great life could be without certain problems in your life. However life is full of hurdles, and whilst financial struggles might be the bane of one couple's relationship, infidelity might be the main problem for others.
Financial problems can be worked on, whereas infidelity? That could be a harder problem to get over.
Love will prevail
In the end, the decision to make a relationship work or not once debt starts leaving its scars, comes down to feelings. The saying "love conquers all" is true. Even the most stressful and difficult experiences can be put to one side if there is real love between two people.
There's no doubt that debt problems can cause love to evaporate, if left unchecked. If there's no love left, then that is most probably the right time to walk away from a relationship hampered by debt.
I'd love to know your thoughts on this subject. Please tell me what you think in the comments below!
Before you go, why not check out these posts below too?
*Images © Oksana Churakova via from Fotolia – purchased and used under license (referral link)