University education is pretty costly to say the least. In England and Wales, it can cost between £6,000 and £9,000 per year just for tuition fees alone.
For an average three-year undergraduate course, that can add up to a huge £27,000! In addition, there are costs for books and general living to think about too.
When you read news stories like this one about graduate debt in England being the equivalent of a third of an average mortgage, it's enough to make anyone rethink going to university altogether!
To be fair, it's cheaper to complete an undergraduate degree in Northern Ireland. And Scottish residents are fortunate enough to be able to go to university in Scotland for very little cost. However, I'm sure there are plenty of talented young people in the UK whose potential is going to waste because they just can't afford the fees.
I would love for my own daughter to have the opportunity to go to university (if she wants to), but I can't help slightly panicking already about the financial impact that university education could have on our family finances!
I don't know what university fees will look like by the time she's at university age, but I'm sure it's not just me worrying about this!
In today's post, I'm looking into university funding options to find out what's available for students in terms of financing and what they and their parents should be aware of before applying for a loan.
Why student finance is worth considering
You all know that I hate the thought of debt after my own experience with credit cards and loans. So it goes without saying that I really don't want my daughter to have to get a student loan when she's older.
But, when faced with university fees like this, student finance is worth considering – even more so then parents trying saving up the cash outright to pay the tuition and living cost fees upfront. Here's why…
Saving up the amount of money in full to fund your child's university education is going to have an impact on the family finances anyway – for all the years needed to save up that amount of money.
The government student loan scheme in England offers very good rates on student loans.
Government scheme student loans don't need to be repaid at all until your adult child starts to earn more than £21K pa – if they earn less, they don't have to repay.
When repayments do need to be made, the amount to repay is 9% of everything earned above £21K per year. So on a £22K salary, the amount to repay per year would be just £90 and on a £30K salary, the repayment would be £810 per year.
It's unlikely that your adult child will run into trouble with paying back their student debt, since it will be deducted from their salary by their employer each month.
After 30 years, all remaining (government scheme) student loan debt is wiped completely.
Basically, student loan debt will only really start to impact your adult child if they go on to have a successful well-paid career.
At that point, parents could look at helping to overpay the student loan, if they wanted to, in order to get the student loan done and dusted.
However, the only downside to overpaying student loan debt is that you might actually be spending more money than what is needed. This is because any remaining student loan debt gets wiped after 30 years anyway.
So it's important to do some calculations regularly and work out whether your adult child (and you, if you want to help) will be better off financially to overpay the debt – or not.
The best place for students in England to get a student loan is through Student Finance England (SFE) – the government scheme. SFE offer good rates and repayment terms as described above.
Students can apply for a student loan to cover their tuition costs and also a maintenance loan to go towards some of their living costs.
Why careful consideration needs to go into the amount borrowed
Students don't always have enough money to live on whilst studying
Recent studies have shown that the government schemes aren't always enough for students to be able to manage day-to-day. The average funding shortfall is £7K per year according to NUS data.
Whilst some students are happy to get a part-time job to cover the additional costs and others can receive help from family, there are a lot of students who look to the private lending market for an extra loan.
Unfortunately, some students are getting themselves into trouble with money by applying for short-term, high interest loans. Students are often refused low cost loans because they don't have their own home or have a long credit history.
Future Finance is a private student loan financing company in the UK that pride themselves on being the next best option compared to the government scheme, so these are well worth a look.
Their interest rates start at 6% with an average of 11% but the repayment period starts when funds are received.
With that said, repayments are capped at £75 per month until the student graduates and then full repayments are required over the course of 10 years. Loans can be paid back early without charge.
Some students will waste some of their loan
As well as making sure your adult child borrows enough to enable them to survive whilst at university, it's also worth double checking that they are not about to borrow more than they need.
In other words, there's a big difference between borrowing enough money to fund the cost of living and borrowing too much so that some will inevitably go to waste.
(Drinking and socialising is all part of university life, but using borrowed money to fund these activities isn't a great idea!)
Other ways to fund some of the costs of university
There are some other ways to alleviate the expense of university. I mentioned earlier about students getting a part-time job which should help in terms of living costs.
Another option to cut down on university costs is for your adult child to continue living at home and commuting to university instead, rather than having to pay rent.
One idea that my hubby and I are looking into is the option of funding a deposit on a starter home for our daughter when the time comes for her to attend university.
We were thinking that she could rent out additional rooms to other students and earn an income that way to help pay some of the associated costs with university plus pay down a mortgage. Whether this is achievable or not is still to be decided!
Final thoughts…
It's never been our intention to fully fund our daughter's education completely and I think we might have to consider that she will need to get a student loan for some of the costs if she wants to go down this route.
With tuition fees being as high as they are currently (and who knows what they'll look like in another 10 years time), it would be an unrealistic goal for me and my hubby to attempt to save such a significant amount of money whilst trying to also save for retirement and pay off our own mortgage.
As much as I dislike the idea of any kind of debt, it does seem that student loan debt isn't really the same as the "bad" debt that comes attached to credit cards and personal loans.
A university education is worth some investment after all. And, one of the most important things to consider when looking into the government student loan scheme for example, is how much of that debt will actually need to be repaid.
*Thank you to Future Finance for collaborating with me to bring you this post.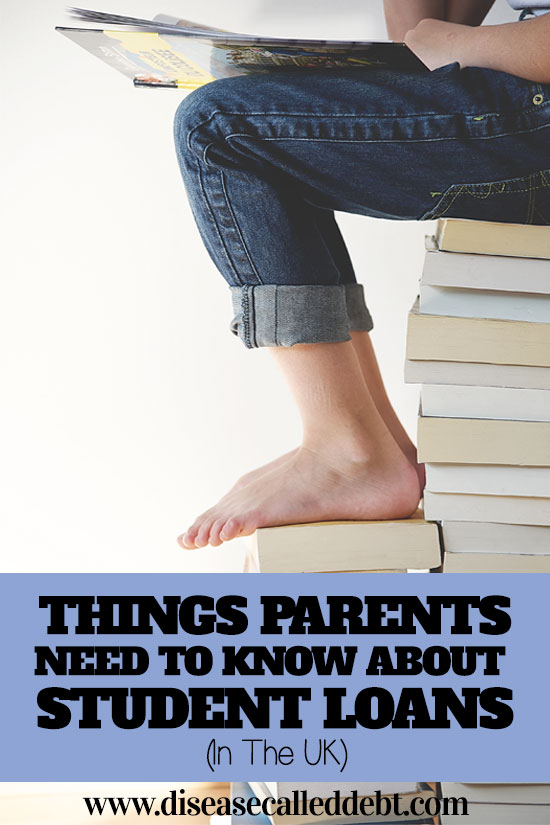 *Images courtesy of Unsplash.