I wanted to share an important message with you today about Stop The Knock – a new campaign which is being run by the Money Advice Trust in the UK.
It's about trying to improve debt collection practices from local authorities to get them to point people who are struggling with debt in the direction of free help – as opposed to using bailiffs who usually put the pressure on and scare people senseless. Here's some background on the campaign below…
Money Advice Trust's Stop The Knock campaign has today revealed that local authorities referred 2.1 million debts to bailiffs in 12 months.
The Stop The Knock campaign aims to highlight the need for better debt collection practices from local authorities across England and Wales, by showing how many times bailiffs were used by local authorities to collect council tax, parking, business rates, commercial rents, housing benefits overpayments and other debts.
The figures show that councils' use of bailiffs has increased 16% in two years, despite repeated calls for councils to improve their debt collection practices and help signpost people to free debt advice.
Money Advice Trust runs National Debtline, which provides free debt advice over the phone and online. The service has seen an increase in Council Tax arrears, which account for the majority of bailiff use by local authorities. It is one of the fastest growing debt types that National Debtline helps people to resolve – with 24 percent of callers in arrears in 2014, up from just 14 percent in 2007.
Bailiff action can be a distressing experience for those faced with it, as well as giving a poor deal for the council taxpayer, with the Money Advice Trust's research showing that councils who use bailiffs the most are actually less effective at collecting council tax arrears on average.
Stop The Knock also reveals that practices vary widely between different authorities. Whilst some councils have improved by decreasing their use of bailiffs, others have more than doubled their use over the last two years.
The Stop The Knock microsite – www.stoptheknock.org – allows you to check how your local authority did, and how many debts they have referred to bailiffs in the last 12 months. The National Debtline website offers a wealth of information on debt, including the golden rules for dealing with bailiffs.
What do you think about the use of bailiffs? If you'd like to support this campaign, please share this with your social media followers!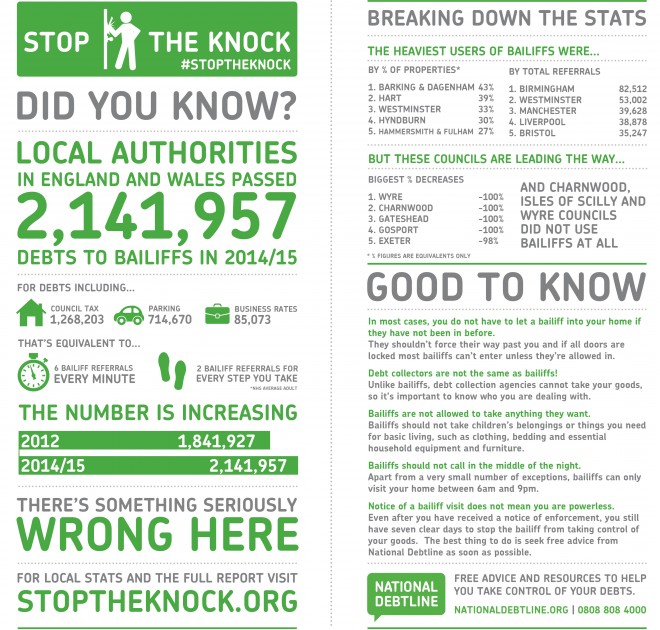 *Main image courtesy of Flickr Creative Commons. Infographic provided by Money Advice Trust.