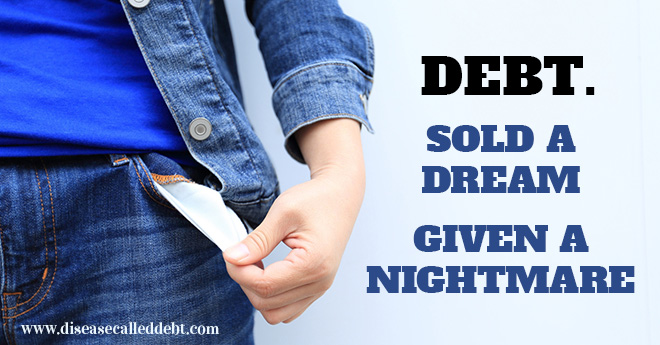 I have a different perspective on debt for you today from fellow blogger Richard Greaney. Please head on over to Richard's site after reading his post below!
"We don't sell products, we sell solutions" says a sales manager, whilst giving a briefing to staff who recently joined a large company with a strong reputation for producing products that make people's lives easier.
How many times has that phrase been uttered in boardrooms and offices around the world, I wonder? I actually like it, as it shows that the company saying it is trying to understand the problem their product is aimed at solving, beyond simply boosting its own profits. It also shows the company is concerned about people, and the impact their product will have on people.
So what do those in the lending industry say, I wonder? "We don't sell products, we sell…… ummm….. (imagines a customer struggling with a life that gets harder every month, and now realises too late they paid for something they can't afford and is barely making the minimum payments) ….  solutions?". Immediately, this sounds sirens.
We've all seen the advertisements for finance. "Let us help you with your dream", "if you've got a plan that we can help you with, let us take you there". The point with these kinds of taglines is that the company really tries to believe they're selling a solution. I guess you need to at least try thinking that way when the product you're selling is the same stuff the customer will buy it with, but what's more concerning to me is the fact that they blatantly lie when they say those things.
Sure, if you have a dream to own an expensive car or go on a long holiday, then you can realise those dreams by borrowing money. But what happens after you wake up, however, is that the dream ends and the nightmare, which is your life, begins.
"So what Richard? Debt is bad? That's old news." The point is this. Do you actually think for a minute that those companies who sell you money are unaware of the unfortunate situation many of their customers will find themselves in as a result? Of course they know. Why? Because they stand to profit from it.
Their whole business is funded from other people's debt. They tell you they will help make your dream come true and give you a better life, when in reality they want for the exact opposite thing to happen. If they were a person, would you choose to give them your business?
Even when I was less financially-aware than I am today, what kept me out of debt wasn't so much the debt itself. It was the simple fact that it's a trap that lures so many people so effectively. The companies who guide us there with the promise of fulfilled dreams play us all as though we are just numbers on their balance sheet. They watch on as we sign up in droves, and proceed to destroy our own lives.
It's something that's never good for us, yet there seems to be an endless supply of willing victims eager to keep funding these businesses. I chose not to be one of those people. It wasn't to stay out of debt. It was because I don't like being played.
It's easy to be swayed looking at all the people around you who seem to always have better cars, clothing, sunglasses, bikes and whatnot than you do. Remember that they probably got those things the easy way – by borrowing money, and by allowing themselves to be compromised on one of our most basic principles – the desire to be treated as an individual and not just a number.
The world is full of things we can choose to partake in that may be considered harmful or undesirable by many, but the risks are usually explained to us. Debt is the exact opposite – we are sold a dream, and end up with a nightmare.
_________________________
Author Bio: Richard Greaney is a laidback kiwi (that's a New Zealander, not a fruit!) who enjoys writing and sharing his learning experiences with others. He has been an IT commentator, aviation photographer, freelance aviation journalist, and in more recent times, a blogger sharing his own journey of taking control of his finances. He believes there's no secret to understanding money and running a profitable life. It's all about being ready and willing to learn and master new skills, and to let go of beliefs holding you back from doing so. Read more about Richard at his site: DIY Money Mastery.