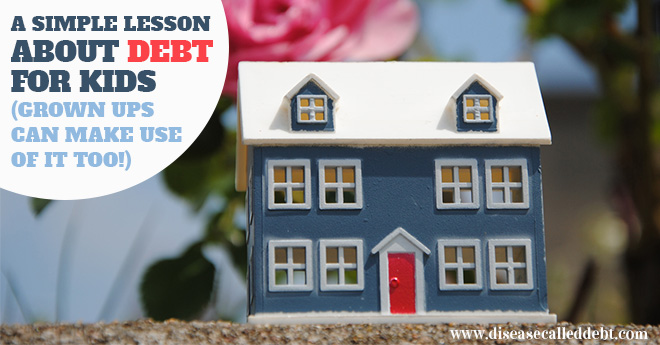 If there's one thing that my husband and I absolutely want to teach our daughter about finances, it's about the dangers of debt.
We're already teaching her the importance of saving and sharing some of the pocket money she receives and we're trying to get her to make good choices about what she does end up spending her money on. She knows that in order to get money in the first place, you have to earn it.
And a few days ago, we began teaching her about debt, even though she's only 5 years old.
A simple lesson for kids about borrowing money
Our little lesson about debt began with a question from her about what we spend our money on when we earn it. To keep things simple, we said that all Daddy's money goes on the boring stuff like paying rent to live in our house and paying for water, heating, lights and food.
We told her that Mummy's money goes on nicer things, like her clothes, swimming lessons, trips away and for savings for when we can buy a house of our own.
Well, that opened up a whole can of worms…
Our little girl was amazed that we had to actually pay someone in order to live in our house and that we were going to actually BUY a house one day. She wanted to know how much a house cost. We told her it was as much as going to Disneyland in Paris two hundred times (which is probably quite accurate).
She said, "How are you going to earn that much money, Mummy? And how long will it take?"
I told her that it would take me and her Daddy a really long time to earn enough money to buy a house. Then, I decided it was time to get out the felt tips and so I did a quick sketch of how you can BORROW money in order to get the amount that you need. Here's my sketch below, don't laugh now.. I know my drawing is truly pathetic!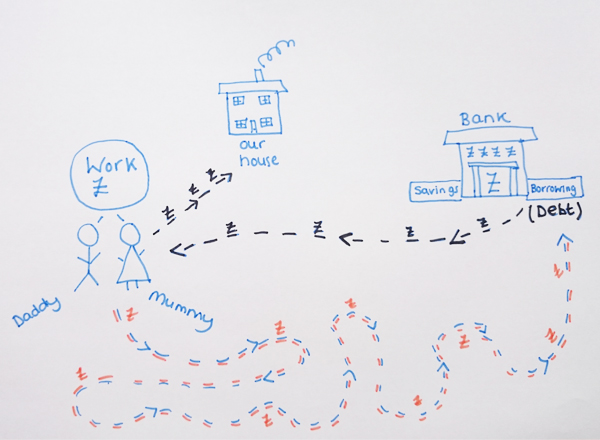 I explained that a bank is place to save money but we can also borrow money from the bank to buy something really expensive, like a house.
But, when we borrow money from a bank, we'll have to pay it back with the money that we earn from going to work but with extra money on top as a "thank you" for the bank lending the money to us in the first place!
(Check out the really long line of money going back to the bank!)
Well, our little girl didn't like the sound of having to pay back more money than what the bank had given us in the first place which of course was music to our ears. We told her that the more money we can save now, the less money we'll have to borrow from the bank in the future.
After that little conversation, she proceeded to copy the picture with the bank, our house and pound signs in all the right places!
We didn't talk to her about how it's possible to go to the bank with your cap in hand to borrow money for just about anything. We'll save that important lesson on the dangers of borrowing for another day!
Finally…
What struck me about this exercise was just how much truth this simple diagram represents. It is that simple – we go the bank for things we can't afford but when we do that, we have to pay so much more money back than we end up borrowing.
Yet, in the case of buying a home, unless you have the money to hand, what's the alternative? Renting, which some people might say is the same as throwing money away anyway…
What do you think about our simple lesson on debt for our daughter? Did we approach it in the right way?