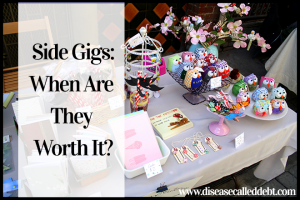 Today, I have a great guest post for you from Kayla over at Student Loan Diary about various side gigs and whether the earning potential is worth the hassle. Please check out her blog once you've read her post below! If you're interested in sharing your work on Disease Called Debt, please get in touch.
Throughout the years of anxiety dealing with my student loans, I've crafted up some pretty unique ideas for side income. Some flopped, while others succeeded until I was burned out. Some were lucrative, and others were a complete waste of my time (and in some cases, my money too).
Jobs aren't as strong as they used to be — people don't work at a place for 50 years and then retire anymore. Regardless of being able to keep a job, I love the idea that more financial freedom brings — if I want to quit my day job to pursue other interests, I will be able to do that someday.
I strongly believe in the idea of multiple streams of income. They can potentially help one to build savings or pay off debt faster, act as a back up to a job loss, and provide a strong sense of financial security to the unknown future.
I'm not there yet, but I'm much better off from where I used to be. Here are ideas for side gigs that I've tried, and the truth on whether they are worth pursuing or not.
Side Gig: Freelancing
Freelancing was very successful for me when while I was in college, and as a post-college grad to supplement my entry-level salary. I was able to knock off thousands more in debt each year for the first three years as a grad. At the beginning of this year, I finally stopped freelancing.
In the end, it got to be very stressful on top of my full-time job to deal with extra clients all of the time. However, when I needed the cash in the past, it was my most lucrative option. Some people love the freelancing lifestyle, and I would strongly suggest anyone who hasn't tried it to reach out to some potential clients and give it a go.
Pros: If you have a skill, it's fairly easy to sell it individually in the form of freelancing and make quite a bit of extra cash. Far more than some part-time minimum-wage job.
Cons: It takes some time to find your first few clients, build a portfolio, etc. In some cases, it may become too stressful as it can require a lot of time. Ultimately, though, only you control your freelancing schedule.
Side Gig: Blogging
In the past, I had a lot of success in blogging professionally. Years ago I began a web development blog out of my own interest, and became obsessed with it's improvement; I'm sure a lot of other bloggers know the feeling!
While the blog itself made chump change and was a lot of work to maintain, I eventually contacted a big online web design and development magazine — Smashing Magazine — to see if they would accept writers. They gave me a shot, and they paid well.
After my first obsessively well-crafted post was successful in their community, I received offers from related blogs and got more paying gigs. I ended up being able to make $500-$1000 blogging in addition to my freelance work — which at the time was more than I could make from my freelance work!
Many bloggers aren't as lucky so quickly, but if you study copywriting and blogging techniques, you can use your own blog as a portfolio and land some really cool gigs writing for other blogs that will pay. Monetization of a new blog is a lot harder, but there are plenty of others who have succeeded.
Pros: Depending on your blogging niche, you can make a fairly steady income writing for other blogs that pay their readers. It's a great way to connect with other people online — and for many — without the stress of face-to-face communication.
Cons: No matter what your skill level, building up a blog that gets noticed takes a long time and a lot of hard work. Monetizing a blog is just as difficult. It is possible though, and building community and skill helps.
Side Gig: A Part-Time or Temp Job
I know several people who have held part-time jobs while holding their full-time day job. At the beginning of my career I was going to do the same, but ended up having a falling out with a new assistant manager at the part-time job I already held. After I quit, I never went looking for a part-time job again, and relied on the previous two gigs for side income.
You could bartend, waitress, work at a fast food joint, clean offices, etc. Just as in high school when I could only work nights and needed some down-time for homework, similar steady and flexible after-work jobs can also be found.
Pros: Working as a part-time employee is a side gig with a regular paycheck, which makes it ideal for anyone who needs a better monthly cash flow. You also don't have to deal with any sort of self-employment taxes. Unlike blogging and freelancing, there is no start-up cost whatsoever — albeit the start-up cost for the above being minimal.
Cons: Many part-time jobs may be less than inspirational work. However, this could be a pro too. It could be nice to focus on something else some nights instead of your day job, your debt, or other problems.
You're also likely to be making close to minimum wage. In some locations and lifestyles this may be worth it, in others it may just be a huge waste of time. For example, here in the middle of Iowa, $7.25 an hour goes a long way. In the middle of Chicago though, a low-wage side gig may not be worth the additional commute or stress for what that extra paycheck can get you.
Side Gig: Selling Crafts or Other Hand-Made Goods
In college I tried selling hand-made makeup on Etsy, but other than that I couldn't really grasp on to any other crafts that interested me enough. I think I sold one set of eye shadow. It ended up being a bust, and a waste of money for me.
However, plenty of people do it successfully. You have to really be invested in what you're doing, and not only be in it for the money. That is the mistake I made. Without the proper emotional investment or interest in the craft, I made sub-par products and wasn't that interested in marketing my craft.
Pros: Many people could benefit from monetizing a hobby they already partake in. With more marketing, selling hand-made goods can be lucrative. You just can't be shy and you need to get yourself out there — on social media, at farmer's markets, consignment shops, etc.
Cons: If you're not into it, don't try to monetize it. You'll be too bored to keep up with it. Plus, you'll just be spending money on the materials that you won't end up being rid of. Marketing yourself and your crafts can be a lot of hard work.
Side Gig: Apps, mTurk, Surveys and More
Nobody has ever gotten rich off of any of these options, and surely nobody can ever use any of them for a major source of income. But for any sort of income, what are they worth?
My opinion on these is to never focus on them, but they can supplement income if you're bored (and/or in dire straights). My favorite app is Pact; I get paid to stick to my health-related pact each week. Working out and eating healthy is something I do anyway, so it really requires a very insignificant amount of work on my part to make an extra $2-$3 a week.
Every few months I cash out and get $50-$100. It's a nice bonus. I've tried out paid emails, surveys, mTurk, and the like, but they are always more frustrating than beneficial.
Pros: No start-up costs, no commitments, and you can make some extra change whenever you have down time.
Cons: It's all chump change and only makes sense if you're in dire straights financially or have some time to kill.
Do you diversify your income? How so? 
I'm always looking for more ideas to side gigs and to diversify my income. What's your favorite method, and what are the pros and cons?
About the Author
Kayla is a personal finance and lifestyle blogger at StudentLoanDiary.org. Burdened originally by more than $80,000 in student debt, Kayla has been able to cut the debt in half in only a few short years by practicing minimalism, frugality, and smart personal finance. She loves to write about the personal side of personal finance.
*Image courtesy of Flickr.