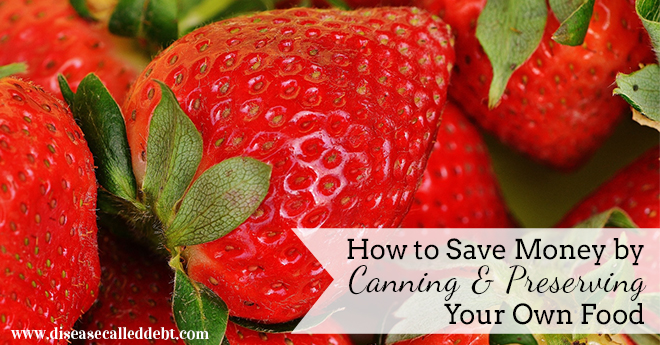 Today's post is from regular contributor, Tyler Philbrook. Enjoy!
You've spent the time planting and growing your garden. You have the juiciest tomatoes, the crunchiest carrots, and the perfect strawberries.
You just don't know what to do with them all. You would love to be able to keep them until you need them rather than let any go to waste. You've heard of "canning" but it seems complicated, like something experts do, not you. And besides the expense to start up, the time it takes is too much work.
Though it does require some time and an initial investment, canning is a simple and effective way to preserve your good, healthy food for less than buying more at the store.
What is Canning?
Canning is the method used to preserve fruits, vegetables, and meats without refrigeration. This is done via two ways: the boiling water method and the pressure canning method. The boiling water method of canning can be used for things like tomatoes, jams, and pickles. The pressure canning method is used for vegetables and meats.
How to Can
To start with you will need a few things. A good beginner canning kit would be this one
which contains the main tools, though keep in mind that this will only work for the boiling water method. If you want to use the pressure cooker method you'll need a pressure canner and cooker like this one
.
Or if you want to spend a bit more money to make canning really easy, then this complete home canning system
could be just the ticket. Regardless of which you get, don't forget jars!
The boiling water method is as simple as it sounds. After making sure that the jars are sterile and clean, fill them with your choice of food. Boil the water and after you have sealed the jar with your food inside, place the jar into the canner. After the appropriate time – make sure you find and follow a canning recipe – you just remove the jar and place it on a towel to cool.
With the pressure cooker method, you'll follow the same steps as with the regular canner above. Pressure canning does takes longer to do than the boiling water method – make sure to follow the instructions for how long your food should be cooked for.
If you have the home canning system – an automatic digital canner – than all you have to do is hit the corresponding button for what you are making and the machine will do the rest.
To help you get started with canning foods, here is a list of a few recipes I found:
Health Benefits/Safety
Throughout our whole lives, we have been told to eat more fruits and vegetables – canning helps us do this. No more pickles that have more preservatives than you thought possible; no more jams that have been corrupted.
No… if you're canning your foods, than you decide what goes in. You know exactly what your food contains and where the food came from.
Financial Benefits
If you already grow your food, than you're set up to start canning. Take the surplus that you may have to throw out anyway and can it instead.
I love pickled carrots on my sandwiches (especially Vietnamese sandwiches) and I can make them in my own house for a fraction of the price. Not only that but I can buy a surplus of carrots, use some for pickling, some for a soup, some for a salad and have only spent a few dollars.
Another benefit of canning is buying foods when they're in season and being able to eat them during the off season. Here in Florida, we have fresh strawberries every year. By buying them fresh when they are in season and then canning them, I will not only be saving money by not having to buy strawberry jam, but I'll also be able to keep the taste of the fresh strawberries for longer.
Conclusion
Let's go back to our freshly picked garden; all the fruits and vegetables are on the counter and there's no way you could possibly eat all of them. Instead of being upset that you may have wasted time, or money if you bought the produce instead of growing it, you are excited to get to work preserving this food for later!
Not only that, you also know that you just saved money by having more food available for longer. By canning, you have saved on not only your health, but also your wallet.
___________________________________________
Author Bio: Tyler Philbrook runs the blog I Am The Future Me. He talks about his journey from $29,000 in debt to becoming financially independent by cutting costs, making more money, and making good financial decisions.
*Affiliate links are contained in this post. Disease Called Debt is a participant in the Amazon Services LLC Associates Program, an affiliate advertising program designed to provide a means for sites to earn advertising fees by advertising and linking to amazon.com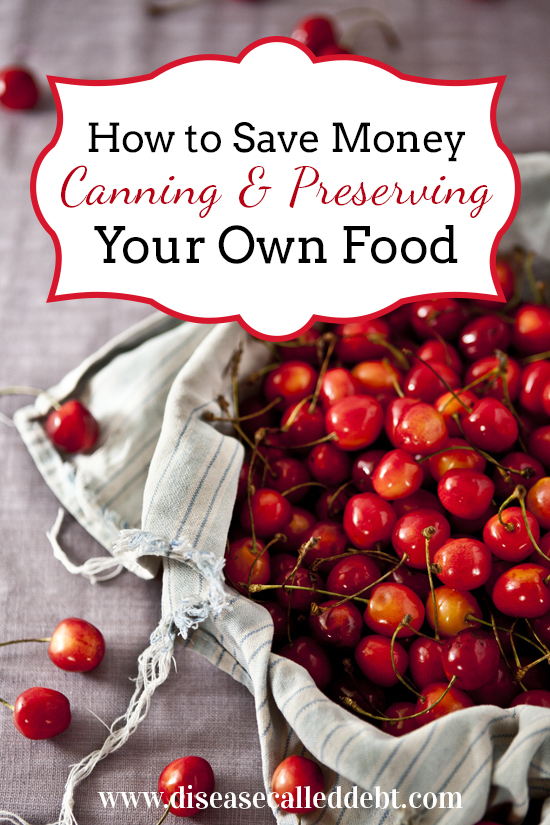 *Images courtesy of Unsplash with text overlay added.