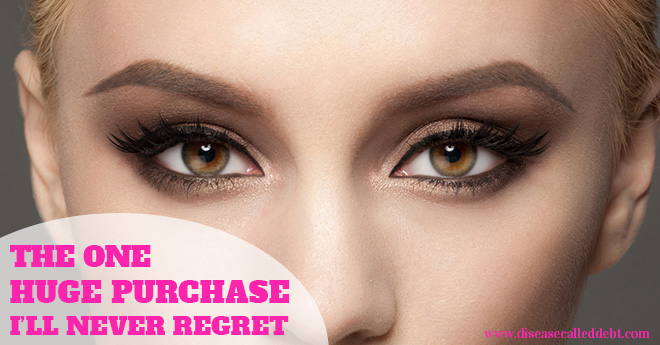 I'm not usually a big spender these days. Over the last few years, I've gotten the art of shopping for what I need rather than what I want down to a tee. I don't very often impulse buy and I tend not to get sucked in by clever advertising. With that said, I have a little confession to make (ok, a big one) about a purchase I made towards the end of last year.
I spent almost £4,000 ($5,700) on laser eye surgery, even though we're supposed to be saving up a deposit for a house. It's the biggest purchase I've ever made on something for myself.
This purchase made a huge dent in our savings and that was before we had a string of emergencies which led to the complete depletion of our emergency fund. But I don't regret it, not one bit. And here's why.
I had really (really) bad eyesight
I was around 11 years old when I first needed glasses. I had these awful blue framed NHS glasses (they were free) and I had to endure the taunts of school bullies for wearing them. The grief I got from kids at school made me not want to wear them. So I didn't! But by the time I was 16 years old, my eyesight had deteriorated so much that I struggled to see the features of people a few feet away.
When I started going out with friends, I would ask them to meet me at the same meeting place in town every time, outside a shop. I'd pretend to look in the shop window so my friends would have to come right up to me, rather than waving at me from down the street. I didn't want to risk waving at the wrong people. I ended up catching the wrong bus several times, because I just couldn't see the bus numbers clearly enough.
Although I wasn't registered as blind, I felt very much hindered by my poor eyesight. I was around a -8.0 in both eyes by this time. With my glasses on I could see, and I had no choice but to wear them for work. But I felt very self-conscious as the lenses were so thick and ugly (they had been thinned down as much as possible too)!
Eventually, I got contacts and immediately I felt better about myself. Life continued and putting in and taking out my contact lenses every day became the norm. Even though my eyesight deteriorated even more, I could manage.
But over the last couple of years, my tolerance to contact lenses gradually changed. Each morning, I would need to put my contacts in first thing, so that I could see to put makeup on (honestly).
By 11am, they would itch and irritate my eyes so much that I'd have to take them out. I'd then put another pair in later on as I just hated wearing my glasses so much. They were like milk bottle rims with a prescription of -9.50 and -10.50 for the lenses.
Making a life-changing decision
I had been thinking about laser eye surgery for years but was always too squeamish (and too much in debt) to consider it properly. The thought of having some device clamped onto my eye whilst I was supposed to lie completely still just frightened the life out of me. Plus I'd heard that it doesn't always work and it can scar the back of the eyes. I'd heard there was a chance you could go blind if it was done incorrectly!
My own optician who had really bad eyesight like me said that she herself would never undergo laser eye surgery, because of her experiences seeing other people's eyes who'd had it done. But last year, I found myself thinking that I would be prepared to put aside my fears, if I could just have a chance of being able to see well again.
So I began to look into it. I talked to my optician first of all who said that because my eyesight was so bad, she doubted that any laser eye clinic would consider doing it. Most clinics will only perform laser eye surgery on eyes with a short-sightedness prescription of up to -10. I was already over that in one eye, plus I had a stigmatism which had a negative impact on the overall prescription.
I went ahead and called a few clinics anyway to research the procedure and the cost. Most were advertising laser eye surgery for just £395 per eye and both my husband and I thought this was a small price to pay for restored vision!
My hopes were crushed as each one of them said that it wasn't even worth me going for a consultation because my prescription was so bad. I was also told that I would never be able to undergo a procedure like this for £395 per eye because the cost increases with the level of short-sightedness. (For -9.0 prescriptions, the average cost quoted to me was £1500 per eye).
I stumbled across another option – lens implants. This involved a different type of surgery and it carried a bit more risk. And it was much more expensive at £3000 per eye. But by this time, I'd set my hopes so high on being able to see again that I decided to get a consultation to see if it was a least an option for me. I knew I would be happy to save up the money if so.
My optician recommended that I get a consultation with a top eye surgeon for this type of procedure. She recommended one that operated out of an NHS hospital here in the UK (the treatment would be private though). So I made the call and arranged to see him.
I had to have a lot of tests and I was really nervous about the outcome and especially about the cost if it turned out I was suitable. When I saw the surgeon, he went over the tests and told me that lens implants were definitely an option but that I also might be suitable for a relatively new type of laser eye surgery called ReLEx SMILE.
This new technology was suitable for prescriptions of up to -12.00 and it was less risky in terms of possible infection than the open lens implant surgery. It turned out I had thick corneas which apparently meant good things!
The surgeon asked me to come back for some more eye tests with his opthamology team. He wanted to double check my vision and clarify my expectations of the procedure. After that, I was told that I was suitable but that my eyesight may not be quite perfect and I could need to wear glasses for a small prescription. However, the hope was that I wouldn't have to.
I made up my mind straightaway. I wanted to go ahead! And although ReLEx SMILE laser eye surgery was more expensive than traditional laser eye surgery at almost £2000 per eye, it was cheaper than the lens implant operation. The only question was WHEN I would have the surgery.
I talked with my husband about the cost and he agreed that I should do it now, before I chickened out. He knew firsthand how much my vision had plagued me over the years. It was a lot of money and I would be taking it from our savings so it was a big decision that we both needed to be in support of.
I booked myself in for the surgery and paid for it in full on the day. I was really scared but the surgery was done in less than 7 minutes per eye. As I got up from the couch, although my vision was blurry, I could see the surgeon's face more clearly. And I could see the text on the wall sign across the room.
The following day, I could see even more and in the days following that, my vision improved further still! I went back for a consultation the following week and the surgeon said that my treatment had gone really well.
At a check up in December, I had 20-20 vision in my right eye (which was the worst one previously) and I was a -1.0 in my left eye. My vision together was good enough so that I could drive and live my life without glasses!
My huge purchase that I'll never regret
Even though we had a few financial emergencies in the months after my surgery, I have never felt an ounce of regret for this massive purchase that I made. It's totally changed my life! My headaches have gone, my eyes feel great and I can see the world clearly again for the first time since I was 11 years old!
One thing is for sure – becoming debt free and changing my ways from being a mindless spender to a saver has allowed me to make such a luxury (and life-changing) purchase a reality.
Have you made a massive purchase that you'll never regret?