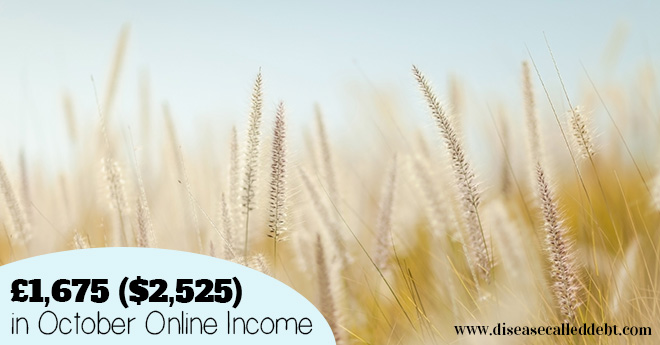 Hi all, I know this report is a little late as we're well into November already but better late than never! October was a really busy month for me work wise which is great but we hit some financial obstacles too which has kind of taken the wind out of my sails in contrast.
Let's start with the good stuff. In October, I managed to find another couple of freelancing clients towards the end of the month via Upwork and at the same time I increased my rate by another £10 per hour ($15) which means that my new freelancing work is quite profitable.
I still have a few clients on my old rate and I need to pluck up the courage to bring my fees in line at some point. One of my long term jobs is one that I really enjoy though so I don't mind earning a little less for the work that I'm doing.
My online income for October is broken down as follows:
Freelance writing and social media management – £1,309 ($1,973)
This work is made up of writing blog posts, web content and social media management for five different clients. Almost 60% of my income in this area is a result of the work I've found through Upwork. If you want to earn money writing or as a freelancer, this is a good place to start and you can read my blog post about it here.
Blog advertising and affiliate marketing – £230 ($346)
Most of this income is through made through Disease Called Debt.  I do have another couple of websites that I monetize through affiliate marketing but they are works in progress!
eBook sales – £64 ($96)
My income here has decreased a little this month but it's still passive income brought in by work I did last year, so that's all good! I am working on increasing my income through eBooks which I'll explain more about later in this post.
Total income achieved in October – £1,675 ($2,525)*
*Earnings subject to some tax deductions!
So I surpassed by income target for October by £75! I didn't meet all of my goals though. Here's how I did and what my goals are for November.
October results and goals for November
Freelance writing / social media management – income goal of £1,300. Work with existing clients to do this and take on more work if possible.

PASS

– I took on two new clients towards the end of October and just exceeded my income goal by £9! For November, I hope to increase my freelancing income to £1400 by doing more of the same.
Blogs – income goal of £300 ($455) – this is lower than my goal for September – gotta keep things realistic! I'll aim to do this by trying to increase traffic to the blog and approach past advertisers.

FAIL

– Although I ramped up activity in this area, I missed my target by £70. During November, I'm setting myself the same goal of £300 as per this month which is a realistic target to work towards.
eBooks – finish writing new eBook, publish and promote it. Put a couple of my eBooks on free promo – look out for the notification soon on my blog!

PASS

AND

FAIL

– I did put a couple of my eBooks on free promo but I didn't have time to write a blog post on it so I promoted on social media instead. I haven't done anymore work on my eBook due to lack of time! For November, I don't think I'll have much time to work on this but I hope to have at least finished writing it.
Life update
We had some major expenses to deal with during October on our rental property (our former home which we rent out due to relocating to be closer to my husband's business). The expenses were mostly anticipated as they are annual expenses, but still they stung a bit. We had to pay a £199 annual fee to our mortgage lender and £200 for a Landlord gas safety certificate plus carbon monoxide alarms and a couple of little repairs.
We took the money to pay for this out of our emergency fund (as we use this for expenses relating to the rental). But just last week, something happened which will lead to the imminent and complete depletion of our emergency fund. It's soon to be totally empty so I'm feeling a bit down about things right now.
I guess I should be writing about this in our November update but it's just been playing on my mind so much that I can't help but mention it now.
After all those bills we paid on our rental, our tenant called me last week to say the heating had broken down completely. Our usual gas engineer was busy so we had to ring around to try to get another engineer to investigate as an emergency.
Much to our horror, the boiler had packed up, it was pretty old so all the parts were obsolete, meaning only one thing – a replacement which is about to cost us £2,500.
We knew this might happen one day but not right now after the recent gas check and repairs, not right before Christmas and not whilst we didn't have enough money to cover it out of our emergency fund! To pay for this, we'll have to empty our emergency fund and take more than £1000 from our house deposit fund.
I'm gutted. I can't help but feel like whenever we try to move forwards, something happens that needs paying for and we move further and further away from our goal of buying a house and getting back on track properly after paying off our debt. (In case you're new to the blog, you can read our story here about how we got into debt and how we paid it off).
We rent where we are now and we need to sell our old home to be able to help with a deposit and have a chance at getting another mortgage where we live now. The previous tenants took offense when we said we were selling the house and basically made our lives very difficult, eventually leaving in August.
We have another set of tenants now and are trying to sell the house still. So to have to pay a massive bill like this when all we want to do is get rid of the place just feels like such a setback in what we're trying to do.
Sorry to have a moan in this post! I know things will get better again, but I just feel really fed up at the minute with the headaches our rental property is causing us! But at the end of the day, there are some financial lessons we can learn from this. Our emergency fund just isn't big enough to cope with such a major expense, so it's important we contribute more into it asap to cover such repairs next time, even though it'll mean putting saving for a house on hold.
I'm also grateful that we are able to pay this bill without resorting to credit. Although the memories of this setback will be bitter for a while, at least the situation won't be dragged out for months on end through having to pay the bill back in instalments.
How was October for you?