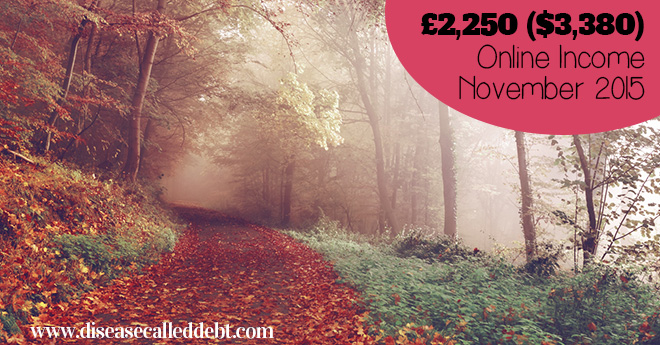 November was a great month for me in terms of income – my most successful month so far since I've been freelancing full time! I'm grateful for many reasons, not least because I've had a couple of turbulent months when it comes to expenses.
In last month's update, I explained that my husband and I were going to have to pay for a new gas boiler for our rental (our old home), despite the fact that the property is on the market and we really want / need to sell it. It was a huge setback for us as we were faced with a £2,500 bill which forced us to completely empty our emergency fund and dip into our house fund too.
This year, we've been inundated with problems concerning our rental property and they don't show any signs of letting up anytime soon. During November, I've had phone calls every week from our new tenant about roof tiles falling off and other issues that need sorting out / paying for. And we're still no closer to selling it!
When all is said and done, we're not going to come close to reaching our savings goals (of £16.6K) this year and that's been a bitter pill to swallow because of the knock on effect this will have on creating the life that we want for ourselves after struggling with debt for such a long time.
It seems that we're a long way from buying a house of our own again and we also don't have much money to put away for a pension right now. But something that's really playing on my mind at the moment is the realisation that the chance of having another child is slipping further away from me. My husband and I have different views on a second baby and the money worries combined with our increasing ages definitely aren't helping matters. More on that in a future post though!
With that said, there are way more important things going on in the world right now and I am putting these problems into perspective. I am truly thankful for the family I do have along with everything else I hold dear in my life.
Thank you to everyone who commented on last month's update, your messages really did make me feel better. 🙂 Now onto more positive things…
Income report for November
The reason why I've started to detail my income report is to help me keep accountable and push myself as much as possible so that I won't hopefully won't end up in a position where I have a really bad month. Being self employed has so many benefits, but of course one potential issue is the variable income which can decrease as well as increase.
Also, I'm hoping that my income reports will inspire other mums or dads to work from home if they want to, so they can work around their kids. By creating a flexible job for myself working from home, I get to do the school run every day for my daughter and it's not a major issue if she's off sick or I need to pick her up early because I can just work in the evening instead. I also don't have to pay for before or after school clubs – huge money saver!
This is my breakdown of earnings this month:
Freelance writing and social media management – £1,761 ($2,645)
I was able to take on another couple of clients this month which really helped increase my income in this area from month. Over £1100 of this income was earned through Upwork (formerly oDesk). It's a good platform to use if you're thinking about freelancing (I'm not affiliated with them in any way). You might want to check out my blog post on how to significantly boost your income with Upwork and how to make money writing in one month or less!
Blog advertising and affiliate marketing – £440 ($661)
This is my income across three blogs, although most of the income here is earned through Disease Called Debt. This payment includes Google adsense, direct advertising and affiliate marketing. This amount is an increase on the last two months which I'm happy with although I expect that December won't be quite as profitable.
eBook sales – £48.19 ($72)
This has been the lowest month I've had in sales for over a year. Not a great result but given that I'm just not doing much in this area right now, it's to be expected. I need to do more to promote my eBooks!
Total earnings – £2,250 ($3,380)
*Earnings subject to some tax deductions
November results and December Goals
Freelance writing / social media management – income goal of £1,400. Work with existing clients to do this and take on more work if possible.

PASS

– I exceeded my target by £361! For December, I'm hoping to take a little time off over Christmas, so I'm going to set the same target as last month as I probably won't be doing quite as much work.
Blogs – income goal of £300 – I'll aim to do this by trying to increase traffic to the blog and approach past advertisers.

PASS 

– I exceeded my target by £140! During December, I'm going to set myself the same more realistic goal of £300.
eBooks – finish writing new eBook, publish and promote it. 

FAIL

– I've done absolutely nothing on this. The freelancing (paid work) has had to take priority this month! I think realistically I won't be able to work on this now before Christmas but I'll pick this back up again in January.
How was November for you?