Hello friends! It's been a while since I posted about what's going on in my life, so I thought I'd post an update today and report my progress on my goals / online income too.
After my holiday in January, it took me a while to get motivated again work-wise. This is one downside to being self-employed – if you want to earn money, you have to get yourself revved up to go out there and get work!
My lack of motivation at the start of the year wasn't helped much by some problems we're having with our rental property (our former home that we rent out due to us relocating).
Our old house – a great big bundle of stress
We have been trying to sell this house since May last year, so that we can use the equity as part of a deposit to buy a home of our own where we're living now.
This whole process has been anything but simple so far. It's so difficult to sell a house with sitting tenants! They hate being inconvenienced for viewings, which I can understand.
But the last tenant in particular made life really hard for us. I'm a tenant myself, so I'm not tarring all tenants with the same brush here! But this one was just awful.
Before the tenant moved in, we repainted everywhere. She knew the house was up for sale and said she only wanted a 6 month tenancy and was more than happy to let the estate agent in for viewings.
Once she was in however, she wouldn't provide access for viewings and I came to expect phone calls from her multiple times per week. Some calls were complaints about tiny things, others were phone calls to ask questions like which provider the last tenants had their TV package with (how would I know?). I came to dread my phone ringing.
Once we realised that this tenant was trouble, we gave her two months notice to leave. Once we'd given her notice, she failed to pay all of the rent.
The most frustrating part about that was that we could do nothing about it – it would have cost more money to take her to court than what she owed on the rent.
When we finally got the tenant out, she'd basically wrecked the house (that we're trying to sell). We had to repaint it all over again, after just 4 months.
The house is now empty and costing us £600 per month! But although this really hurts our pockets, at least we don't have to worry about the potential nightmares that come with renting it!
It really has been a worry and a source of stress these last few months. Anyway, just this week, we've had an offer on the house (albeit much less than the asking price) and fingers crossed it will all go through and we can move on with our lives.
Online income report for January, February and March 2016
I've put together my online income in a little table here for a month by month comparison. I've now included my eBook income as part of my blog income, because these are products created off the back of this blog after all.
(I've included the amounts in US dollars as well as GBP).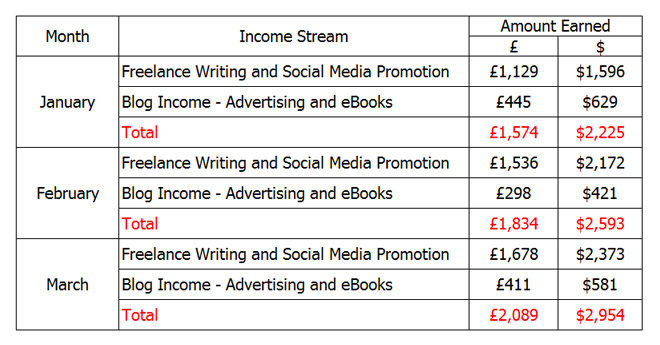 As you can see, January wasn't my best month in terms of freelancing income, but I did lose a week of income through being away on holiday. I was determined not to work during that time!
In February and March, the freelancing income picked up again, although two of my clients have just actually reduced their level of service from me due to budget restrictions.
With that said, my best client recently increased my hourly rate which has helped a little to offset some of the freelancing income loss. I thank my lucky stars to have found this client!
Anyway, my initial reaction when a couple of my clients reduced my workload was to panic. I spent a day looking for more freelancing jobs, before I gave myself a reality check.
I can afford to drop a little work at the moment and since increasing my personal happiness is one of my personal goals for this year, I decided to just let this happen.
Instead, I've been working on my blog more during the last few weeks on the strategy side of things. Although my blog income is steady, I would like to grow it much more.
I've been busy revisiting the learning modules in the Elite Blog Academy (EBA) – a fantastic blogging course that I highly recommend. Last year when I started EBA, I had a three month visit from my in-laws and I ended up having a break due to lack of time.
So since January, I've focused my efforts on increasing my traffic and improving my content. When it comes to earning money from blogging, traffic is super important!
In terms of growth, Disease Called Debt is doing well. During March, the blog reached 56K pageviews and I'm aiming for 70K in April.
It's been difficult finding time to work on my blog strategy as well as keep up with writing content, so I've hired a regular contributor to share some of his thoughts with you now and then too – Tyler Philbrook!
Tyler has his own blog over at I Am The Future Me. He's trying to get out of debt and save money himself and has plenty to say on these subjects. You might have already seen these great posts from him during the last couple of weeks on the blog.
• How to Make Money by Selling on Amazon
• How a $50 Emergency Changed My Life
At the time of writing this post, Tyler's post about selling on Amazon has already been shared more than 100 times on Pinterest. So if you're looking to make extra money, check it out!
If you're wondering how to get started with a blog and make money yourself, check out this free in-depth guide I published recently here on Disease Called Debt!
Progress on annual goals
To wrap this post up, let's take a look at what I said I would do this year and whether I'm on track or not.
1. Financial – increase my self-employed income by 50% this year compared to last year
For me to earn my target of £23,250 (around $33K) in online and freelancing income this year, I should have earned a total of £6,334 (around $9K) by now if I'm to be on track.
I'm slightly behind on my goal with my income from January to March being a total of £5,497 (around $7.5K). However, there's still plenty of time to make up the difference! I just need to keep focused and work hard!
2. Personal happiness – do more things I enjoy
I said I would read one fiction book per month and spend at least one hour per week on a passion project. And although the last few months have been rather stress-ridden, I have actually been trying to do this.
Rather than panicking and immediately trying to overload myself with new work when my existing work level dropped, I decided to just let this happen and take more time for myself.
I have read two books so far this year and I have been working a lot more on my blog which I consider to be one of my passions. So I've done fairly well in this area!
3. Improve overall health and fitness
I said I would be more aware of what I'm eating, spend less money on wine and more on fresh fruit and veg and try to do some form of exercise 3 times per week.
Well, I have been making an effort certainly. I've been trying to "eat clean", so less processed foods on the whole and I have been out on my bike a few times, but not 3 times per week. More like 3 times so far this year. 🙁 But I have done some yoga videos via YouTube.
I have definitely been drinking less wine and eating more fruit. I haven't cut wine out all together – and I don't really want to if I'm honest. I enjoy a glass of wine, and what's life if we can't enjoy a FEW good things in moderation?
For the record, I really don't mean that in a YOLO, just go and blow all your money, type of way!
Finally…
It's been a rocky start to the year for me in some ways. But, on the whole work is consistent and blogging is going well.
I have been taking some more time for myself and I want to continue to do that. I feel like I have made some progress on my health goals and although I want to do much more in this area, at least it's a start!
How has 2016 treated you so far?
*Affiliate links to products / services I highly recommend are contained in this post. Any commissions I earn from my affiliate links go towards the cost of running this blog, so thank you for using them if you're able to!