Back in 2011, when we had to get a Debt Management Plan because we couldn't afford to pay our debts, my heart sank. I was certain that the damage this would do to our credit rating would be pretty bad, if not catastrophic…
A Debt Management Plan is designed to do one thing in your favour – lower your monthly debt repayments to a more affordable amount, so that you can manage better financially month by month. Although this is beneficial if you're in a tight spot with money, what this means to your lenders is that you'll have broken the terms of your credit agreement.
In other words, you can't pay back as much as you said you could every month. And because of this break in trust, there are consequences to deal with. Put simply, if you're in a Debt Management Plan, you can't have access to any other credit until your time spent in this arrangement is over.
When your Debt Management Plan is done and dusted, it leaves flags on your credit file for 6 years after your debt has been settled (at least in the UK anyway). So what does this mean if you're looking for a regular mortgage or reverse-mortgage when you come out of a Debt Management Plan? This was one of my biggest worries as I knew we'd want to buy a home again some day.
Well, at last I have the answer to this – in short, yes you can get a mortgage when you come out of a Debt Management Plan without waiting for 6 years. But there are conditions you'll have to meet.
Now for the longer answer…
Getting a mortgage after a Debt Management Plan
It's definitely possible! I can speak from personal experience on this as my husband and I have just had a mortgage in principle agreed less than two years after we settled our debts. We came out of our Debt Management Plan in November 2014 and had a mortgage in principle agreed last month as we're looking to buy a house soon in the area where we're currently renting.
I've done a lot of research on this in the past and everything I found was a bit vague on the topic of mortgages after bad debt problems. What I'm aiming to do with this post is to provide some accurate information for you by sharing some of the hurdles we were presented with and how we've overcome them.
Credit monitoring and repair
To be considered for a mortgage even if you haven't had debt problems, you need to have a good credit report. We made sure our credit reports were in the best condition possible before seeking advice from an independent mortgage adviser.
In the UK, Experian is the leading credit monitoring service, so a while back we each signed up for a free trial that lasted 30 days. In the USA, you can check your credit report through a service like Quizzle.
During that time, we were able to analyse our respective credit reports and get some changes made. For example, we found out that my husband wasn't listed on the electoral roll according to his credit file. He was – this was just an oversight that needed to be rectified. Not being listed on the electoral roll can lead to your credit score being impacted.
The main reason we wanted to check my husband's credit file though was so we could see how the Debt Management Plan had affected his score (the plan was in his name). Sure enough, we saw a heap of defaults on there, even though the debts had been settled.
It's up to the individual lender as to whether they'll mark your debt as satisfied or not. We wrote off to them all to ask if the defaults could be updated as satisfied and some of them disappeared from the credit report.
However, at the time of seeking mortgage advice, there were two defaults on the file still. Aside from the defaults on my husband's credit report, everything else seemed to be in good order.
A big deposit goes a long way
We've been saving hard to build a pretty hefty deposit for a home. Ideally, we wanted to save a deposit of £50K by November 2017. Well, we live in hope that we will reach that goal sooner than expected!
If we can sell our former home where we used to live and put this towards our savings, we should be almost in reach of this goal. (We already have a house where we used to live that we decided to rent out when we relocated – this has a mortgage on it which we took out prior to our debt problems).
Many mortgage lenders will avoid giving mortgages to people with bad credit. There are bad credit mortgages available but the interest rates are higher than average.
In any case, if you have defaults against your name in your credit history, the lenders that will give you a mortgage will usually want you to provide a 20% deposit instead of the usual 5% or 10%. (A bigger deposit means less risk for the lender in case you can't afford to repay the mortgage.)
That's a lot of money to save, but if you want to get a mortgage after a Debt Management Plan, this is what you'll need to work towards. If you know roughly how much you'll want to spend on buying a house, work out 20% of that figure and start saving.
Lower your home buying expectations
After what turned out to be a horrible experience with debt, both me and my husband have no desire to get a big mortgage. So saving a big deposit brings two benefits for us – it's easier to get a mortgage, but also, it means that we shouldn't need to get a mortgage that's sky high.
If you'd have asked me what my dream house would look like 5 years ago, I'd have described it as a triple storey detached, with a white picket fence, two garages and two stone lion statues guarding the front door. Obviously, this kind of house is way more than we could ever have afforded, but that was my dream.
Thankfully, my vision for a dream home has changed. I'd rather have as small a mortgage as possible for a house that is already affordable for us. In addition, I'd like a home that I can make my own and potentially add value to it so that it will provide income for us in retirement when we downsize.
So that's what we're considering right now and if you're looking to get a mortgage after a Debt Management Plan, I'd encourage you to rethink your home buying expectations too.
After all… mortgages are a form a debt, albeit a better kind of debt than credit card or loan debt. A mortgage needs to be paid off just like any other kind of debt, so the less mortgage you have, the better.
The last thing you'll want to do is apply for a mortgage that will leave your budget tight every month. Any lender will want to see that you can manage your existing bills comfortably as well as repay a mortgage, so leave as much room in your budget as possible to make sure that you and the lender are absolutely sure that you can afford the repayments.
Seek independent mortgage advice
When you think you have enough of a deposit saved up and know roughly how much your new home will cost you, it's time to seek professional advice about mortgages.
In the UK, you can try London and Country for free mortgage advice, these compare over 80 lenders and can do a "soft search" mortgage application which won't leave a mark on your credit file. This is helpful if you want to know if you'll have a chance of being accepted before you apply.
Another route to take if you're looking for general advice on mortgages after a Debt Management Plan is the Which Money Helpline. You can ask any question about mortgages (or other personal finance subjects) and their experts will give you personalised assistance.
You have to be a member of Which to access this service, but you can sign up for a month for just £1.
Finally…
If you want to apply for a mortgage after a Debt Management Plan, you'll need to have all your ducks in a row first.
Make sure your credit file is in the best shape possible – write off to your old creditors to see if any black marks can be removed from your file – and be sure that even the most basic contact information on record for you is correct.
Consider your home buying expectations and try to lower them if possible. Getting a mortgage means you'll be taking on debt again and the less debt the better! Take some time to save a deposit of at least 20% of the expected value of your next home and seek independent mortgage advice before you apply for a decision in principle.
Lastly, time is a healer, especially when it comes to credit repair. If you have your deposit ready soon after finishing a Debt Management Plan that's great, but it's worth leaving it a couple of years before applying for mortgage. The more time that has passed since paying off your debts, the more chance you'll have of getting a mortgage to suit your needs.
Have you or has anyone you know tried to apply for a mortgage after debt problems? Share your thoughts in the comments below!
*Affiliate links are contained in this post.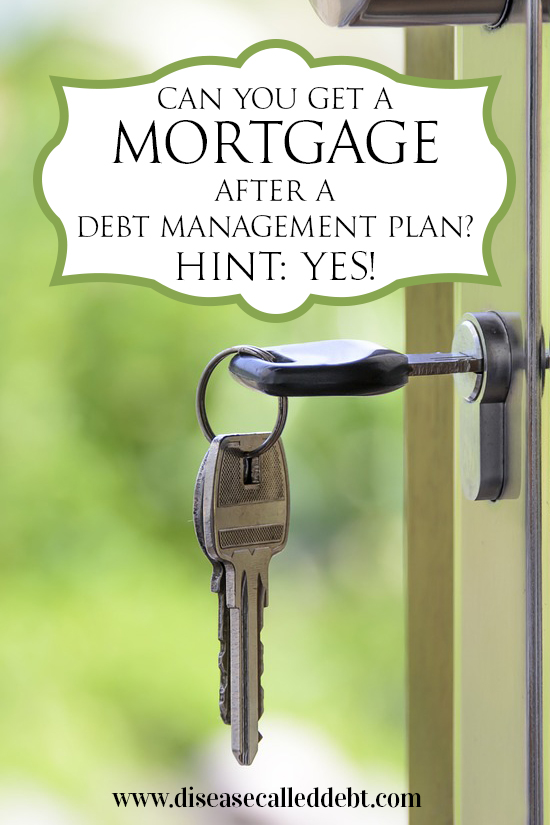 Image courtesy of Pixabay with text overlay added.