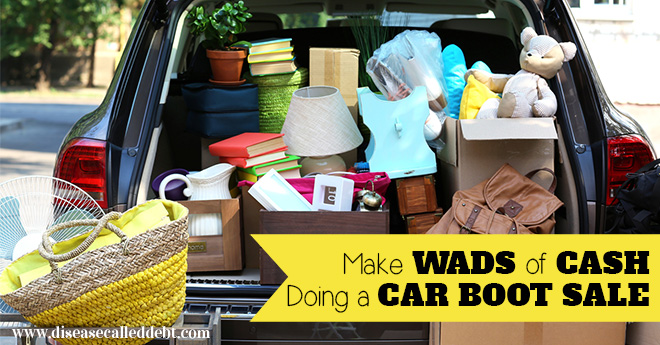 It's always with great effort that I persuade the hubby that we should do a car boot sale every now and then.
He absolutely hates raking through our old stuff, ferrying it all out to the local car boot sale and then bringing half of it back with us again. That is what generally happens I guess! However, despite my hubby's feelings towards car boot sales, they really are great places for individuals to come together to buy and sell just about anything (out of their car boots)!
It's possible to make a nice wad of cash from doing one of these and get a clutter free home at the same time. I love car boot sales – going to one as a buyer is always fun as you never know what little gems you might find and I enjoy the selling side of it too.
In this post, I'll be sharing what to expect at a car boot sale and how you can increase your earnings when doing one yourself.
For my US readers and those from other parts of the world, car boot sales are most popular in the UK. However they are very similar to yard or garage sales in that you can clear out your old stuff for the general public to rummage through and potentially buy.
So don't worry if you don't have "car boot sales" per se where you live because you can still take away some good tips from this post!
The costs of car booting and potential earnings
There is usually a small fee to attend a car boot sale as a seller and sometimes as a buyer. Our local car boot sale costs £5 to set up as a seller and 50p to attend as a buyer.
But when you think about the fees that are charged in other marketplaces such as Ebay, it's actually not that bad. We've made between £30 and £400 by selling at car boot sales in the past. At our last car boot sale, we made £70 (around $108)!
Not bad for a few hours work? It sure does feels satisfying when handling a bundle of cash you've just been given in return for stuff that you don't use anymore.
The thing with car boot sales is that you never know what items other people might take a liking to. What is one person's junk is another person's treasure! So it's worth taking anything that you no longer need to a car boot sale just in case a buyer falls in love with it.
Some of our best selling items from our most recent car boot sale were:
Mini tumble dryer (bought new for £40 four years ago) – sold for £20.
Paper shredder (bought new for £35 ten years ago) – sold for £10.
High heeled peep toe shoes (bought for £10 in a sale five years ago) – sold for £5.
Second hand baby clothes – 50p to £1 per item – this soon added up!
Mini stepper machine – (bought new for £20 ten years ago) – sold for £5 – this was a success because we've tried selling this at the previous three car boot sales and we finally it sold at this one!
We also sold other bits and bobs such as toiletries, costume jewellery, curtains, blinds, cushions and baby toys for a few pounds here and there.
The slight downside to car booting
There are always buyers that come round to your stall to haggle for a discount (even on 10p items)! It is really annoying sometimes as you know what an item is worth and it can feel like they are being a little bit cheeky. But from their point of view, they just want to get the best deal they possibly can!
Then there are buyers that really want something for nothing and get annoyed with you because you won't come down on price. Last time we did a car boot, we had a lady who thought paying £2 for a pair of wellies was just too much!
I guess you just have to accept this as part of attending a car boot sale and go with a view to getting rid of what you can. Our usual philosophy is that we only take what we don't want to bring back with us – I did really like those wellies so I decided to take these out of the sale!
It's not very often that everything sells, so usually, you will end up bringing some stuff back home. But you can always save anything that's left over to put in with your next car boot sale.
How to increase your earnings from a car boot, yard or garage sale
1. Display your goods nicely
Think about your shop window. This might sound really obvious but if you want to sell more stuff, laying out your products on a table instead of the floor does help.
Some people can't physically bend down so they might just walk straight past your car boot sale if your goods aren't accessible. Dress your display up a bit; a nice tablecloth and your items laid out clearly with prices on will attract buyers. Make sure your items are clean and in working order (unless you are selling a non-working item for spare parts).
2. Set your pricing strategy before you go
Know what you're going to charge beforehand. It gives out the impression that you are a confident seller who clearly knows the value of your goods.
Accept reasonable discounts and bundle up 2 for 1 items if you can. Items that are clearly labelled sell better because potential buyers can see what they're getting straightaway.
3. Perfect your sales patter
At a busy car boot, if you're feeling brave, you can use the old "roll up, roll up!" sales patter. This will attract the attention of potential buyers and can lead to more sales.
Standing up next to your stall and actively trying to sell will get much better results rather than sitting down reading a magazine only looking up when a buyer asks a question! Start conversations with people about anything, make jokes etc. They are more likely to part with their cash if they like you and find you approachable.
4. Offer carrier bags
In the past, I have seen buyers who were going to buy something actually put stuff back because they can't carry any more items. If you can offer carrier bags for free, it can help people to make their decision as to whether to buy or not.
5. Be prepared to let everything go
It can get annoying squabbling with a buyer over a heavy discount. The best way to make sure you sell your stuff is to only take items with you that would be happy to see go for next to nothing. Otherwise, you'll end up bringing a lot of it back.
If you fancy going to a UK car boot sale as a buyer or a seller, you can search for your nearest one by visiting the Car Boot Junction website. Search information includes location, start times and fees for both buyers and sellers.
Do you like doing car boot, yard or garage sales? What's your experience of them?
Related posts: