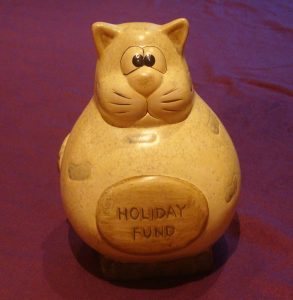 Last weekend I revised my budget after being inspired by Claire's post over at Ready for Zero on Finding Your Best Budgeting Strategy – And Sticking With It. My old budget was vague at best – it had more than a few holes in it!
I now have a format I'm happy with and I'm going to track every penny I spend and create a new budget each month taking into account any changing costs. It might be a tedious task but I'm going to have to do it because this month, I really want to hit the debts where it hurts and try to shave off even more pennies from our already squeezed expenditure.
Basically, I need to stop frittering away money which I have been doing a lot of according to my last bank statement. Frittering it away by doing small shops – you know those trips where you go out for milk and you come back with a loaf of bread, an apple pie, eggs, kitchen cleaner, dishcloths and some roasted peanuts just because they were on offer? Yes, I've been frittering (sigh).
Last month, I even went into my overdraft slightly, which I quickly rectified by transferring some money over from the emergency fund. Despite all the debt my hubby and I have together, we absolutely can't be in the red with our bank account. We feel like we need a tiny credit or even zero balance ready for the start of the next month. It's kind of like having a clean slate.
So, after I sat back and proudly admired my colour-coded spreadsheet complete with the correct formulas in all the right places to add up all our hard working cash, it dawned on me that I had plans Saturday morning which would involve spending part of the 'socialising' budget. The socialising budget is very small, basically I use it for trips to playgroups with my daughter and the odd coffee and cake out with friends.
However, I was already thinking about spending money in this area before the month even started! FYI, the hubby gets paid on 28th of each month and I get paid on the 1st, so there was money in our account, but we don't usually have anything going out of the bank until I get paid.
Loose change all adds up!
Then I suddenly remembered our dusty old loose change pot sitting stoutly on my dressing table in the form of a fat cat which has the words 'holiday fund' stretched across it's tummy. Whenever the hubby and I have any spare change, we dump it in there. There's no way the contents would ever fund a holiday seeing as it's only ever loose change that goes into it, but I wondered if I'd have enough to get me through Saturday morning's social engagement without delving into the budget.
Yippee! Sure enough, when I emptied our 'fat cat pot', I found that there was around £8 in change hiding away in there. I did a victory dance around my little girl and off we went to enjoy our cake and coffee (diluted juice for her) with our friends at a local cafe. I felt really pleased with myself that I hadn't touched the budget just yet.
When you're paying debts off, every penny does count and I must admit, I've used the contents of the change pot to actually pay off debts before now. I've taken a little loose change to the bank before and paid it into my account over the counter (whilst trying not to make eye contact with the amused cashier). I'm so glad I can't see the faces of my creditors when I make these seemingly tiny payments online towards my debts! But I'm always grinning at my end! 🙂 Take that debts!
Making the most of your loose change
Rather than spending whatever change is in your pocket on a newspaper or snack from the petrol station, why not find somewhere to save it up for a while? The great thing is that it can be used for all sorts of things outside of your main budget.
If you need a cab urgently or change for a car park, you can delve into your change tin. You could donate to charity using your change, use it as a savings pot to go towards gifts or even as another way to save up for debt repayments. Your loose change can come in handy when you really need it the most!
Do you save your loose change? What do you use it for?
Related posts:
Image © A Disease Called Debt