Even with the very best planning, Christmas can end up being a huge expense. It's so easy to get carried away buying gifts for loved ones and then having to deal with the financial repercussions come January!
Back when my husband and I were heavily in debt, Christmas used to be a big financial problem for us. We were struggling to pay back our debts but still couldn't limit our spending effectively at Christmas time. The month of January was always one to dread because of lack of funds, and usually, a little bit more debt than we'd had a couple of months prior.
Since regaining control of our finances, we now aim to be able to pay for Christmas well in advance of the holiday itself, so that we can start January afresh. Planning for this expense always helps of course, but there are different ways that we keep our costs down. I want to share with you today some of the things we do that you can do too in order to keep the costs of Christmas to a minimum.
1. Limit the amount of people that you buy for
First of all, the best way to lower costs intially is to be strict with yourself this year and only buy for immediate family or people that are special in your life. This can be tricky if you know other people who usually buy a gift for you or your children – you may understandably want to reciprocate.
However many people do want to save money at Christmas but feel like they HAVE to buy gifts for every man and his dog. Why not express to others now that you're not buying gifts this year and ask them not to buy for you? That conversation probably won't be half as awkward as you'd expect!
2. Use Swagbucks or other rewards to pay for gifts
Swagbucks is a great way to earn money in the form of free gift cards for not really doing too much at all. You can earn Swagbucks simply by using the Swagbucks search engine instead of your usual one when browsing the internet, as well as entering surveys and doing your shopping online. It's that easy!
You can redeem Swagbucks points for gift cards at a number of retailers (including Amazon), cinemas and restaurants. You can also transfer the points into cash using PayPal. You will need quite a few points in order to redeem for anything worthwhile. For example at the moment, you'll need 849 Swagbucks to turn this into a £5 Amazon voucher, however it doesn't take long to start racking those points up.
I've been collecting Swagbucks for a month and already I have more than enough for a £10 voucher and I've only been using Swagbucks as a search engine – not for surveys or online shopping. Why not use my Swagbucks referral link today and get started earning points which you can redeem in time for Christmas?
3. Buy gift vouchers cheaper than face value
The Zeek mobile app is another good way to help make Christmas less costly. The Zeek marketplace is a platform here in the UK where you can buy or sell gift vouchers. If you're looking to buy someone a gift voucher for Christmas, be sure to check out this app (screenshot below), because you might just be able to find one that's cheaper than face value!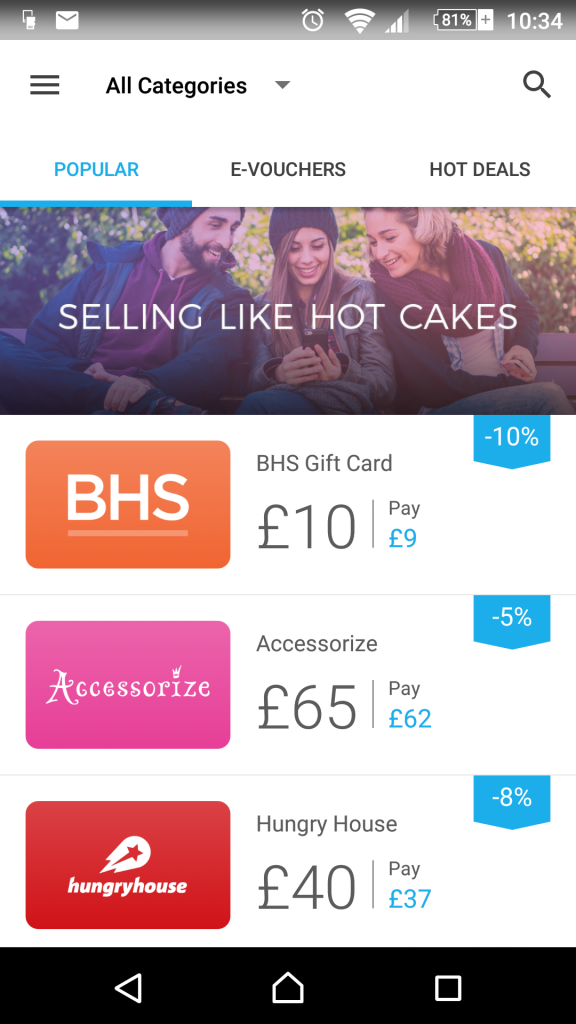 For example, I recently bought my dad a £25 Marks and Spencer's gift voucher for the price of £22. Every little helps! Sign up to Zeek here and then use my promo code: 2TNGZT to get a £5 credit added to your account for free which you can use against your first purchase!
4. Make the most of this loophole to get free delivery on Amazon UK
Amazon's free delivery used to be on orders over £10. Now the limit has increased to needing to spend £20 before getting the super saver free delivery option.
It's a bit frustrating when you place an order on Amazon for £19.80 and find you need to make another purchase to reach that £20 limit so you can benefit from the free delivery option.
However, thanks to a cunning tool developed by an ex Money Saving Expert team member, you can now search for products to buy which have a very low value (as little as 10p), so you can reach the £20 limit – and save money on delivery – without spending more than you need to. Try the tool yourself here!
5. Get ready for Black Friday
The biggest shopping day of the year falls on Friday 27th November 2015, the day after Thanksgiving. Retailers in the UK and the US are expected to slash their prices to kick start the Christmas season when it comes to buying gifts.
Many retailers are however already slashing their prices in advance of Black Friday. Check out Amazon UK's daily deals
 and Argos who will be offering deals this coming Friday as well as on 27th November. You can also pre-register for an Argos account here to take advantage of early notifications on deals.
US readers might want to take a look at The Penny Hoarder's Black Friday Portal where you'll find information on Black Friday deals along with a live Q&A blog that will be open for 48 hours (manned by 20 money-saving experts). You can ask these experts anything you like about where to find the best Black Friday offers.
6. Earn money now to pay for Christmas
There are still a good few weeks left before Christmas and that means that there's still time to earn some cash to make Christmas paid for in advance! Now is the time to clear out your old, unwanted belongings and sell them on eBay, Gumtree or local Facebook groups.
You could consider getting a part-time job, doing extra hours at work or starting a side hustle from home to build up some extra money to pay for Christmas. Take a look at my posts on making money for lots of ideas!
If you love crafts and making things by hand, this is a great time of year to make the most of your skills. Not only could you make Christmas gifts to sell but you could also use your talents to make handmade gifts for those that you want to give presents to as well.
7. Save in other areas to free up extra money for Christmas
It's never too late to look at your household bills and see where you can make savings. Money that could then be freed up to use for Christmas! Not just for Christmas gifts but also for other expenses like providing Christmas dinner for the family or travel and accomodation costs if you're visiting others for Christmas this year.
Graham over at Moneystepper wrote this excellent post recently on 111 Ways to Save Money on Household Bills. It's a very comprehensive guide to saving on all sorts of bills and definitely worth a read.
Christmas doesn't have to be as expensive as you'd think. By planning in advance, making the most of ways to save and putting some effort into earning some extra money now, you could save yourself a financial headache come January!
Will you be cutting down on costs this Christmas?
*This post contains affiliate links to Amazon UK, Zeek and Swagbucks, meaning that I may be rewarded through a commission of some kind (at no cost to you) if you choose to use my links. Commissions help to keep this site up and running so thank you in advance for using my links if you are able to!