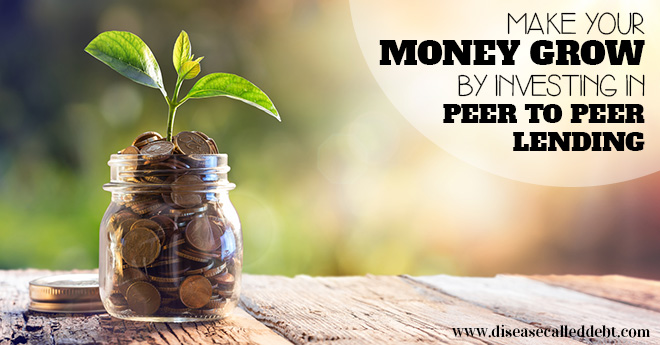 I'm fairly new to investing, but nevertheless I understand the need for a diversified portfolio. Put simply, by not putting all of your golden eggs into the same basket, you can help to balance out some of the risks that come with investing your hard earned cash.
Peer to peer lending is one option to consider as part of your overall investment strategy. This is where everyday savers like you and me can lend money to others through a platform like Ratesetter and benefit from a nice return – quite possibly a much better return than just keeping your money in the bank.
On the other side of the fence, borrowers can benefit from peer to peer lending by getting a loan to suit their needs with a relatively low interest rate. Basically peer to peer lending platforms cut out the banks and act as a middleman – matching investors to borrowers.
Today I wanted to let you know about a special offer Ratesetter are running at the moment for investors. You can earn £100 on top of a great interest rate, just by investing your money with them. Please note that only UK residents can take advantage of this offer at this time.
Ratesetter – who are they?
Ratesetter launched in the UK back in 2010 as a peer to peer lending platform. They have over 38K registered lenders and over 224K borrowers. They pride themselves on their 100% track record – so far all no individual lender has lost a penny and all investors have received the return they were expecting.
This great track record has most likely been made possible because Ratesetter have developed something called a Provision Fund. This has been put in place to protect investors, meaning that if a borrower doesn't repay their loan, the Provision Fund is used to repay lenders.
In addition, Ratesetter have stringent checks in place before allowing borrowers to apply for a loan to check that they are likely to be able to afford to repay. Ratesetter are seen as a trusted platform – they are rated 5 out of 5 by over 1265 independent reviews on Trustpilot.
So that all sounds very positive, but it's important to note (and Ratesetter point this out explicitly on their website) that past performance doesn't guarantee future success. Every investment carries risk and it's important to think about how comfortable you are with risk before investing your cash!
How much can you earn by investing your money with Ratesetter?
Ratesetter have three different investing models to choose from – an everyday account, an ISA or a SIPP. Each one is covered by the Provision Fund I mentioned earlier. Once you've selected which model you want to use for your investment, you'll then need to decide which market you want to invest in.
There are four markets to choose from: rolling, 1 year income, 3 year income and 5 year income. This basically means how long you anticipate being able to leave your money to grow.
To qualify for the £100 bonus, you'll have to invest £1000 of your money with Ratesetter for at least one year. At the end of the year you'll get your £100 bonus along with the return on your investment.
To give you an idea of how much return you'll get, let's take the 1 year market as an example. At the time of writing this post, this market is currently paying 4.2%. So if you invest £1000 and leave it in this market for 1 year, you'll get a 4.2% return on £1000 – £42.
Add on the bonus Ratesetter are offering and you'll get £142 at the end of the year. 
If you were to invest your money in the 5 year market, you can expect a bigger return – the interest rate at the moment is 6% and the interest is paid monthly, rather than annually.
Considerations before investing in peer to peer lending
One important thing to think about before investing your money in peer to peer lending is your attitude to risk as I mentioned earlier. Peer to peer lenders aren't backed by the Financial Services Compensation Scheme (FSCS) like UK regulated banks are.
If you save your money in a regulated UK bank, your cash will be protected up to £75K by the FSCS. But, if your peer to peer investment fails, you can't do anything about it. These platforms do carry a higher risk in that respect.
But, when you weigh up the piddly interest rates that many UK savings accounts offer, the option of potential growth for your cash may outweigh those risks.
Another consideration is that Ratesetter don't charge a fee for lenders. If you invest in stocks and shares for example, you'll be charged a platform fee by your provider and usually a trading fee if you want to buy and sell your investments.
With Ratesetter, you can simply crack on and start investing without worrying about whether there are any fees that will sneakily eat into your profits.
Finally…
I personally am going to invest in peer to peer lending myself. It's something I said I'd do a while back as one of my goals but I never got around to it because I really needed my money for other things.
Now that Ratesetter are putting a great offer on the table, I do want to take advantage of this, because getting £100 for something I already intended to do is definitely a bonus! I'm just waiting for my house sale to go through (fingers crossed it will actually sell this time) and then I'll be investing.
If you're thinking about investing in peer to peer lending yourself, I don't know how long Ratesetter's offer will be running for but it's probably best not to wait too long in case you miss out! If you want to sign up, please do so here through my referral link.
What are your thoughts on peer to peer lending? 
*I'm not a qualified financial adviser, the above article is based purely on my own opinion. Affiliate links are contained in this post.