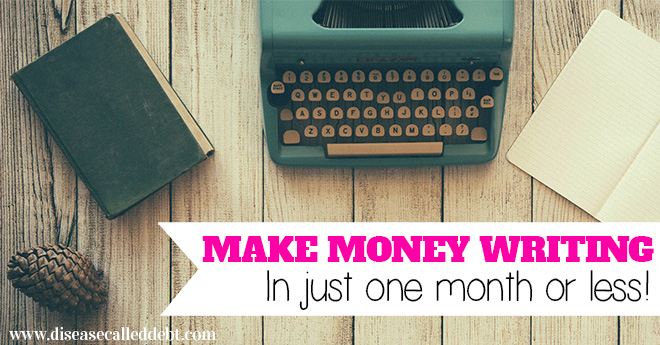 When I was trying to make extra money towards debt repayment, I honestly didn't consider freelance writing as a feasible way to make money. I had no real experience other than my blog, which at the time consisted of a handful of posts that I knew I definitely wasn't going to win any awards for. I just thought freelance writing was something for journalists or people that had years of experience and qualifications.
So I didn't give it much serious thought until someone approached me to ask me to write an article for their website. It dawned on me that I was actually building a portfolio of work without even realising it, through the work I was putting into this blog.
After that, I started taking my writing a bit more seriously as I realised that there is good money to be made through writing. Now I'm not the best writer in the world, I still make a few mistakes here and there, but I can write well enough to make some decent money.
And what's more, you probably can too! If you can read and write and you have access to a computer and the internet, you can make money writing articles, eBooks, web content and much more from home. It's a great way to supplement your income without having to go out and get a second job – and you can even do this if you're a stay at home parent too.
If you decide to have a go at freelance writing, you could start making money online in as little as a month. Seriously! You really can!
Here's how to make money writing
Week 1 – Start writing… anything
The first thing you need to do is actually start writing to find out primarily that this is something you're going to enjoy doing. If you enjoy it, you're much more likely to make money writing. If you're a complete newbie, a good way to find your "voice" is to keep a journal. Write about what's going on in your life, what challenges you're facing, things that you enjoy – anything really.
This might feel a bit weird to begin with, writing down your thoughts. But stick with it, because the purpose of this exercise is to help you get a feel for what your writing style is like. Spend at least half an hour a day doing this for a week or so and eventually, you'll relax into it.
You can begin writing using pen and paper or type up your thoughts into a word processor like Word, Pages or even a text editor like Notepad.
Week 2 – Build a portfolio
Once you're happy that writing is for you, you'll need to build up a portfolio. Starting a blog is a good way to do this since you can keep on updating it with articles and it's already out there in the public domain. You can start a basic blog for free in WordPress.
If you don't fancy getting to grips with WordPress or another blogging platform, don't worry. All you need for your portfolio to begin with is a few examples of articles that you've written – each one being around 1000 words if possible.
Not sure what to write about for those first few articles? Write about something that you know about. How-to articles are often easier to write than research heavy posts, especially if you're an expert at something.
For example, if your day job is a teacher, you could write an article about how to engage children in a learning activity. If you're a painter and decorator, you could write a post on how to make a room look bigger using different decorating techniques. If you're a mum or dad, you can write about how you trained your little one to sleep through the night (if you're that lucky)!
The point is – write about something you know about – and then the next step is to make it as interesting as possible. Making writing interesting to read is the tricky part, but it can and should be done.
Even if you're writing about a less than exciting subject, it's possible to do so in such a way that makes the reader sit up and take notice. Just think about what makes your topic interesting to you and start from there. Be specific and to the point, mix up your adjectives and don't overcomplicate sentences – simple words are easier to read. For more tips on making your writing exciting take a look at this post from copyblogger.
Week 3 – Offer to write for free
When you're feeling confident that your writing is good enough to be published, offer your writing services for free. This is a good step to take to get some experience writing content for the web. You can contact any blogger and offer to write for them.
Why bloggers? Because they always need to publish fresh new content and many will be appreciative of the help, as long as you're not trying to link to a commercial business within your article. Just explain that you're starting out, be friendly and you'll probably get a great response.
Pick a blogger whose writing style is like your own and whose content matter is similar to what you can wite about too, that way you can be confident your article will fit right in. (If you think you can write about personal finance, you can always ask me!)
If you can, pick a popular blog that you feel sure has plenty of traffic coming in. It'll mean more eyeballs on your writing which will add to your credibility. A good way to check this is whether the blog looks professional, whether posts are consistently receiving comments and whether the blogger in question is active on social media.
Week 4 – Get clients for your freelance writing business
Freelance writing business? That's right! At this stage, you have to think of yourself as a professional freelance writer. You've chalked up some good experience and you're ready to take the plunge into paid writing work. There's no point going any further thinking that you're an aspiring writer – you are a professional writer! And you'll need to bill yourself as one if you want to get paid.
Great resources to help you start making money writing:
Writers in Charge
Bamidele Onibalusi is freelance writer and blogger with a lot of great advice for aspiring freelance writers. He has a list of 110 legitimate websites where you can get paid for contributing an article (between $50 to $300 per article). I've got the list but he deserves the credit for putting this together so go right ahead and get that info from his site when you're ready!
Upwork (formerly oDesk)
Upwork is an excellent freelancing platform where you can pitch for writing jobs. This is where clients who need freelance writers hang out. More importantly, it's where high paying clients hang out. In case you haven't seen my post on how to significantly boost your income with Upwork in 6 easy steps, please check it out!
The money I earn through Upwork makes up around 40% of my income each month. I do writing work and social media work through this platform and can highly recommend it. It's easy to use, free to sign up and once you've got some good feedback from clients, it's straightforward to get more work.
Elance
This is a similar platform to Upwork, where you can pitch for writing jobs. Out of the two, I've had more success with Upwork, but you might still want to give Elance a shot as you'll probably find some extra opportunities.
The Write Life
This is a helpful website with plenty of advice on how to grow your freelance writing business. The Write Life also has a jobs board with freelance writing jobs.
And now the million dollar question… how much can you earn writing?
Well, last month I personally made over £1000 ($1500) purely doing freelance writing – articles and web content for clients. It's definitely possible to earn a lot more. How does $250 per hour sound to you? That's what top level freelance writers can make once they've built a good reputation for themselves.
I hope this article has helped you think about how to make money writing! It really is a great way to make some extra cash, if not a full time income.
Need more advice?
I'm now offering coaching services where I can help you get started as a freelance writer! I can be your mentor and walk you through the steps you need to take to begin your freelance writing career. I can offer feedback on your writing, give you pointers on how to improve and help you land your first writing job. If you're interested in this, just drop me an email: info(at)diseasecalleddebt(dot)com and we'll chat!
Have you considered making money writing before?