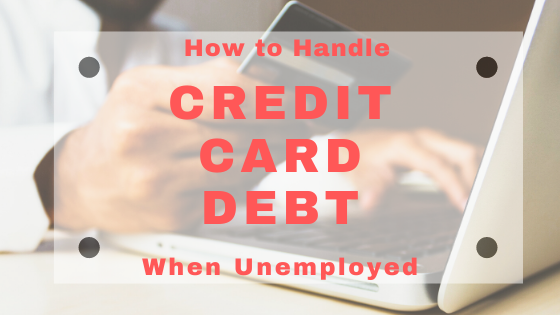 Being unemployed is one of the most stressful phases of life. As you scramble to get back on your feet and look for a new job, the imminent doom of financial uncertainty looms large on your mind. And, it certainly doesn't help if you have a mountain of credit card debt to pay.
Finding a new job that pays you well can be tough in times of recession and market uncertainty. With no idea of where your next paycheck will come from, the thought of not paying your credit card bills and the ever piling debt can keep you awake at night. Well, all is not lost. Here are five ways to handle credit card debt when you are in between jobs:
Pay minimum dues: Clearing off minimum dues seems like a simple way to handle credit card debt, but it gets a lot trickier when you're struggling to make ends meet. If you've been laid off, then severance pay will help you stay afloat for a little while. But if you were fired or you left the job due to personal problems, then you immediately need to prioritize your bills and expenses. Apart from putting some money aside for rent and other essentials, use the rest of the money to pay minimum dues on your credit cards. If you have an auto loan or mortgage, prioritize them before credit card payments as they are secured loans.
Negotiate with your bank: 'I don't have enough money to even pay minimum dues on credit cards. Now what?' The next step is to call your bank or credit card provider and try to negotiate a favorable deal for you. Explain your financial situation with all honesty and assure them that it is just a temporary phase. Depending on how you negotiate, credit card services can offer you debt repayment at lower interest rates or extend the date for bill payment. Please be aware that these hardship offers come with a price. Banks may limit your line of credit in the future, and it may have a negative impact on your credit score.
Withdraw savings/retirement funds: Desperate times call for desperate measures. While it is not advisable, you can consider withdrawing savings or retirement funds if you feel stretched thin for cash. Remember that paying your credit card debt is one of your top priorities (apart from getting a job), and you may have to break into your savings if the need arises. But before you tap into your savings/retirement funds, ensure that you have done everything to save your limited funds by cutting down on luxuries and unnecessary expenses.
Balance transfer: If you feel that the minimum dues on your credit card are pretty steep due to high interest charges, you might want to consider the balance transfer option. If you have a good credit score, you can check and compare balance transfer cards on credit card aggregators. When you choose balance transfer from an existing credit card to a new one, you get a zero interest time period of the first three to six months. This could make a considerable dent in the minimum dues amount and help you pay less when you are struggling with finances.
Lock your credit cards: Lastly, freeze your credit cards to avoid accumulating more debt. This is an important step as you might be tempted to swipe credit cards more often due to the lack of influx of money in your bank account. Using credit cards recklessly when you are in between jobs can only lead to financial disaster. Besides, the less money you have to spend, the more you will be forced to follow your budget strictly.
Paying credit card debts and managing your day-to-day financial needs can be really tough when you lose your job. But there is a silver lining even in times of financial crisis. Consider this phase as an opportunity to reign in your spendthrift ways that would help you avoid accumulating debt in the future.