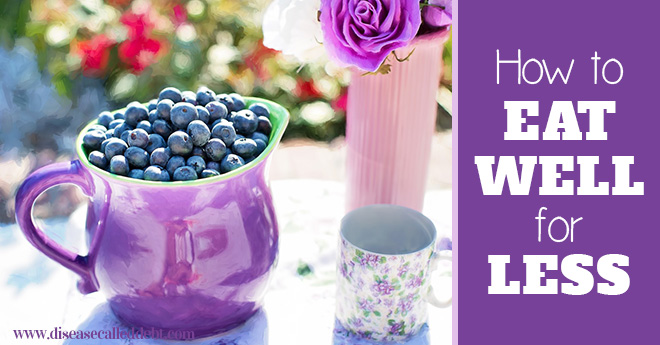 I often mention here on the blog about cutting costs when food shopping to save money, but I realised recently that many people don't know exactly how they can do this for fear of compromising on the meals they currently eat. In this post, I want to show you how it really is possible to enjoy a well-balanced diet for less money without giving up all your favourite foods.
I was inspired to write this post after I watched an episode of Eat Well for Less, a BBC1 documentary which follows the supermarket spending habits of various families. TV presenters, Gregg Wallace and Chris Bavin, are brought in to show these families how they can basically shop for the same food but without spending a lot of money in the process.
The episode I watched was about the Austen family – a family of four (two grown ups, a teenager and a young child) who spent around £260 per week doing the food shopping. Yes, that's per week, meaning that their average monthly food shop was well over £1000! With only four mouths to feed, that's a lot of money to be spending!
There are three people in my family, two grown ups and a child and our food shopping comes to between £200-£300 per MONTH. That's around a quarter of what this particular family were spending.
So how does this kind of spending happen? How is it possible to spend so much money on food? Well, I think excessive spending like this is down to a combination of clever marketing / packaging tricks and just falling into the trap of buying what looks familiar instead of trying out different (i.e. cheaper) produce.
If you want to save money on food shopping, take a look at these top tips which could save you hundreds (if not thousands) of pounds/dollars per year.
Nice packaging doesn't mean better quality or better taste
You might think that a jam with a nice name like Fortnum and Mason, dressed up in beautiful packaging with a hefty price tag to go with it is going to be the best jam ever, but actually it probably won't be.
In a taste test on Eat Well for Less, Sainsbury's Taste the Difference strawberry jam came out as the tastiest of them all and was priced at 44p per 100g, even beating the popular brand – Hartleys jam. The premuim option, Fortnum and Mason strawberry jam, was priced at a whopping £3.81 per 100g – and was identified as the worst tasting!
In this same documentary, one of the family members was asked to compare balsamic vinegars and put them in order of preference as to which had the most visually appealing packaging and then in order of which one tasted the best. Turned out that the one with the least attractive packaging (as in the one that wouldn't get a second look usually) was the one that tasted the nicest!
The results of these little case studies show that you should get past the packaging and give supermarket own label products a try – and I'd encourage you for going a step further and try the extra value brands. We still buy many extra value products, including tinned tomatoes for just 34p per tin – they do the job just fine!
Stop buying unhealthy snacks or processed foods
The things that often push the shopping bill up are crisps, chocolate, frozen or ready meals and other processed foods. As much as it's nice to have a treat, you can make your money go further by purchasing fresh produce instead.
Rather than buying frozen oven chips, buy a sack of potatoes from your local farm shop – you'll be able to make healthy homemade chips until they come out of your ears!
Try baking your own cakes and biscuits with basic store cupboard ingredients rather than buying boxed cakes from the supermarket. Your body will thank you for it as well as your pocket!
Put together a proper shopping list
Planning meals might seem a bit boring but if you want to save money on your food shopping, you'll need to know what ingredients to buy at the best prices to make those meals. The best way to do this is put together one main shopping list that you can go back to every month. Being organised with your food shopping is the key to staying on track with your spending!
If you need to mix things up a bit to avoid dreariness at mealtimes, just swap and change a few items so that you can make some different meals.
Compare prices across different supermarkets
When you have your shopping list ready, compare prices across different supermarkets using an online website like My Supermarket here in the UK. Sites like this can save you up to 30% on your food shopping and that's just from being able to see where you can buy the things you need at the lowest possible cost.
It's worth weighing up fuel costs to travel to and from different supermarkets. Try tagging shopping trips to supermarkets that are further afield onto journeys where you already need to venture out in that direction anyway.
Use the food you have in the freezer
One thing that my husband and I feel strongly about is avoiding food waste. We cook in bulk and freeze portions for later. When we think we've run out of food, we raid our freezer and combine random ingredients to make a meal. Tinned tomatoes, sausages and pasta can end up turning into a really nice baked pasta dish. Leftover veggies often get thrown together with chickpeas, lentils and spices to make a tasty veggie curry.
Eat less meat / fish
I'm not suggesting you cut back on nutritious meals in order to save money, but the fact is that meat and fish can be costly and it is perfectly possible to eat a vegetarian diet whilst maintaining a healthy balance of protein, carbohydrates and good fats.
If you don't want to become a vegetarian though, you could try reducing the amount of meat in your meals, instead packing them out with more veggies, pulses and lentils for added nutrients.
Turkey is generally cheaper than chicken and most red meats plus it's super good for you too. Instead of buying cod or haddock, try pollock instead which is a white fish that's a bit cheaper, but still as good for you.
Can you squeeze more savings out of your food / grocery budget?
I conducted a survey recently to find out what problems my subscribers are experiencing right now when it comes to money. A common problem seems to be trying to find more savings when budgets have already been slashed.
If you can relate to this, just take a minute to revisit your food shopping habits. Is there any way you could save a bit more money by following some of the tips above?
I'd love to hear your thoughts on eating well without spending a fortune. What's your experience of this? Please take a minute to share this article on Pinterest!