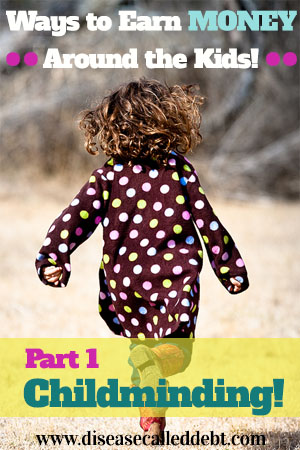 Welcome to a brand new series on Disease Called Debt today – Ways to Earn Money Around the Kids! 
Are you a mum or dad looking for ways to make a living from home so you can be there for your kids – and eliminate childcare costs? If so, this series is for you.
Once per month for the forseeable future, I'll be writing about ways you can earn money either whilst the kids are right there in front of you or when they're safely tucked up in bed asleep. (If you don't have kids but want to work from home, this series will benefit you too!)
In case you didn't know this about me, I'm a work from home mum. I work full time around my little girl who is currently attending nursery 3 days per week and she's at home with me on the other two days. My husband works away a lot so when we needed to earn extra money to pay off debt, I had to think of different ways I could make a living with my daughter in tow, without worrying about the cost of forking out for childcare.
When one of my friends in real life (currently a stay at home mum) asked me a question the other day about how she could earn money around her kids, I was able to share with her all the ways I've tried and what I do now to make money around my daughter. This was going to be one post but it was getting pretty long, hence why this is now a series!
First of all, let's talk about childcare. It's so expensive! I know that so many families have to pay out for childcare costs in order to go back to work, it's just one of those things. In our situation, I knew that I wouldn't actually be able to earn enough money to make a real dent in our debts if I had to take a job that meant paying out for childcare too. When my maternity leave finished, I made the decision to try to make a living from home, around my daughter.
Armed with the facts that childcare WAS indeed expensive, I began to look at childcare from a different perspective… from a business opportunity point of view. I realised that in my local area, there wasn't all that many childminders around (daycare providers) and so I decided to set up my own childminding business! I childminded for nearly two years before I started freelancing.
Becoming a childminder
I can hand on heart say that although being a childminder is very hard work (it's definitely not babysitting), it's a fantastic way to work from home and get to see your kids grow up. Although this isn't the best paid job in the world, there are all sorts of ways you can save money when you're childminding so that effectively you can earn a decent wage.
You don't need work clothes for a start so that's a huge saving. I walked almost everywhere with the kids I looked after so I cut down on fuel costs. Because I was a childcarer, there was no need for me to pay someone else to look after my daughter whilst I worked – massive savings again!
Lastly, there were all sorts of costs that I could offset again my tax return each year such as a percentage of our rent, utility bills, food costs, toys, equipment and more. In my opinion, working as a childminder is a good option for mums who want or need to work around their kids.
Contrary to popular belief, you can be a childminder if you're male as well as female! More and more dads are staying at home and having a hands-on role in raising their kids these days whilst the mum goes out to work, so why not?
What does working as a childminder involve?
Every day is different when you're a childminder! In the beginning I worked long hours, starting at 7.30am and finishing at 6pm, because these were the kind of childcare requirements that were needed from working families. In the end I managed to cut my hours back a little so I started later and finished earlier. A typical day would look something like this:
7.30am – arrivals and breakfast
8.45am – school run
9.30am – taking the kids to a playgroup or doing an outdoor activity and serving up snacks in between
12noon – lunch
1pm – storytime whilst some children had naps, followed by arts and crafts
3pm – school run
4pm – free play
5pm – dinner
6pm – finish, tidy and clean for the following day
I'm not going to lie – all this is hard work, because in between activities and preparing or cooking meals, there's nappy changing to do, squabbles to sort out and did I mention delivering the Early Years Foundation Stage (EYFS)?
In the UK, all childminders are required to deliver the EYFS which is an educational framework for children aged 0-5 years old. This isn't rocket science by any means but it does involve observing and assessing children to identify areas for development on a regular basis and then planning activities to help them progress in those areas. Then there are daily diaries that need to be written up every day for under 5 year olds as well as undertaking regular risk assessments, fire drills, training and more.
A childminder needs to register as self employed and gain skills in running a business, such as accounting and keeping records as well as handling confidential information relating to children and their families.
Even with what is effectively hard graft and quite a bit of paperwork, being a childminder is a rewarding job. After I started childminding, I really became quite attached to the children in my care. I felt so happy when they reached a new developmental milestone because of me. And being able to be there for my own daughter in every way during those important first few years of her life is something that I will always be thankful for.
Childminding allowed me to contribute financially AND enjoy being a mum. I could be spontaneuous and make the most of a snowy day or take the kids on day trips when the weather was nice. It was kind of fun!
How to become a childminder in the UK
In case you're interested in becoming a childminder here in the UK, here's some further reading for you. This job profile from the National Careers Service outlines what being a childminder involves and how to get started. There are a few processes to go through such as registering with Ofsted who are the regulatory body for childcarers, compulsory training and passing a Criminal Records Bureau (CRB) check.
For my readers in the US, I understand that daycare provider requirements vary between states. For more information, you might want to check out Childcare Aware, which has some information about licensing rules. Looks like a good starting point!
Why become a childminder?
Being a childminder is a rewarding job that both mums AND dads can do from home. It is hard work, because looking after kids is never easy and also, running a business isn't necessarily easy either. But there are many financial and personal benefits to becoming a childminder.
You can save money on all sorts of everyday things and earn a good wage if you put the hours in. You can experience the joy of watching your own kids grow and be there with them when they reach those all important developmental milestones.
Would you consider becoming a childminder? Tell me what you think in the comments below!
Like this article? Please take a moment to share it on Pinterest (and please follow me)!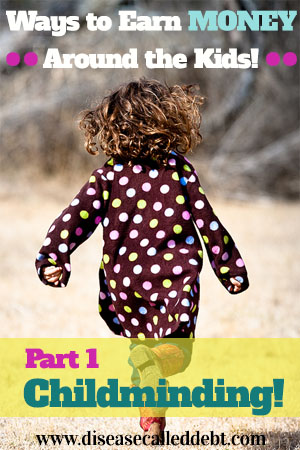 *Image courtesy of Flickr.