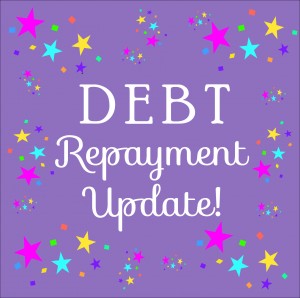 Every month, I write a blog post about the progress we're making on getting out of debt. You might want to read our previous debt repayment updates here!
January was a pretty slow month for us in terms of debt repayment, however we're not feeling too fed up about this because there is a reason for it and it's not all that terrible. 🙂
As I mentioned in my December update, the hubby and I have decided to take over our debt management plan ourselves instead of staying with our debt management company. The reason for this is that we have to pay them a fee each month and also a lump sum annually in order for them to liaise with our creditors and arrange reduced payments to them.
When we were in serious trouble with our debts a couple of years ago, we had no choice but to enter into a debt management plan because we literally couldn't afford to make the minimum payments. It was a choice of either putting food on the table or making the payments on the debt. Our priority was being able to eat!
We didn't have a clue what to do back then… let's just say it was a time of real stress and panic. We weren't aware that there were UK debt charities such as Step Change and National Debtline out there that could actually help and advise people in debt free of charge.
We were pretty desperate and ended up going with a fee charging debt management company. To be fair to them, they helped us no end and took a ton of pressure off us by talking to our creditors. The threatening letters stopped coming and a reduced monthly payment was agreed with each creditor. We paid our debt management company one monthly payment which they then split amongst our creditors whilst retaining some for a fee. This process has carried on since!
The last year has seen us slowly start to regain control of our finances and a real  highlight was paying off my credit card in November which was separate to the other debts bundled into the debt management plan.
Over Christmas we decided that we wanted to take back full control of our debts again – still keeping the debt management plan on with our creditors, but managing it ourselves. That way, we won't have to pay a fee to a debt management company.
We have considered going through Step Change but they would prefer us to go down the route of an IVA which we're not interested in. That's because if we were ever to make any money on our mortgaged house, the equity might have to be released in order to pay off our debts. No thank you!
So, we've now begun the process of taking back control of our debts, but it's all taking longer than we imagined. We haven't made any extra payments towards our debts this month because we want to make sure everything is sorted out first. We have made our minimum payment of course which puts our debt total at £33,242.89.
The good news is that we have been able to save some money ready to pay off our debts – £400 – which has gone into a savings account temporarily! We would have liked to save more but I also lost a client this month in relation to my self employed business so our overall income has been lower.
*Shameless plug* By the way, in case anyone is looking for a staff writer, or just general help with their blog, do think of me!
The extra good news to report is that we have been working on one of our goals for 2014 which was to save more for retirement. We've already taken the first step in this direction because we've opened up a Cash ISA each, where we can save up to £5,760 per year tax free.
At the moment, we're just putting a small amount away each month but once the debts have gone, we will be putting much more into these accounts. We decided to go down this route instead of investing into a private UK pension because we both think they're a little risky in terms of possibly losing money when it comes to retirement age. We don't know enough about investing yet to make a sensible decision on which one to go with.
Tax free savings though are great! And because we've opened a UK regulated account, savings up to £85K are protected by the Government backed Financial Services Compensation Scheme should the bank go bust. If we ever end up with £85K saved, I'll be very happy indeed.
Hopefully, next month, I'll have actual progress to report rather than projected progress!
How did you do with your January finances?