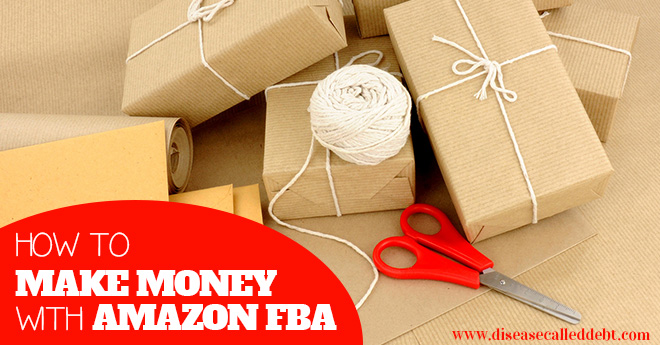 Whether your goal is to get out of debt, or grow your wealth, we all agree that just a little extra helps.
One way I have found to do this is by selling on Amazon (known as Fulfillment by Amazon or Amazon FBA). After only 4 months I have made $300 gross with an investment of $100.
Start making money with Amazon FBA
Whether you live in the US or the UK, the process to start is the same. First, go to Fulfillment by Amazon (click here if you're based in Europe) and sign up for a seller account. After that it's just a matter of going out finding merchandise and sending it to fulfillment centers.
Your starting capital is different for everyone, I started with $100 others suggest starting with $500. The important thing is that you have the ability to buy enough products that your return covers all fees and shipping costs as well as provides a profit.
To calculate potential fees, you can use an Amazon fee calculator to ensure you're going to work our your associated costs.
Finding merchandise and the Amazon Seller App
The best way I have found to find merchandise is going to a large retail store such as Target and going to their clearance sections, there you use the Amazon Seller app (click here to download) to scan items to check if you could resell for a profit.
It's not important that you actually know how the merchandise works, or even what it's for. All you need to know is that the packaging is in good condition and the item is a good price.
Here's where the Amazon Seller App becomes your best tool. Take the information the app gives you (low price, estimated amazon fees, and gross proceeds), then you decide if the product is worth buying. Keep in mind though that whatever the "gross proceeds" on the app says does not include the purchase price of the product.
My goal is to at a minimum double my investment. So I suggest a minimum selling price on the app of $15.00. I've found that the fees are at least $4.55 bringing your possible profit to $10.45 right away (more depending on the product) so you would have to buy it for $5.00 or less to double your investment selling at $15.
If you find something on clearance at one chain store worth reselling chances are that the other stores in the area also have the same items on sale. For instance my wife and I found some model cars on clearance at Walgreens. We then went to the Walgreens down the street, then the next, then the next until we had around 30 ranging in price from $24.99 to $82.49 of which we paid $7.49 each.
Following trends can also be very profitable. There are collectors for just about everything. Funko Pop! Toys for instance. Many stores have "exclusives" that are more valuable, and if you're able to get those you could make a lot of profit. Finding things like this requires more work and research, but it is the highest amount of profit I have made.
Finally, use your "unfair advantage". I live in a huge city that has a drug store on every corner as well as multiple Targets, Wal-Marts, and Best Buys all close by. So find whatever your "unfair advantage" is in your area and use that to help.
Benefits of using Amazon FBA to make money
Selling via Fulfillment by Amazon is a nice side project that my wife and I can do together. Not only that but it requires little time, sometimes only a few hours of work and a few hundred dollars made.
It does take some time to get your first sale. When you first start your profile says "new seller" and people are hesitant to buy from you. It took 2 months before I got my first sale but after I did the rest of my merchandise went within a few weeks.
Conclusion
Selling on Amazon has helped me pay down my debt. After meeting my costs of the merchandise all of the profits go directly into debt repayment.
Whether you sell on Amazon to build wealth, or to pay down debt it's something that takes little time, has a huge return on investment, and can even provide some family time if done together. It's a wonderful tool on your path to financial freedom.
Would you consider using Amazon FBA to make extra income?

Author Bio: Tyler Philbrook runs the blog I Am The Future Me. He talks about his journey from $29,000 in debt to becoming financially independent by cutting costs, making more money, and making good financial decisions.
(Editor's note – Tyler is a new regular contributor on Disease Called Debt – look out for more posts from him from time to time!)