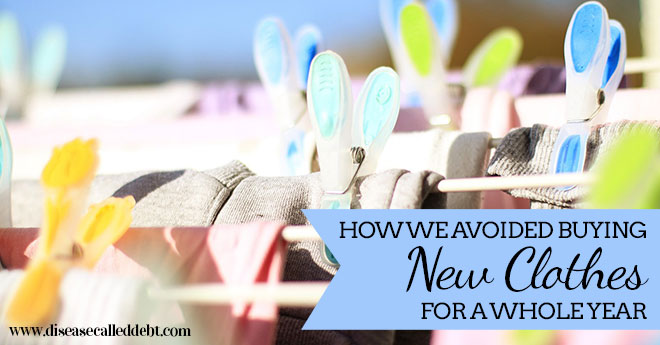 Back when I was in denial about my financial problems, I spent a LOT of money on clothes.
I bought at least one new outfit every month, more if I had a special occasion planned. If there was an excuse to buy a new outfit, I would hand over my credit card without a second thought.
Then, when I had my wake-up call with debt, I managed to get through a whole year without buying any new clothes at all – not even "necessities". My hubby also did the same. This was from January 2013 to January 2014 (we finally bought a few things in the January 2014 sales).
Not buying clothes for a whole year might sound a tad on the extreme side when it comes to saving money. And it was, I guess. But I really needed to be extreme about the way I ran our household budget to enable us to get out of debt as quickly as possible.
Clothing expenses were just one of the areas that we needed to make some severe cutbacks on! Here's how we managed to survive a whole year without spending on new clothes…
Extreme saving – no new clothes for a whole year!
1. We rotated our clothes – a lot
Our individual wardrobes consisted of a few good outfits that we'd already acquired and several fashionable outfits that were only good for nights out. We wore staple wardrobe items frequently, like jeans, t-shirts and jumpers.
The fashionable outfits that we owned basically went out of fashion, but we continued to wear them when we could.
I remember a family member commenting in good humour that I had my "uniform" on again. It was true; I wore one particular blouse a few times per week! I'm amazed now that it didn't disintegrate right before my eyes, what with the amount of use I got out of it!
2. We limited our social life
Reining in our spending on other areas like socialising meant that we didn't need to worry about new outfits for dinner and drinks. There were a couple of occasions where we did go out for a drink and we just wore the clothes we already had.
I have to be honest here and say that I did wish I could wear something new to make me feel better on the occasions we went out. But after the event, I always felt glad that I'd not spent money on something that wouldn't help meet our financial goal of becoming debt free.
3. We repaired and revamped our existing clothes
When autumn came that year, I was so tempted to go out and buy a new coat! The one that I had was a couple of years old and it was looking really tatty, with buttons falling off all over the place. I invested in a set of new buttons which actually smartened it up a bit!
I was amazed at how expensive buttons can be. I paid £8 for 6 large buttons! But doing so was definitely better than spending £80 on a new coat!
4. I bought a couple of items secondhand
One hurdle that presented itself during this time was a friend's wedding and I gave in to the nagging feeling that I needed something new to wear. I ended up buying a designer secondhand dress from the charity shop for £20.
I felt guilty at spending anything at all, but I did feel happier at the wedding knowing that I was wearing something "new to me". All credit to the hubby though; he didn't buy any secondhand clothes at all!
5. We didn't need to renew our necessities!
Socks and underwear are the necessities of any wardrobe and we did have a good stock of those before the spending freeze on clothes! My hubby and I decided that as we were the only ones to see each other's underwear, we would forgo buying new necessities, preferring to save our money instead.
Thankfully, my hubby and I had been married for a while (and had been together for several years before that), so we didn't feel the need to impress each other with flashy underwear. If I was in a new relationship however at this time, I'm not sure I would have been able to be quite so frugal with my smalls. 🙂
Extreme saving gave us the motivation we needed to pay off debt
We needed to save like crazy to free up just a little money for debt repayment, as back then, we really didn't have much disposable income left at all once our minimum payments had gone out of the bank.
Extreme saving like this allowed us to squeeze a little bit more out of our monthly budget, so that we could overpay our debts.
Going without new clothes for a year isn't for everyone, but it was the right thing for us to do. It's not like we didn't have any clothes, because we did! We were able to keep ourselves clothed for a year using what we already had.
The only sacrifice we really made was an emotional one – accepting that we were going to feel unfashionable and occasionally a bit crappy about ourselves from time to time.
Yes, we could have made life a little easier for ourselves by allowing ourselves a small clothing budget or asking for clothes vouchers for gifts (we asked for money instead to overpay our debts).
But if we had been a little easier on ourselves, we wouldn't have paid off our debt as quickly, there's no doubt about that. For us, the sacrifice on clothing was well worth it!
And now? Well, we're debt free and we do allow ourselves to buy clothes and necessities from time to time, maybe once every few months if we need something. We still never buy on impulse though!
That might sound like a boring way to live, but spending money on clothes just doesn't have the same hold over us as it used to. Extreme saving did wonders in terms of changing our financial behaviours for good!
Have you done some extreme saving before? Tell me about it in the comments below!
And why not check out these posts before you go?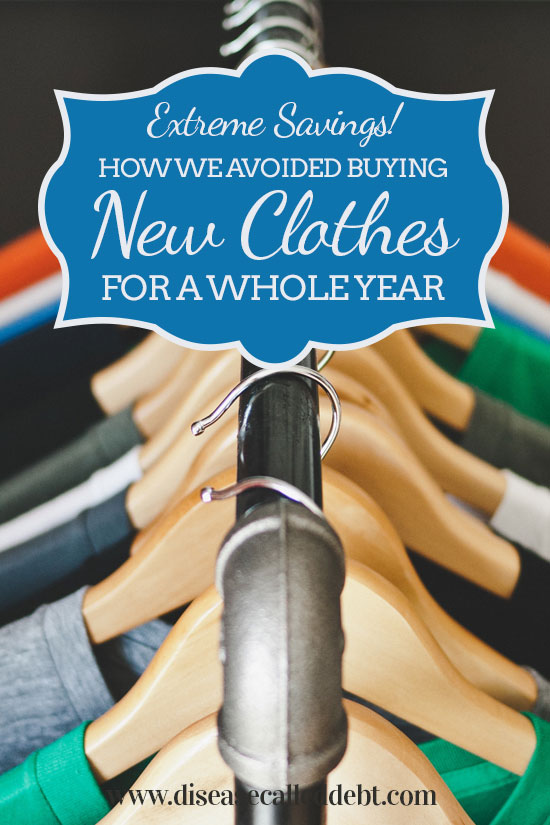 Image sources: Top image from Pixabay, bottom image from Unsplash – both with text overlay added.