You may have already heard of Etsy as one of the world's biggest online handmade marketplaces.
It's one of my favourite places to check out first if I'm buying gifts because most items on there are handmade and totally unique. Many a crafter makes a good income from Etsy already by selling the products they've lovingly created.
But what about making money from Etsy if you're not an Etsy seller? Well, the good news is that it can be done! If you're looking for a cool way to make money from your laptop, this opportunity could be for you.
Earn money as an Etsy affiliate
You can make money from Etsy if you're not a seller, by becoming an Etsy affiliate. To be an affiliate, you'll usually need a website or blog and social media channels to enable you to promote Etsy. If you don't have a blog already, find out how to get started here!
If you don't have a blog but you DO have active social media channels with a good following, then I think it's worth approaching Etsy to see if you can become an affiliate without a blog. I'm not 100% sure what their stance is on this, but well worth a try in my opinion.
As an Etsy affiliate myself, I think it's a great affiliate programme. I promote Etsy mostly on my craft blog, but I have also promoted them here on Disease Called Debt too and the results I've seen are pretty good.
How much can you earn as an Etsy affiliate?
As an Etsy affiliate, you'd be promoting Etsy products that you love and would recommend to others, through banner adverts and text links.
I think one of the reasons the Etsy affiliate programme works well for me is that I genuinely love so many of the products on Etsy. I'm always on there looking at handmade items – I find so much inspiration on Etsy when feeding my own passion for crafts!
In terms of potential earnings from Etsy, you will earn a 5% commission for items purchased by existing buyers and for new buyers, the commission is 8%.
There is a 30 day cookie period which means that if a visitor clicks through to Etsy from your affiliate link, you'll receive a commission on qualifying sales for up to 30 days.
Sounds good, right?
It gets even better at seasonal times of the year. November and December is a brilliant time to be an Etsy affiliate, because many people are looking for gifts for Thanksgiving and Christmas, so you can put together an Etsy gift guide that you think your blog readers will enjoy.
Let me give you another example of how the Etsy affiliate programme works really well for me…
My absolute favourite way to earn money from Etsy on my craft blog is to put together a collection of handmade products for inspiration purposes. I love the products I'm promoting and I hope that my readers enjoy this type of post, but guess who else will be happy about my efforts in doing this?
Only the crafters who are making the products I'm promoting!
You see, I always ask permission from the owner whenever I promote a product on Etsy via my craft blog, so they know when I'm about to mention them. Nine times out of ten, the owner/crafter is thrilled to be promoted, so they watch out for the post and then promote it themselves. They usually click on the links through to Etsy.
Here's the really cool part of this process: crafters who sell on Etsy often buy on Etsy! They appreciate handmade products as they themselves know the amount of effort that goes into making something from scratch. Plus Etsy is a great place to find and buy unique materials and supplies.
Therefore, with the 30 day cookie period that I mentioned earlier, this means that I have a good chance of earning a commission from Etsy crafters themselves as well as regular appreciators of handmade goods. Nice!


Being upfront as an affiliate is a must
One thing you should do as an affiliate is be clear that you are in fact an affiliate. I always state within every affiliate post that I create, on my craft blog and this one, that affiliate links are contained in the post.
There's no cost to the visitor who clicks through of course, but it's only right to let your visitors know that you may earn a commission as a result of them clicking one of your links and purchasing something.
How to become an Etsy affiliate
To apply to become an Etsy affiliate, you'll first of all need to sign up to Affiliate Window, which is a great platform to sign up to anyway – it has a whole host of other affiliate programmes to apply to if you wish.
You'll need to enter some details about your website, blog and social media channels. You will have to make a minimal deposit when you sign up so Affiliate Window can identify you, but this gets added onto your balance straightaway and you'll get it back when you reach the minimum payment threshold. Once you're approved for Affiliate Window, you can then apply to become an Etsy affiliate.
You can apply to become an Etsy affiliate whether you're based in the UK or USA. Any products you promote are linked up globally as far as Etsy are concerned so it doesn't matter if your blog is UK based but your visitors are also US based (like mine!) or vice versa.
Something to be aware of is at the moment, you can't be both an Etsy affiliate and an Etsy seller. So if you have an Etsy shop already, you won't be accepted.
With that said, I believe Etsy are exploring the option of allowing sellers to become affiliates, as I've recently received an email from them to that effect. But as of writing this post, the seller-affiliate connection is not currently allowed!
Finally…
If you have a blog or website and active social media channels, then becoming an affiliate for Etsy is a great way to make some additional income from home. You could use your earnings for debt repayment, to top up your savings or just to treat yourself!
This is something you can do around your day job, when the kids are in bed or whenever suits you. If you love handmade products, becoming an Etsy affiliate is actually a fun way of earning money.
If the idea of affiliate marketing to make money appeals to you, there are plenty of other ways to do this. For further reading, you might want to check out these Amazon books below.
What do you think to Etsy? Do you love handmade products like me?
**Affiliate links are contained in this post for companies and products I recommend. Disease Called Debt is a participant in the Amazon Services LLC Associates Program, an affiliate advertising program designed to provide a means for sites to earn advertising fees by advertising and linking to amazon.com.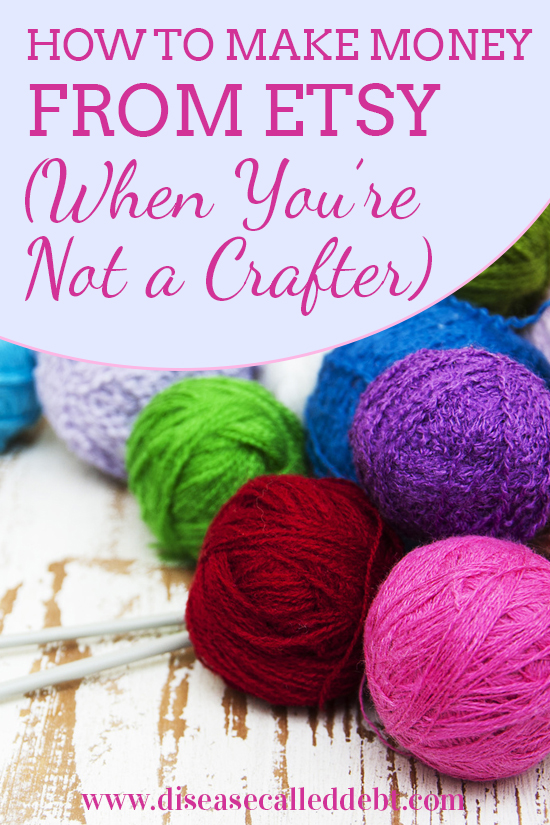 *Image author "Es75"  – purchased and edited under license from Fotolia (referral link).