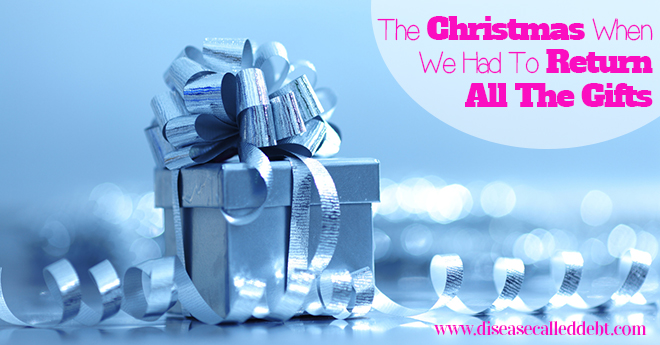 With Christmas Day nearly upon us, I've been remembering Christmases past and looking back at the good times and memories made with people I care about. There is one particular Christmas however that stands out for me, for the wrong reasons, specifically because it was when our debt problems surfaced the first time around.
This Christmas was back in 2003 and it involved taking all the gifts we'd bought for friends and family back to the shops before Christmas and having an emergency meeting with our bank manager on Boxing Day.
The problems began with unopened bills
A few days before Christmas that year, I convinced my husband (then boyfriend) to open a stack of his unopened mail and bank statements. My husband worked away a lot and reading his mail was something he didn't always get around to right away. To be honest, we were both pretty disorganised when it came to things like this.
I began to get concerned about the mail mounting up, but he wasn't too worried because he thought he knew the contents of the letters – the usual routine credit card statements. Anyway, after I expressed my concern, we sat down and opened the pile of mail together when he returned from a work trip.
In the next few moments following, our lives changed. We found that the letters contained credit card statements as anticipated, but each one confirmed that my husband's credit cards were maxed out (meaning the debts were much more than we thought). A couple of them had those awful words "URGENT OVERDUE" stamped onto them.
It turns out that some of the debts had been defaulted on for a few months. We called the bank to find out why. At that time my husband had a premier account with a dedicated account manager and they confirmed that he was getting further and further into his overdraft each month until finally those bills could no longer be paid.
He was £5,000 overdrawn. Funnily enough, the bank was just about to contact him. In shock, we arranged an emergency meeting for Boxing Day, the day after Christmas.
Debt trouble at Christmas
This was the first time that it became clear to us both that we were in big trouble. My husband had lost his job several months prior and had to take a new job that paid half his usual salary. Whilst we should have cut down on spending, well… the nuts and bolts of it was that we didn't.
We just honestly thought that everything would still be ok, because we had a joint account for bills and the same amount kept going into that account every month, so the mortgage and household bills were all paid up to date. We both rarely checked our bank accounts in all honesty. We both knew that each other had debt, but we just didn't worry about it all that much.
We sat there on the sofa with those letters, with lots of wrapped up Christmas presents around us for our family and friends. We worked out that we'd spent around £800 on Christmas presents that year (I bought most of mine on credit) and that in itself was a total shock – to be spending all that money when actually we were in real danger financially.
A good friend of ours came over in the midst of this relevation and there was no hiding what had happened. As much as we usually didn't discuss our finances with anyone (not even each other), we were both so upset that we confessed what had happened. This friend of ours was amazing. He told us that we needed to open those presents and take them back the next day.
That seemed like an impossible feat; all we could think was how we were going to tell our friends and family that we'd had to take their Christmas presents back to the shops before Christmas because we'd made a total mess of our finances! But our friend was persistent and spent a few hours reasoning with us and making us see what trouble we were in. He said that our true friends would remain true to us and the lack of Christmas gifts wasn't the end of the world.
Making those phone calls to explain to our friends and family was excruciating. We gave them the basic details and everyone was ok about it, just a bit surprised and shocked I guess. But to us, it was devastating and hard to explain. Actually unwrapping and taking those gifts back was humilating, but necessary.
It was a subdued Christmas day that year as you can imagine. We were given gifts, but couldn't reciprocate because of the mess we'd made for ourselves. All I could think about at that time, was what people would think of us.
How we survived this financial crisis
On Boxing Day, we went to see the bank manager as planned. We were hoping that she could arrange a better overdraft or arrange a low cost consolidation loan, so that we wouldn't have to pay such high interest charges. But she told us that her hands were tied and advised us to go bankrupt. That was our only way out of our debt problems, she said.
Fortunately, we didn't go bankrupt. We wanted to avoid that at all costs because we'd only just managed to get on the property ladder. In the end, out of desperation, we asked my husband's dad for help, and he lent us the money to pay off the overdraft. It gave us some breathing space to focus on the other debts. Our combined debt at that time was more than £35K.
We started to pay my husband's dad back with a token amount each month. He always said we could pay him back once all the other debts were gone, we were so grateful for that. In fact, we were able to fully pay him back this year, during 2015.
What happened after that Christmas was a rollercoaster of financial ups and downs. You can read more about how we got into debt twice here, in case you're not familiar with our story.
The start of our financial education
As always, there were some lessons to be learned from going through a tough time. We learned that if we were living together as a couple, our individual finances had a direct impact on the other party. We realised we needed to communicate with each about money matters and we started to regain control by keeping each other in the picture. I evaluated my own debt and started to manage it properly from then on.
For the first time, we realised that we needed to work to a budget and that we needed to stop spending money frivolously. Our eyes had been opened and we realised the damage that we were causing ourselves by living in denial about our debt.
We learned that family and quality time is much more important than giving presents at Christmas. Our friends were still there even though we were unable to join in the Christmas tradition of gift-giving. We even learned that some friends would go to great lengths to be supportive… and other friends didn't care quite so much I guess.
Lastly, we learned that we could survive awkwardness, embarrassment, humilation and that our silly mistakes would be forgotten about eventually. Except by us of course. 🙂
Have finances affected your Christmas experience before?