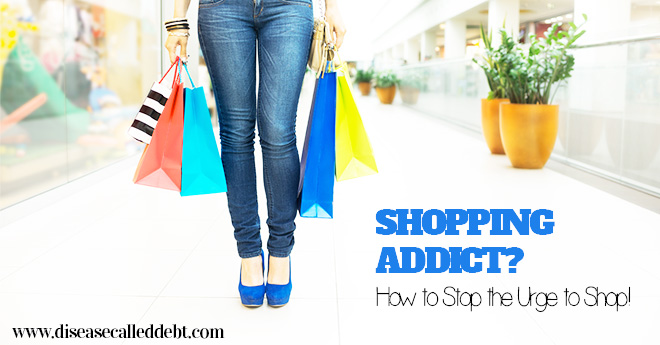 The thought of actually having a shopping addiction like Becky Bloomwood in the Sophie Kinsella "Shopaholic" fiction novels might seem a bit far-fetched in real life. But actually, many people do have a problem with compulsive spending, which can turn into a serious addiction.
What does it mean to have a shopping addiction?
There is a difference between just shopping and becoming addicted to shopping. Plenty of people love shopping but they're not addicted to it – meaning that they can stop if they want to and especially if they know they can't afford to spend money for whatever reason.
Often, shopping addicts spend money that they haven't got e.g. by using credit and they may try to hide the evidence of their purchases from their family or friends. They sometimes compulsively spend money fuelled by emotions such as depression, anger or sadness.
Someone who has a shopping addiction isn't limited to the sterotype of a trophy shopaholic constantly buying designer clothes and flashy handbags. In fact, any of the following could just as easily form a shopping addiction too:
Bargain hunters who love to grab a bargain and stockpile things they don't need just because they found them on sale.
Emotional spenders who buy things as a pick-me-up or distraction to make themselves feel happy.
Collectors – people that like to buy and collect a set of a particular item in every colour.
Returners – people who buy things compulsively, only to return them when the guilt sets in.
Whilst being a "Returner" isn't as harmful financially, the behaviour around spending money compulsively in the first place is where the addiction comes into play.
With the availability of credit and the abundance of material things to go out there and buy (or order online), it's no surprise that shopping addictions affect up to almost 7% of the population in the US and similar figures have been reported in the UK.
My experience of shopping addiction
I could have been considered a spending addict in my early twenties. I did rack up big credit card bills on designer clothes and handbags, but not only that, I bought all sorts of other needless things too. Magazines, snacks, home accessories, new gadgets, trips away, random things on offer at the supermarket – the list went on.
Those things might sound fairly normal to buy, but the problem with my spending was twofold. I couldn't afford to spend the money in the first place, so I bought many of those things on credit. Buying things made me feel happy at the time but soon afterwards, I felt empty and guilty.
I carried on regardless, craving those highs I felt when I bought something new! The cravings turned into worry and stress when I eventually ended up maxing out my credit cards and carrying the heavy weight of debt around.
How to combat your shopping addiction
If you're worried that your spending is getting out of control and that you might be addicted to shopping, there are some things you can do to help yourself. By realising that you may have a problem, you've already taken the first step to dealing with it!
1. Stop using credit – cut up your cards
To limit any further financial damage and feelings of guilt later caused by debt, cut up your credit cards straightaway. If you tend to buy online, ask your credit card provider to reduce your credit card limit as soon as you can. This means you'll only be able to use what money you have available in your bank account.
Throw away credit card offers that you get through the post straight away – don't be tempted to sign up for a new account.
2. Try to identify your spending pattern
Look through your bank or credit card statements and try to identify whether there is a pattern to your spending e.g. after work, on the weekend or online. If you can, try to remember how you felt when spending money on recent purchases – were you upset or fed up that day?
Once you've identified the trigger, you can help yourself using other distraction techniques next time you feel the urge to spend money, whether caused by emotions or habit. For more information on breaking bad habits so you can stop spending money, take a look at this post I wrote a while back.
3. Avoid the shops or other places where you feel tempted to spend
It sounds simple but by limiting the amount of time you have to spend in a shop, you'll be less likely to give in to temptation. If you really love shopping this can be hard, which is why you should focus your efforts on finding something else to do that you enjoy.
Fill up your time with seeing friends (that aren't so keen on shopping), starting a craft hobby, exercising or even working! That's the best way of all to repair any financial damage done from spending too much money!
4. Change your mindset and behaviours around money
We personal finance bloggers write about the all important money mindset quite a lot because it's such a big and important topic to discuss for improving finances. For now I'll cover the basics around spending – a mindset that will need to change if you're addicted to shopping.
Here's a little exercise you can do for starters – lay out all your purchases from 6 months or a year ago on the floor and work through the following three steps:
i) Take the rose-tinted glasses off
Ask yourself the following questions now the "newness" has worn off:
How much did you spend in total (estimate if need be)?
Were those items worth the money you spent on them?
How do they look now?
Do you use them?
Do you still like them?
The chances are that you won't like those things half as much now as you did when you first bought them. Try to remember this feeling when you're thinking about buying something new.
ii) Understand how little purchases can all add up to huge monetary value
Using the above example, when you've worked out how much you spent on those purchases, equate the value of them to one big thing you could have bought instead. You might be surprised to find that all those little purchases you made could have been enough to have bought a car, put down as a deposit on a house, or make a large debt overpayment.
iii) Equate money spent to time worked
Again, using the figures you worked out above, calculate how many hours you'd need to work to pay for all those things. This can be a bitter pill to swallow, especially if you've got into debt because of compulsive spending as you'll now realise that you need to work those hours for those past purchases to earn the money to pay off the debt.
The objective with this exercise is to try to inject some reality into what's actually happening when you spend money compulsively. The fact is that money has to be earned and debt needs to be paid off. Emotions can be controlled through other distraction methods and techniques that don't involve spending money!
5. Seek help if you need it
A shopping addiction, like any addiction, may require you getting some help and support. You might find it useful to speak to a friend or family member in the first instance but there are also agencies you can contact for professional help. If you live in the UK and you'd like to speak to someone, you can call the Samaritans in the first instance who should be able to advise you. For US readers, you can check out Shopaholics Anonymous.
Being addicted to shopping or spending money compulsively basically means falling prey to a pattern of repetitive purchasing that you find hard to stop. If not dealt with, a shopping addiction can lead to disastrous financial consequences and the deterioration of your mental health and wellbeing.
Have you experienced compulsive spending?