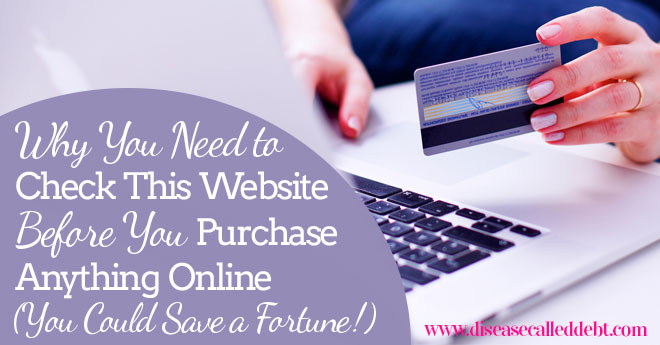 How would you like to save money more or less every time you make a purchase online?
Sounds good, right? Well, there is a way and it's called Top Cashback. If you haven't already heard of Top Cashback, this post explains what it is, how it works and most importantly, how you could be saving when  you make a purchase online.
If you're already a member of Top Cashback, you might not be making the most of this site yet, in which case this post should help you figure out some new ways to save!
What are cashback websites?
If you're planning to make a purchase online, you can visit your chosen retailer or merchant by clicking through to them via a cashback website first. Cashback sites receive a commission from the retailer for directing you to their website (if you make a purchase).
Some or all of that commission will then get passed onto you by the cashback website. The best part? It will cost you nothing to use a cashback site. In fact, you could end up a lot better off.
Overview of Top Cashback
Top Cashback is one of the best known and most generous cashback websites around. They give you up to 105% of what retailers pay them. They are the highest paying cashback site in the UK and in the USA with 6,000,000 members worldwide.
What you can purchase through Top Cashback?
Probably a more appropriate question would be "What CAN'T you purchase through Top Cashback?" Because you can purchase pretty much anything! You can buy electricals, such as laptops, TVs, iPads, printers and ink cartridges. You can buy gifts and clothing, groceries, wine and beverages, health and beauty products, car hire, flights and tickets – the list goes on.
Now this is all very useful if you fancy making such purchases, but what about if you're trying to save money by not spending, like me?
Well, you can also get cashback on things that you absolutely NEED to buy if you go through Top Cashback too. Such as your gas and electricity, your mobile phone contract, your car and life insurance and even banking services.
A great example of how Top Cashback saved me a lot of money recently is when I had to renew my landlord insurance. It's something I absolutely had to get, yet I managed to get a huge £89.25 cashback on my annual policy (see the details in this post), which in effect brought the total cost of the policy down to around half of what it should have been.
It really is a no-brainer to check out Top Cashback before you buy ANYTHING online to see if you can get some money back by using them.
Are there any costs involved?
Top Cashback is free to join in both the UK and USA. There are two accounts to choose from with Top Cashback UK; their Classic account which is completely free and their Plus account which offers you greater benefits including bonuses of up to 10% on top of your payouts. The cost for the Plus account is just £5 per year which is deducted from your first £5 of earnings.
As far as I'm aware, the USA version of Top Cashback doesn't have different account options – it's just 100% completely free!
How to make money with Top Cashback
As well as having the opportunity to save money every time you make a purchase online, you can also earn some money with Top Cashback too! By referring your friends and family, you can earn at least £7.50 per referral in the UK and $15 in the USA.
Top Cashback sometimes offers special promotions where you can earn double the referral bonus. As you can imagine, this can turn into a nice little earner! You can promote your links on social media, on your blog or via email to people who you think would like to save money too.
A quick word of caution regarding cashback sites in general
Cashback websites use cookies to track your transactions, so that you can get paid the relevant cashback amount once you make your purchase. One thing to note is that sometimes, your purchase may not track properly.  This can be down to cookies on your computer not working as they should.
With that said, failure to track doesn't happen very often and if it does, you can raise a missing cashback claim which usually gets the problem sorted out. That process can take a little time however.
How to sign up to Top Cashback
Ready to start saving some money? You can sign up to Top Cashback for free by using my links below. I've included two different links for UK and USA readers.
*Special offer for UK readers – if you sign up before Sunday 7th August, Top Cashback UK will give you a £10 Argos gift card for free once you earn your first £10 in cashback! (You don't have to earn the cashback before Sunday as far as I'm aware, you only have to sign up before then). It's free, so don't delay! Please note you'll only get this voucher if you sign up using my referral link above!
Finally…
I only became acquainted with Top Cashback myself last year. Prior to then, I'd assumed that cashback websites weren't for me, because I don't spend on gifts/gadgets/material goods that much anymore.
What I didn't realise though was how I could get cashback for things I really did need to buy. Now I know about Top Cashback, I can use it to help me achieve my savings goals! I always check Top Cashback before I make any purchase online to see if I could save.
What's more, you could make some great savings too. What have you got to lose?
Have you used cashback websites before? What's your experience of them so far?
*Affiliate links have been included in this post.
*Image source – purchased under license from Fotolia (referral link) – copyright of lenetsnikolai.