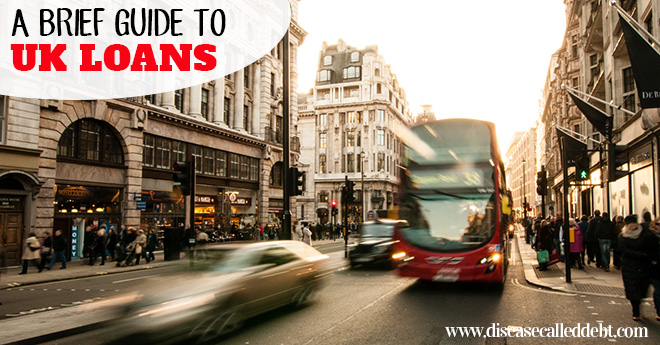 The world of borrowing can be a bit of a minefield. There are so many different loan products out there in the UK, it can be tricky knowing what you're signing up for and whether a particular financial product really does suit your needs. When I was in debt, I had four types of loans that I was managing – and at times struggling to manage!
In this post, you'll find an overview of the types of loans available here in the UK and what the main differences are between them, including which ones that can help you out financially or those that could get you into financial trouble really fast.
1. Personal loan
Also called an unsecured loan, a personal loan is money that a bank or lending is willing to let you borrow that won't be secured against your home or any other asset. Personal loans usually allow you to borrow between £1,000 and £25,000 and the more you borrow, the lower the interest rate will be. There are some good loan deals around at the moment but be careful if you only need to borrow a small amount. It could end up costing you much more in interest than you'd think!
Personal loan repayments are structured to be the same every month. With that said, you can overpay a personal loan providing you've taken it out after 1st February 2011. You can pay a personal loan off in full earlier too although you may be charged a one off amount as a penalty depending on your lender.
Personal loans are sometimes used for consolidation loans, where you can combine all your debts into one loan to make the payments easier to manage. If you decide to consolidate your debt into one loan, be sure to stop using any credit cards that you're trying to clear with the loan – otherwise you could end up with one more extra debt to worry about.
2. Secured loan
A secured loan is only available to those that own or have a mortgage on a property. This is because the bank or lender offering the loan wants the security of being able to repossess the home and get their money back should you not be able to keep up with the repayments!
Secured loans usually allow you to borrow more money than with a personal loan and many lenders offer good interest rates, especially if you already have your mortgage with them and haven't missed a payment.
If you're thinking about getting a secured loan or would like to get business funding, you'll need to seriously consider what would happen if you were to struggle with the payments. Secured loans are risky business and really should only be seen as a last resort if you absolutely have to get a loan and you can't find the money any other way.
3. Mortgage
A mortgage is a type of secured loan that you can take out to buy a property (or land). It will be secured against the property that you're buying so if you miss repayments, your property will be at risk of repossession. Mortgages are usually long term loans with the typical length being 25 years, however, it's possible to get a shorter or longer term mortgage too.
Interest rates may be variable or fixed depending on the mortgage you want to apply for – bear in mind that any movement in interest rates will have a direct impact on the amount you need to pay per month. If you overstretch yourself and get more mortgage than you can really afford, you could end up in big trouble if the interest rate increases.
A property is probably the most expensive purchase you'll ever make and so getting a mortgage is more complicated than any other sort of loan. Those with bad credit or lots of debt may find it tricky to get a mortgage as the application process is quite strict and most mortgage lenders like to lend to what they see as "low risk" customers with good credit scores – basically they want to be confident that they'll get their loan back (and much more).
That's not to say that you can't get a mortgage if you have bad credit – it just means that your choices will be limited. Either way, you'll probably need a sizeable deposit that you can use as a down payment on your property to be considered for a mortgage.
4. Credit cards
Credit cards are often the cheapest way to borrow money, particularly small amounts. There are many lenders that will allow you to borrow at 0% interest for up to 20 months. Credit cards work by providing a revolving line of credit. You can use that credit, pay it back and use it again when you need to. This is handy if you need to buy something now that you perhaps wouldn't have the money for until next month.
The best way to use credit cards is to pay them off in full each month. This will help you to improve and maintain your credit score over time. If you don't plan to pay off your cards in full every month, think twice before getting a credit card as you could end up in a vicious cycle of debt like I did before too long. There's no typical end date when it comes to borrowing from credit cards and that can be a bad thing!
There are many types of credit cards available that can provide you with advantages, such as cards that give you rewards or cards that allow you to spend cheaply when abroad. There are also credit cards that can help you to build up your credit rating if you have bad credit.
5. Car finance
Hire purchase is a way of buying a car without getting a loan from the bank. Instead, you'll effectively be getting a loan from a car finance company. With hire purchase, you'll need to put down a deposit towards your car and then make fixed monthly payments for an agreed term. You won't own the car until you've finished paying for it. This means that if you default on a payment, the finance company can repossess the car.
There are other forms of car finance including car leasing where you can basically pay to rent out a car through personal contract hire (PCH) and personal contract purchase (PCP). With PCH, you never own the car but continue to rent it until the agreement finishes. You can own the car with PCP as you can choose to make a final balloon payment at the end of the contract.
6. Overdraft
An arranged overdraft facility is like an extension of your bank account. It's a set limit that the bank may offer you, say £500 for example, that you can borrow as and when you need to. So if you spend more than what's in your bank account one month, you can dip into your overdraft to cover the cost. Usually you'll be charged a small fee for using an overdraft and this will vary depending on who you bank with.
Unarranged overdrafts are more costly. Your bank will charge you (usually per day) if you spend more than what's in your bank account without having an arranged overdraft first.
7. Payday loans
You've probably heard a fair bit about payday loans in the media over the last few years. They are the sharks of the loan industry – and most do come with a clear warning. Payday loans are designed to bridge the gap when borrowers run out of money before getting paid at the end of the month.
The option of getting money fast – hundreds of pounds in as little as five minutes – is very convenient for some people. However, if you're looking for quick and easy cash to tide you over, be fully aware of the extortionate costs and damage a payday loan can do to your credit rating before making any hasty decisions!
Payday loans cost more in interest than any other type of loan product. Take Wonga for example, one of the UK's well known payday lenders – their loans come with a massive 1,509% APR representative!
Payday loans are an easy borrowing option in theory, but in reality they spell trouble! They could land you in serious financial bother, if you can't afford to pay them back.
Do your research
This post is a short overview of the main types of loan products available in the UK. If you're considering getting a loan or credit card, do your own in depth research first to make sure you're getting the right product for your needs.
If you're considering getting a secured loan to consolidate your debts or a payday loan because you can't manage until payday, it's worth speaking to a debt advisor for some free impartial advice first. They may be able to find a better option for you and point you in the right direction for financial help. Try StepChange or National Debtline in the first instance.
Have you signed up for a loan before without knowing the full details? 
*This is a collaborative post. Views are my own and should not be taken as financial advice.